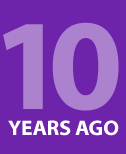 By David Tisherman
'Few things are as important to the aesthetic impression made by swimming pools, spas and other watershapes as the colors you select to use in and around them,' wrote David Tisherman in opening his Details column in the September 2005 issue of WaterShapes.
'Take tile as an example. Whether it's just a waterline detail, a complete interior finish or some elaborate mosaic pattern, it serves to draw the eye into a design. If the color and material selections work, the scene can become extraordinarily elegant and beautiful. If they don't, you can have a major eyesore on your hands.' He continued:
***
'I [once] attended a seminar and watched a slide show about lighting in and around swimming pools. At one point, I made the comment that we should never use blue tile with a dark gray or a black pool. Everybody in the room looked at me as though I was crazy. After all, people have been using blue waterline tile with dark plaster pools for years if not decades.'
***
'But I held my ground and argued that when you put blue next to black or gray, the blue looks almost fluorescent and really pops visually. As if to prove my point, the very next slide was a beautifully lit pool with black plaster and blue waterline tile. Everybody laughed, because the slide perfectly expressed the issue: The blue tile positively glowed compared to the rest of the setting.'
***
'[U]sing blue in this context makes a powerful (if unintentional) statement – and most of us don't perceive a problem because we've seen blue tile on black-plaster pools so often that we've become conditioned to accepting what is actually a visual travesty.'
***
'Let's take another common example: Red brick is one of the most common of all coping materials for pools. Very often, it is placed next to white plaster and/or blue tile inside the pool and butted up against greenery on the other side. . . . Some may argue that red brick and green grass are a classic, timeless combination, and that may be true. But it still doesn't mean it's the best of color combinations.'
***
'What happens with this arrangement is that bands of color are emphasized and even exaggerated at the edge of the water. To my eyes, it's . . . ugly because it violates the harmonies embodied in color theory and design. . . . This is not to say that you can't use bold colors; rather, it's a matter of using whatever colors you choose in the proper combinations and in ways that create balance and harmony.'
***
'The key is in the relationships between and among colors. When I use tile, for instance, I'm always trying to pick up on the color of the coping or of the deck or of the plaster or pebble finish. If I hit it right, the tile line visually recedes and becomes an element that is simply there to mediate the wet/dry environment at the waterline.'
***
By contrast, when I work with a material such as glass tile, my desire is usually to accentuate the color rather than make it recede. I want to draw a certain amount of attention to the interior finish of the vessel, often with custom-mixed, multi-hued mosaics that involve three or more colors, because the sparkling, brilliant nature of the material makes it eye-catching when observers get right up next to the water.'
***
'Sometimes elegance and beauty are achieved in subtle ways; other times it takes boldness. It can mean working with light colors or dark colors, warm ones or cool ones. You may be working with tile details or an entire mosaic finish. Bottom line: The fundamentals of color theory apply across the board – no exceptions.'
***
'As is the case with any other aspect of design,' David concluded, 'when you approach the challenge with a background that's based on reliable methods and information, you'll be able to hit the mark and ultimately create something that you and your clients will look to with pride for years to come.'
Are you with David when it comes to the value of knowing your way around a color wheel – or is it something you leave to your clients' tastes in setting up the details of a design? How do you strike a balance? Please share your experiences by commenting below!
David Tisherman is the principal in two design/construction firms: David Tisherman's Visuals of Manhattan Beach, Calif., and Liquid Design of Cherry Hill, N.J. He can be reached at This email address is being protected from spambots. You need JavaScript enabled to view it..