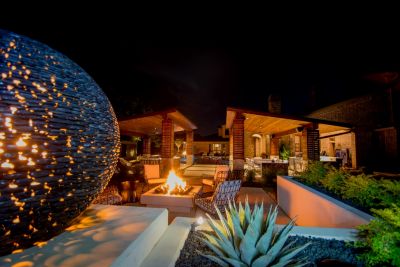 By Mike Farley
Designing with line of sight in mind is something I think about a lot. Knowing where to place things so they will be seen, or in some cases not seen, is arguably square one in the design process. That's why when I talk to my clients one of the first things I ask is, "What's the most important view in the house?"
I start there because it's something they are going to be looking at 365 days a year, probably morning, noon and night. The answers are mostly the same, the living room, dining room or kitchen. Every once in a while, someone throws you a curve ball and says it's the master bedroom, where many people only sleep and never look out the window. These days I do run into people who have a reading nook or a study off the bedroom that has a view they see every day. Likewise, some people have a niche where they meditate or do yoga and that might be a primary viewpoint.
Where ever you find them, sightlines matter because people spend the majority of their time inside the house. Lines of sight provide opportunities to capture and amplify the impact of the design, simply because when someone sees something every single day, it becomes part of their life.
CONVERGENT VIEWS
How you wind up using sightlines is going to vary with every project, but it's always the best place to start. As an example: I recently designed an elaborate project with two guesthouses. The primary view from the main house was from the master bedroom, so I organized the views from the guesthouses and master bedroom converged on this one spot where we located a dramatic sculpture, called "The Dark Planet" by sculptor, David Harber. It was an incredibly elaborate project with a variety of elements, but it all flowed from that initial sightline analysis.
As a general rule, when you have a point that's visible from more than one place, you can take advantage of that convergence by creating a scene the clients will enjoy seeing constantly. It might even become one of the signature elements in the entire property. I look at it this way, you could take the exact same object and if it's not strategically located, it might only be seen rarely and as a result have much less meaning and significance. In very real effect, you increase the value of the features that populate the landscape by simply placing them where you know they'll be seen.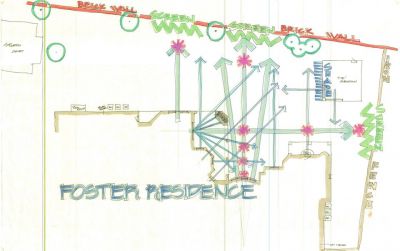 Carefully plotting key sight lines from the house and within the landscape helps me identify opportunities to create dramatic and sometimes converging views.
That's why I make a detailed analysis of sight lines. I measure every window and door to the inch. I will often center something in a particular window or glass door and the only way you can do that is to know exactly where those focal points are. You don't have to be off by that much to compromise or ruin the effect. I don't want it off three inches later on, I want it dead center.
I walk through the house, carefully plotting how views come into play as I move from one spot to another. I look at all those lines so I can decide which ones to use. If I can see the front door from the back yard by looking back through the house, I turn that around and site the front door. That's always a powerful move because the second you walk in the house, you're already experiencing the view. I've had clients say they were amazed how it worked out that they could see the spa spillway from the front door. That's not an accident; you have to identify the importance of that view and design the layout accordingly.
It's not the same as just standing in the living room and looking through one set of windows and visualizing the view from that single point. It really pays off in a big way to think of it from a deeper level by thinking in terms of people moving through the house and where that leads them in their daily lives.
When I get floor plans for new houses, I do the same thing, only on paper or on a computer screen. I'll plot the circulation within the house and consider what you see as you move through the house. What's the site line when you come down the staircase and then can see through the predominant window? Or, what do you see when you walk into the kitchen? What do you see from the dining room? Or, what you see when you walk from the master bedroom into the bathroom?.
BIG DECISIONS
Knowing what's going on indoors directly impacts what you're designing outside. Before I design anything, I know I need to put something really cool in this spot or that spot outside because there might be three or four sight lines crossing at that point. It doesn't always work out perfectly, sometimes the important sight lines don't cross neatly in one spot, but at least you get to the point where you know where things should be.
I not only want to know where people will be looking outside, I also want to know when. If a client is retired or works out of their home full time, they're going to see the outside largely during the day, and at night. That's very different from someone who works outside the home and will usually only see the space at night. Different times of the day, you're going to see different things. If the space is mostly only seen at night, I'll think in terms of a fire feature in that key location, or a specimen tree that's lit dramatically.
It's surprising to some people how much of my design work is driven by this practice of examining sightlines. I've worked with experienced designers who tell me they've never thought of it from this perspective. Clients don't usually think this way at first either. In fact, when I first go through the exercise of asking them to rank the importance of their inside views, they sometimes think it's pretty silly. Later on, when they see how it plays out, they sometimes have an "ah-ha" moment and really appreciate that we planned it out to that level.
This design is all about managing site lines, in this case using an arcade structure to frame the primary view from the house and the spa. The fire and rain curtain features further draw the eye and filter the view. Making that bold decision all started by examining the views.
Naturally, examining points of view and perspectives directly influences where you place the pool in the yard and how it's oriented and even it's shape sometimes. Here's one of my secrets I'll share, as an example. Most designers and contractors will orient the pool horizontally to the house. That tends to be true whether the pool is right up against the house, which we should all try to avoid in most situations, or if it's farther back. It's very common and many of my projects are that way.
Probably half of the pools I design are perpendicular to the house. Reason being, when you do it that way you can achieve a greater since of size and distance. Think of it this way, if a 20-by-40 foot pool is parallel to the house, you're looking across 20 feet of water. If it's perpendicular, now you can set up the design so that you're looking down 40 feet of water's surface. Put another way, just by turning the pool 90 degrees, relative to the primary viewpoint, you've in effect doubled the amount of water the client sees, because they're not looking side to side to see the length of the pool, they see it instantly, all the time.
When you're working with focal points, the farther away you locate them, the more they will be seen from different sight lines. Turning the pool lengthwise to the house not only maximizes the visual impact of the water's surface, it's likely going to be seen from multiple points in the house. Particularly if you're looking from your upstairs you'll be able to see some of the pool.
OFF-SITE SIGHTS
Outside, it's different because you're very often creating those sightlines, rather than working from existing points within the house. It might sound a bit simplistic, but where we place things in the landscape directly impacts how they are seen.
Consider tree placements. Trees give you a variety of options when it comes to managing views, in addition to adding their own verdant beauty themselves. You can frame a view, block an undesirable view, filter a view and create an enclosed sense of privacy by offering no views at all. And, in that way, trees are extremely valuable when you want to control the view from the outside of the property looking in.
I try to plot sight lines from the neighbor's homes, for the purpose of screening or completely blocking their views. That's a big priority for spa areas and especially so in neighborhoods with small lot sizes because of the tighter proximity. Using trees, shade structures, outbuildings, raised walls and fences and various garden structures like arbors and pergolas can all work depending on the situation and what the clients want. Some are extremely concerned about privacy, while some don't care at all. Either way, the first step is thinking about those sightlines, or in this case reverse sightlines.
Working with views often means looking at the space from more than one direction. In this project we have multiple sight lines converging on a key location where we located an eye-catching sculpture.
As mentioned above, what you do outside is largely determined by the inside views. That can impact design in a variety of ways. For example, if I have strong axis extending out from the house, at some point I'll create a cross axis to create views in the other direction. At one end of the cross axis I might put a seating area, maybe that's where the fire pit goes. You create a destination where someone can enjoy views from a different spot, taking greater advantage of what you're already creating. In effect, you're creating more opportunities for views.
In almost all settings, you want to move people through the yard, so you create destinations and easily identifiable pathways to get there. Then, when they arrive at those spots, they're rewarded with some kind of interesting view, maybe it's looking across the pool toward a fire pit on the other side, or from an outbuilding back toward the house, or overlooking another part of the property.
Oftentimes, these secondary viewing areas are modest, maybe just a bench or a couple chairs, other times it's more elaborate. Which brings up an important point. The principles of using viewpoints can apply to modest properties as well as more expensive homes. By understanding how to use sightlines, you can weave the same kind of effects with modest pools and simple landscape features.
CLIENT PERSPECTIVES
Like nearly everything else in the design process, working with sightlines does mean accommodating the clients' priorities and ideas. There are those clients that go to greater lengths than others to develop their views.
Years ago, I built a massive lazy river in a relatively small yard. It was an almost unreasonably complex project all crammed into extremely limited space. Ultimately, it was all about site lines and the fact that the client wanted it to look like Maui.
Orienting the pool perpendicular to the house will offer longer views across the water and oftentimes enable a partial view of the water from an upper floor.
That was interesting because the river goes everywhere, but you can't see it all from any one spot. When you look out the master bedroom you're looking about across the main pool area, but then it disappears around the corner and it's out of sight. It creates a sense of mystery because you can't see where it goes. From the living room, you look across the water to a large island, where you see a waterfall flowing into a spa that's overflowing into the river.
That's an extreme example, but for all of that project's crazy ambition, it all started with the views. One way another, on some level, that's true on every project, or it should be in my opinion. After all, it only makes sense to consider what the clients will be looking at years or even for generations after the work is done.
Mike Farley has 30-plus years of experience creating custom pools and landscapes. He has designed more than 750 unique projects that have been built to date, winning numerous awards in both California and Texas. He is widely published and is one of the watershaping industry's most experienced and sought-after instructors.