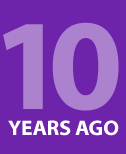 By David Tisherman
'Not long ago, I was asked by a reporter from The New York Times to define the main difference between swimming pools now compared to what they were 20 years ago. As we talked,' wrote David Tisherman in his Details column for the December 2007 edition of WaterShapes, 'it became clear that she was mostly thinking about technological breakthroughs in pumps and chemical treatments and the like.
'I confirmed for her that, yes, those products had come a long way. But I wouldn't let her stop there, suggesting that there was much more than a run of technical advancements behind the explosion of interest in watershapes in recent decades.' He continued:
***
'What we've also been seeing, I said, is a latter-day Renaissance of interest in classical notions of truth and beauty and a renewed focus on artistic media and performance. It's less about pump curves and advances in automation, I said, and more about Aphrodite, Apollo, Athena and Aristotle – what I see as the A-list behind a new perception of pools and other watershapes as true, inspired works of art rather than utilitarian watering holes.'
***
'[W]hat I wanted her to understand was pretty simple: At the industry's leading edge, designers and builders around the world have awakened to the fact that, at its best, our output as watershapers makes profound, meaningful and unique artistic statements.'
***
'The key to watershaping's evolution in the past 20 years – and the subtext for the reporter's questions – has to do with the fact that an increasing numbers of designers and builders are operating on a higher plane where design and construction can and do indeed become art. As with the Greek, Roman, Moorish and High Renaissance cultures before us, we've awakened to the timeless, mesmerizing beauty of great materials and are now applying them in our projects as never before. I told her about beautiful stone, colorful aggregates, pristine plaster and, as we'll discuss just below, fantastic tile – the raw stuff of centuries of great design.'
***
'In my humble opinion, it's through the creative use of these materials that today's watershaping comes closest to being favorably comparable to the work of the ancients. A closer and more relevant comparison for me, however, is to the work of the Impressionist painters of the 19th Century who showed the world that singular color impressions can be generated through use of many colors in the forms of dots (in the case of Seurat) or smudges (as with Monet). Spinning off their approaches, I've found it possible to make tile into a true artistic medium that reaches well beyond the familiar realm of mosaics.'
***
'I've never been one to accept off-the-shelf design solutions and choose instead to apply my extensive background and training in color theory in my projects whenever and wherever I can. It upsets me when I hear about watershapers who have clients select tile in visual isolation, as though it would never have a context in a pool. A good decision requires consideration of the tile in relation to the pool's interior finish and the color of the coping and deck material beyond the waterline. It just doesn't "work" otherwise!'
***
'[T]ile chosen in isolation may be pretty and even very expensive, but it is often completely inappropriate: I can think of nothing less satisfying than having friends visit and say "Wow! That tile looks great!" when what you really want them to appreciate is the overall setting and how everything works together to make an overall visual impression.'
***
'If you figure all this out and reach the level where you're asked to apply these beautiful materials to the best of your ability,' he concluded, 'you have in some measure "arrived" as a watershaper.'
David makes a compelling point about watershaping's rise to the level of an art form. Is this a transformation you've perceived through the years, or was the Times' reporter's focus on technology more in line with the marketplace as you see it? Please share your thoughts below!

David Tisherman is the principal in two design/construction firms: David Tisherman's Visuals of Manhattan Beach, Calif., and Liquid Design of Cherry Hill, N.J. He can be reached at This email address is being protected from spambots. You need JavaScript enabled to view it.. He is also an instructor for Artistic Resources & Training (ART); for information on ART's classes, visit www.theartofwater.com.