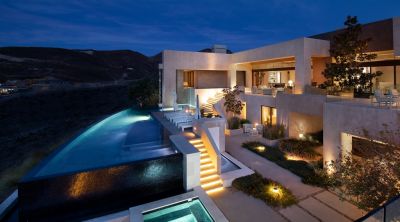 By Tanr Ross
As a pool designer, my preference is to sit down with prospective clients, listen to what they have to say about a pending project and, working with their ideas, the site and the budget, come up with a program that makes all of us happy and proud. For the most part, that's the way things go for me these days.
But I also know that, on certain occasions, it's necessary to go with the flow.
In the project covered here, for example, a super-affluent property owner had called on a respected architect to design a home in the hills of Henderson, Nev., overlooking Las Vegas. And the architect truly delivered: The whole property is an aquatic fantasy, with big reflecting pools wrapping around the front of the house and a large pool, a separate spa and small waterfeatures in the back.
We at Henderson-based Poolscapes were called upon to build all of the aquatic features to plan. The story of how the project came together about eight years ago is unique enough that it's worth sharing today, partly for lessons it has to teach about patience, persistence and ego suppression in pursuit of a grand goal, and partly because the experience so profoundly helped me refine my craft.
CONFINED BY DESIGN
The client in this case was the family of one of my childhood friends, so I was anxious to participate in whatever way I could to make certain the water components came together with no hitches. And we were all set, because everything about the plan was stunning and dramatic and the architect had created an all-encompassing, drop-dead-gorgeous composition.
All of the dimensions, elevations and configurations were set before we ever saw the plans, so we had no aesthetic input at all. Instead, we were coming in strictly as watershape builders and were tasked only with reviewing the schematics to make certain that everything would work with respect to hydraulic systems, equipment and basic performance before we set about inserting all of the aquatic features exactly as specified.
We were hired at about the time the construction of the home had gotten serious. Basically, the reflecting pools were under control and we knew we had little to do beyond completing them and making connections to the equipment pad. But then we were taken out back to a large void and told, "here's where the pool goes" and couldn't help noticing that "here," if our sense of the elevations was correct, was a space several feet above our heads. And we were right!
The project's plans and renderings were fantastic and gave us a clear idea of how the finished product would look – so much water! But when we stepped out to the backyard and were told that the platform on this big post (middle right) marked the pool's level, we began to get a sense of the enormity of the tasks ahead of us – and to wonder if certain details had been thought through as completely as we might have preferred. But no matter: As the home took shape, nobody questioned how dramatic the outcome would be!
So there we were, standing on a rocky caliche slope, realizing what we were getting ourselves into and knowing we had no input, no way to alter the plans to make them work in the way we prefer to prepare our pools with and for our clients. And things were similarly established with the spa and waterfeatures as well: The ideas were set in stone – and even though they seemed to be beyond the usual functional norms we apply as watershape designers, we all agreed they looked really great on paper.
As one observation, for example, we noted that the selected position and elevation of the pool would cut off most views from good portions of the home's lower level, which was set up as a combination of smaller entertaining areas and isolated spaces. The result is that these spaces were less functional for outdoor living and instead became a series of isolated outdoor rooms separated by function and landscape treatments.
But for all that, we kept telling ourselves (and confidently so) that even though it was something of a conceptual hash to us, this place was obviously going to be amazing.
The point we needed to bear in mind constantly was that this client, unlike the typical homeowners we work with, just wasn't involved. Instead, all discretion and authority had been turned over to the architect and his design team. As a consequence, we didn't have to give even passing thought to value engineering or energy efficiency or any other issues we generally consider on behalf of our clients.
CONSTRUCTED SPLENDOR
In the case of the pool's elevation, for example, the slope meant the pool would be placed so far above grade and that there would be a huge void to fill with concrete to enable us to reach to the level at which we were to place the pool floor.
So we poured the required tonnage of concrete, raised the pool to the required level and continued with our work – one of several project steps we undertook while suppressing reservations we had about details of the design and, always and again, recognizing that the results would be something special despite the thoughts we harbored!
The territory we were covering was off the charts in terms of scale. The reflecting pools at the front entrance are truly massive, one with nearly 2,400 square feet of surface area and the other checking in at 1,100 square feet. They define a processional approach to the front door that makes strong (and delightful) promises about what the interiors have to offer.
By day, everything about the place is gorgeous, from the enormous wading pools at the home's entrance, through the water-wrapped interiors and out to the pool deck. As we became more involved in construction, we couldn't help observing some things we would've done differently with respect to overall flow and visual relationships in the outdoor spaces, but in retrospect it is all simply beautiful. (Photos by JMP Photography LLC, Henderson, Nev.)
The same grandeur holds true for the stairways set up at the back of the house. But while they offered access to wonderful vignettes in multiple outdoor spaces, we kept wishing they were more connective and integrating. As it is, the traffic pattern is more about making a grand impression than it is about functionally organizing flows between related spaces. But yes, the stairways have a triumphal quality that sets them up as the key to what lies beyond.
All I can do is repeat the thought that, although we likely would have used different elevations and transitions and organizing principles, there's no denying that the results are bold, strong and impressive.
Even the equipment set fell in line with the sort of quandaries we'd been noticing elsewhere: It looks great and is distinctly well organized and serviceable, but it's so far away from the watershapes that its 19 pumps work much harder than they might have had we taken an active role in designing the overall space (and maybe placed the equipment beneath the pool in part of the big void we filled with concrete).
Then there's the spa, which is raised to let it encompass clear views of the vanishing-edge wall in one direction and city views in another but is just a bit too elevated to relate well to the conversation pit that abuts it. In addition, it's so plain and simple that it seems out of place in others ways, too, a blockish well set next to a gracefully expansive arc of swimming pool.
GAINING PERSPECTIVE
Looking back on this project at a remove of several years, I still trip over all of these details (and more), wishing that we'd been involved in the project at an early stage in the design process and that we had been able to collaborate directly with this remarkably talented architect on some level to help develop spaces that would prove a bit more conducive to gracious outdoor living.
At the same time, my jaw drops at how beautiful it all looks as it is, despite the challenges it presented us in construction and the occasional doubts we had about following a plan we figured we could improve with our experience in exterior design.
Once the sun sets, the true glory of the property is on display form points throughout the property as Las Vegas brightens the distant views. Although it may seem silly to dwell on perceived flaws at this point, it's clear to me eight or so years later that approaching this project with a critical eye significantly sharpened my skills as a watershape designer – much to my benefit and to my clients' as well.
Ever since, however, I've also considered this project to be an absolutely beautiful object lesson in the importance of swallowing professional pride and suppressing ego in service of another designer's vision. That's what we signed up for, and that's what we did. At the same time, I saw a number of missed opportunities – adjustments that could have worked in favor of the long-term enjoyment of the space by my childhood friend's family.
The upshot of all of this is that my colleagues and I became better designers through this experience. Personally, I now take time with my own backyard environments to review them all for missed opportunities – and do what I can to persuade my clients that connective, integrating touches will make a difference in how they use and how much they will enjoy their poolscapes, now and in the future.
Tanr Ross is a sales and design consultant at Poolscapes in Henderson, Nev., and founded Intelligent Blue, an independent watershape-design firm, in 2011. A long-time advocate of computer-assisted design technology, he has served as an adviser in development of the Pool Studio software system and has taught a number of courses in its efficient, effective use. In 2018 he won the first-ever Million Dollar Pool Challenge sponsored by APSP. He may be reach at This email address is being protected from spambots. You need JavaScript enabled to view it..