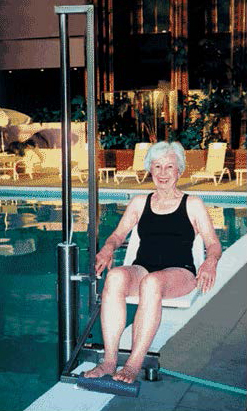 Aquatic Access (Louisville, KY) makes the IGAT-180, a lift that provides easy access to and from inground swimming pools. The water-powered units are secured into the deck with concrete and steel and can be locked in place, but the lift apparatus removes easily for storage. They are capable of lifting 400 ponds; heavier-duty models are available. For details, click here.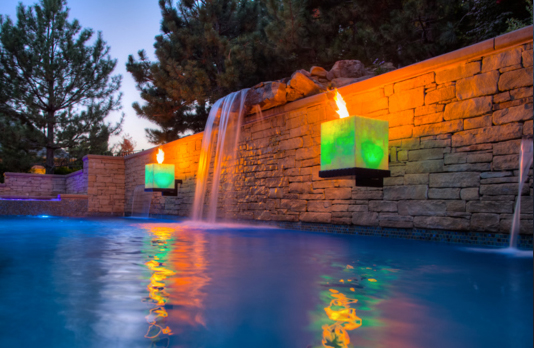 Grand Effects (Irvine, CA) has announced the availability of Fire Candeleres for residential and commercial applications. The units come in square or round formats and are available in stained concrete – or in a translucent quartz applied as a marquetry inlay and lit from within by white or colored LEDs. All come with black metallic or black concrete bases. For details, click here.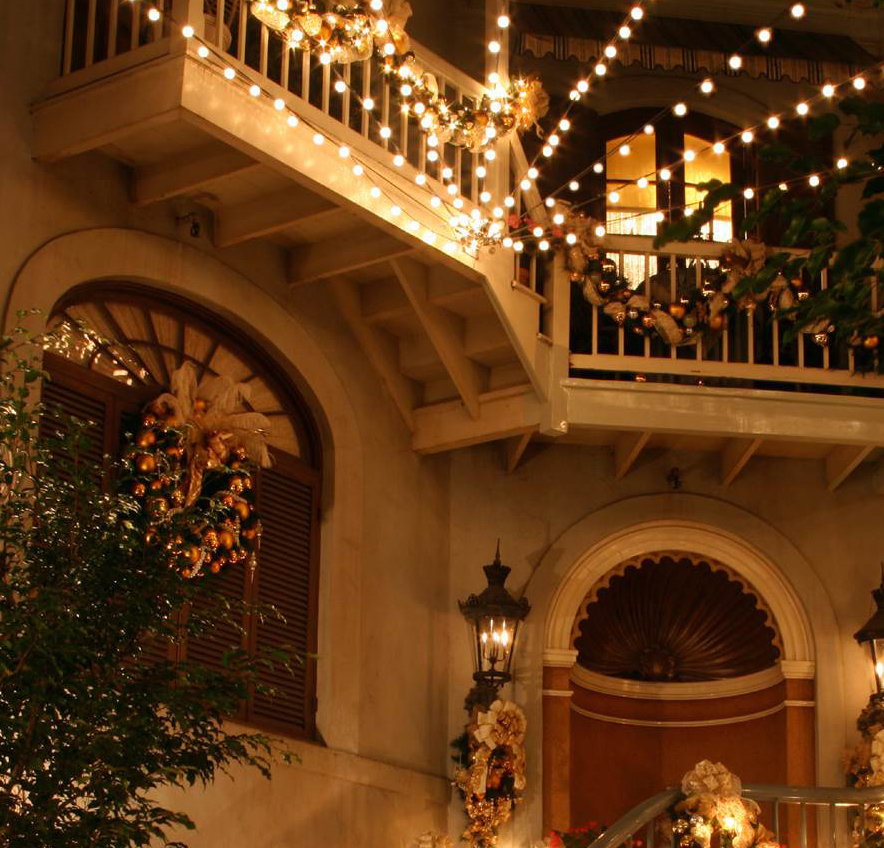 Lightcraft Outdoor Environments (Chatsworth, CA) has introduced the Bistro line of string lighting for outdoor applications. Available in 12- or 120-volt LED or incandescent formats, the strings offer illumination reminiscent of the bygone days of outdoor street fairs and other festive occasions, with options including snap-on shades. For details, click here.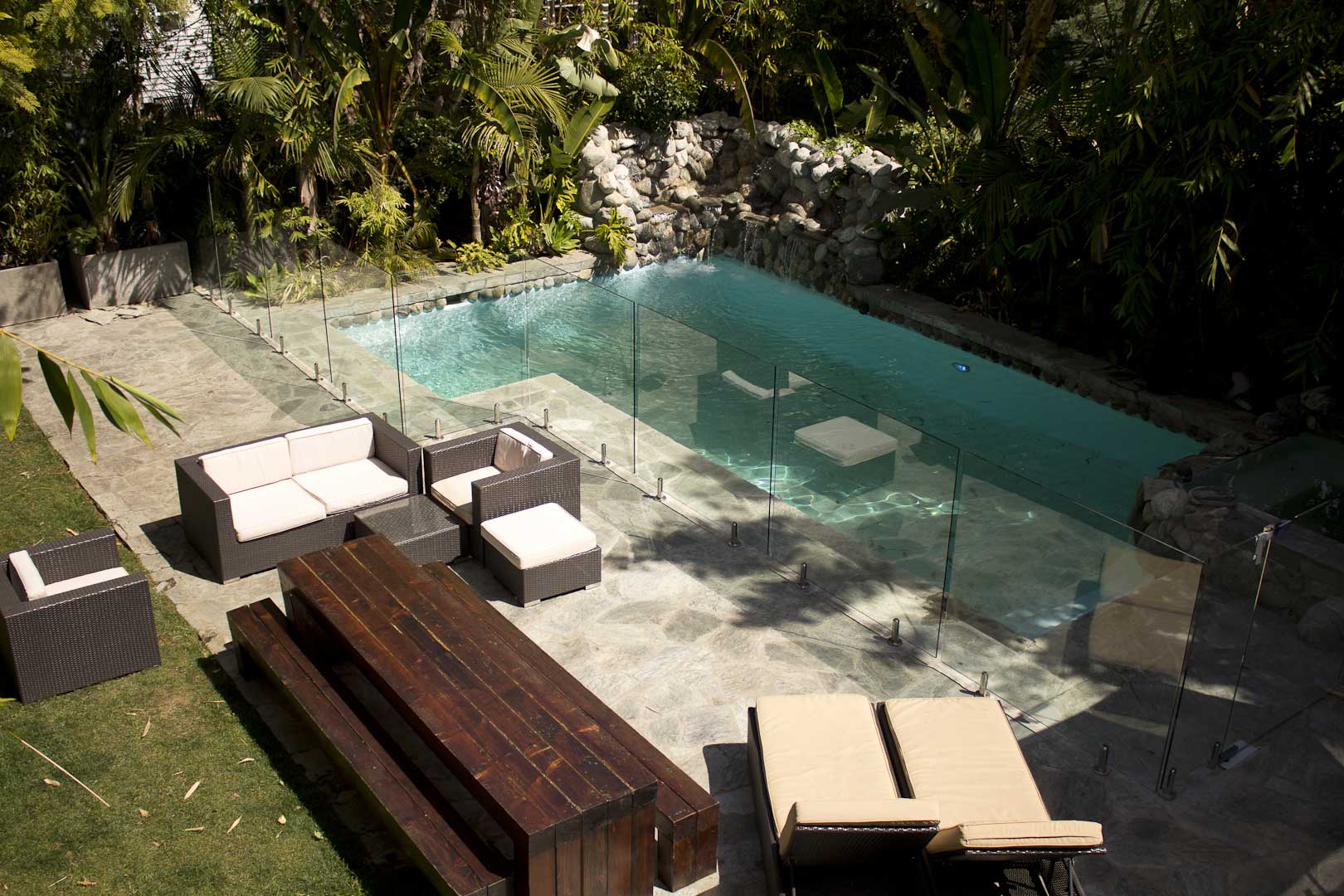 Steel & Glass Architectural (Beverly Hills, CA) makes frameless glass fences for use around swimming pools. The system features tough, durable, half-inch-thick tempered glass panels available in heights of four or five feet and widths of 5 feet. Each panel is safely attached by high-strength 316 stainless steel clamps core-drilled into the base material. For details, click here.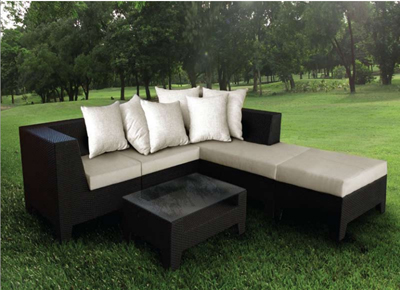 Gardenside (Berkeley, CA) has introduced Nature Corners, an all-weather collection of durable, high-quality indoor/outdoor wicker furniture made from hand-woven polyethylene rattan with powder-coated aluminum frames. The synthetic rattan is flexible, resists UV degradation, won't fade and is both environmentally friendly and recyclable. For details, click here.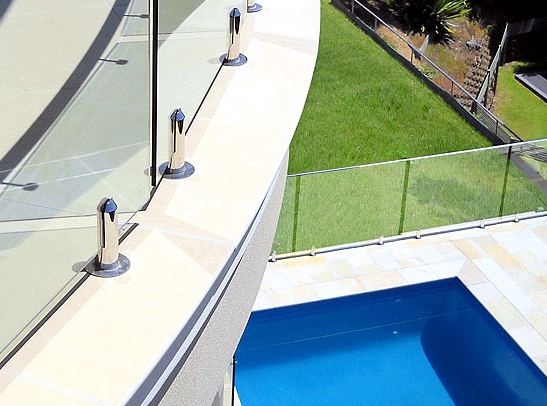 Aqua Vista Glass (Virginia, Queensland, Australia) manufactures frameless glass pool fencing with a modular design. Engineered for strength, beauty and cost-effectiveness, the system features stainless steel posts and thick glass panels in custom as well as 20 standard sizes to work around any slope or obstacle. Glass gates are also available. For details, click here.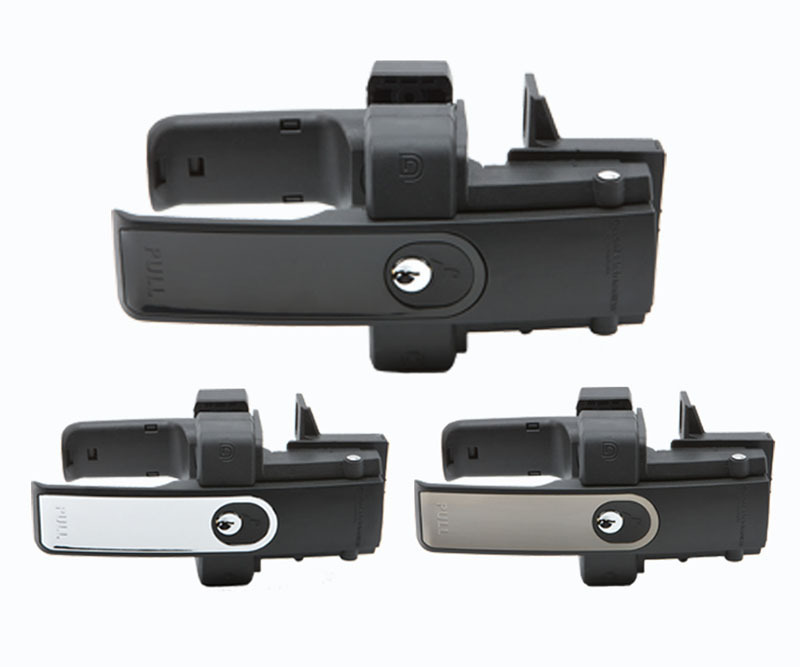 D&D Technologies (Huntington Beach, CA) now offers LokkLatch Magnetic, a magnetic latching system that fits any metal, wood or vinyl square post. Available with trim covers that match gate hinges, lighting and yard accessories, the system helps create a cohesive outdoor living environment while withstanding the effects of time and weather. For details, click here.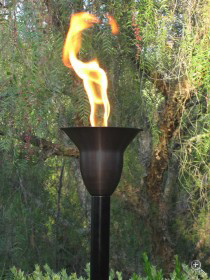 Grand Effects (Irvine, CA) offers Tiki Torches with a number of profiles and finishes. Made with cut stone or aluminum with powder-coated surfaces, the manually operated units are easy to install and use and warm a space with 6,500 Btus per hour. For details, click here.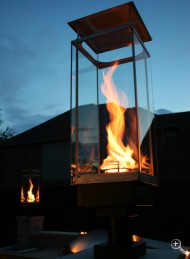 Grand Effects (Irvine, CA) manufactures vertical torches for commercial and residential applications. The decorative, space-heating devices use Venturi technology to create dramatic, spiraling flames. For details, click here.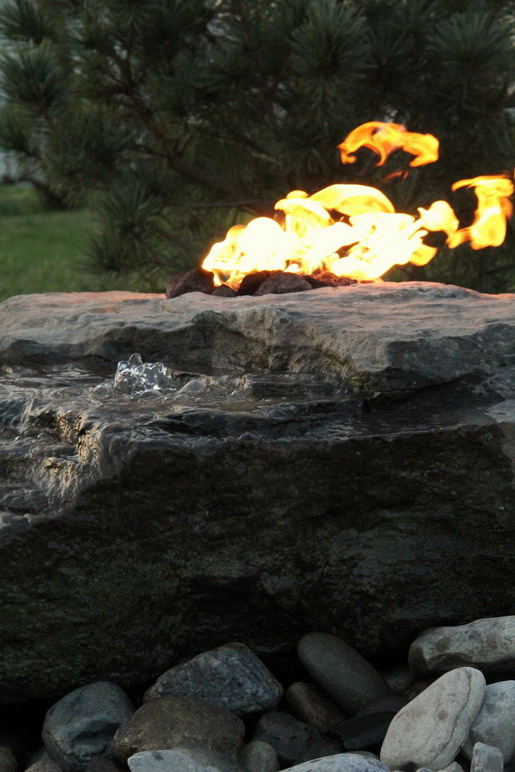 Aqua Bella Designs (Harpers Ferry, WV) has set up a web page featuring images of its new Fire & Water Stone Fountain, which works as either a focal feature or as part of an overall landscape design. For details, click here.