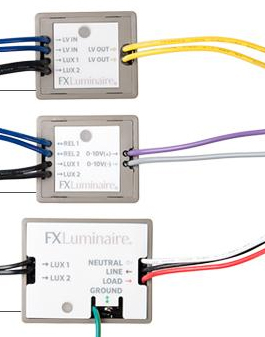 FX Luminaire (San Marcos, CA) has released the Luxor Cube, a module that allows the company's lighting-control systems to zone and dim its own as well as other brands of low- and line-voltage fixtures as well as waterfeature pumps and other items with relay inputs. The units are available in three models: low voltage, high voltage and 0-10 volt. For details, click here.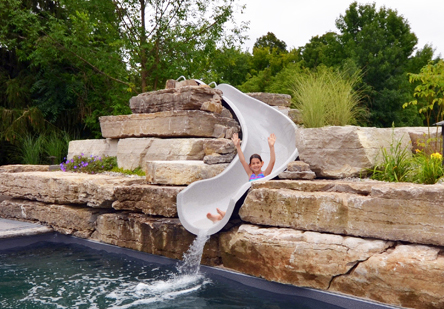 Inter-Fab (Tucson, AZ) now offers the Garden Ride Series of pool slides – two-piece flume slides designed to be built into custom landscaped pool areas. The deep, wide flumes have compact footprints and come in seven-, ten- or 15-foot lengths. They also feature the company's Zoom Flume water-delivery system and come in any of ten colors. For details, click here.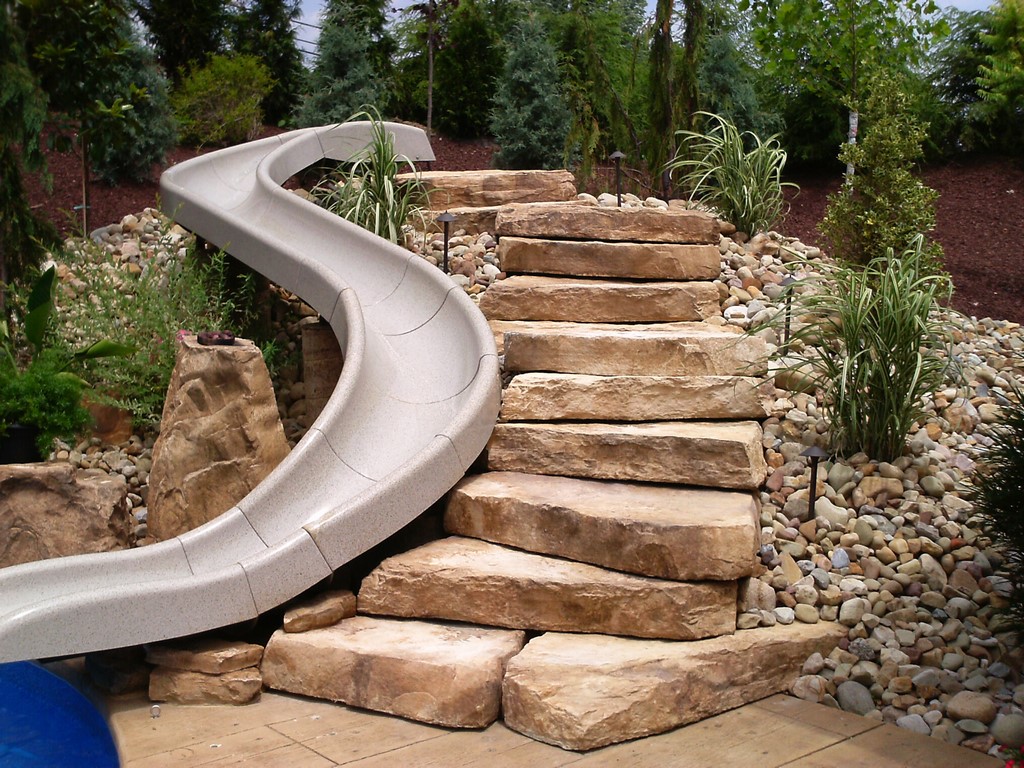 RicoRock (Orlando, FL) now offers designers and builders a variety of pre-cast rock options for waterslide access, including step systems for use on hillsides or mounds as well as pre-cast staircase systems for use on flat ground. Available in configurations suited to most popular fiberglass-slide heights, they come in seven-, ten- and 15-foot lengths. For details, click here and scroll down.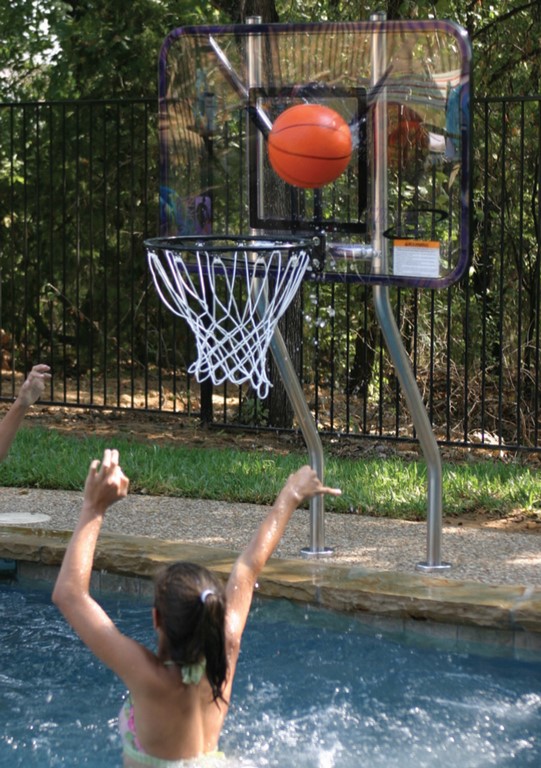 S.R. Smith (Canby, OR) offers Swim N' Dunk Basketball Games in single and dual-post designs. The commercial-grade units, which feature regulation rims and nets, are made with tubular stainless steel uprights and can be removed from the deck for storage, with the stanchions protected by flush-mounting anchor caps. Ball and needle included. For details, click here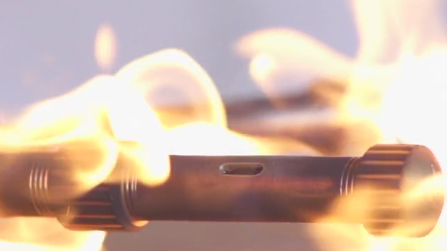 Bobé Water & Fire Features (Phoenix, AZ) has introduced the Perfect Flame, a modular system that allows for the creation of custom fire patterns. Engineered to produce flames that are substantially larger than those produced by common fire rings, the units are made of stainless steel and brass and work with either manual or automatic ignition systems. For details, click here.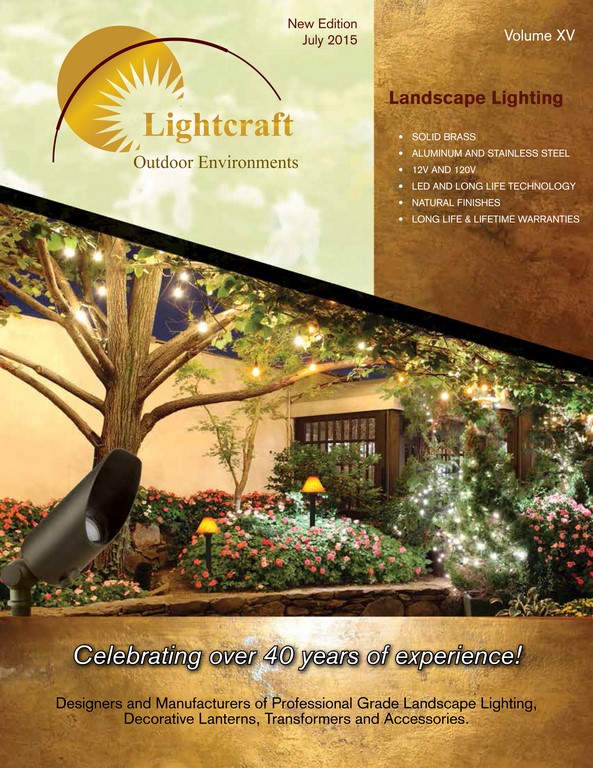 Lightcraft Outdoor Environments (Chatsworth, CA) has released its 2015 product catalog. The document covers directional flood and spotlights, wall floods, accent and path lights, hanging pendants and candle lights, bistro and string lights and inground well and hardscape lights, along with power supplies, transformers and accessories. For details, click here.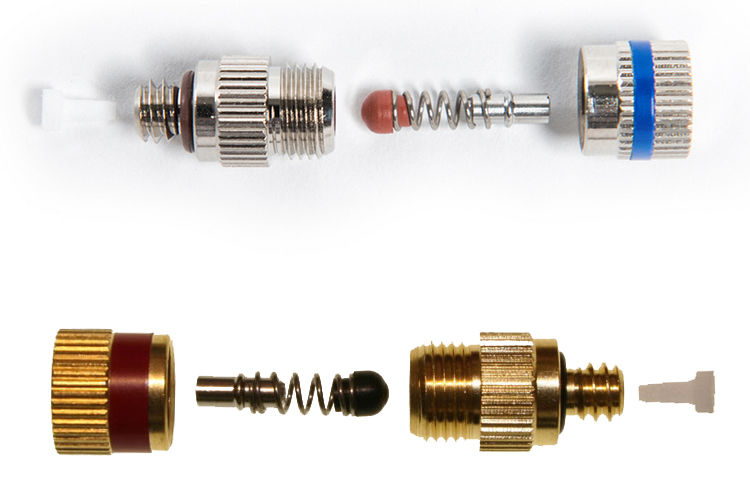 MistAmerica (Scottsdale, AZ) manufactures MAMist, an outdoor, high-pressure cooling system featuring the company's Ruby nozzle orifices for reliable, long-term performance. Each unit includes a built-in filter to limit clogging and has a check valve to stop drips and whistling. They're also available with four orifice sizes to customize mist flow. For details, click here.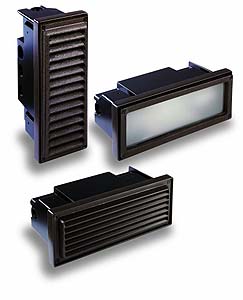 Philips Hadco (Somerset, NJ) manufactures the Bronzelite LED bricklytes. Sized to occupy the same space as a standard 9 by 3-1/2-inch brick, the fixtures come in horizontal, vertical or frosted-lens configurations that allow light to be directed where it is needed. In addition, the fixtures are designed to stay cool to the touch – including the lens. For details, click here.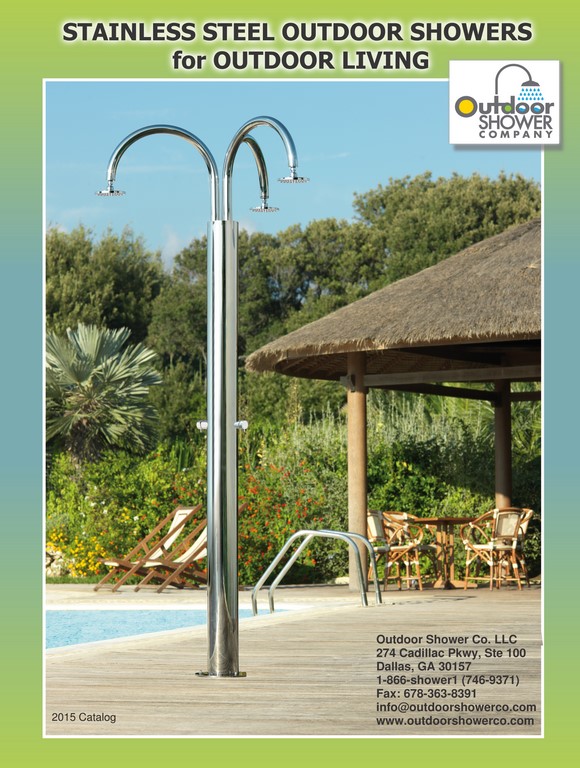 Outdoor Shower Co. (Dallas, GA) has published a digital catalog on its line of freestanding and wall-mounted showers designed for both residential and commercial applications around pools, spas and waterparks. The literature covers more than 40 styles; custom fabrications are available, as are options such as foot showers, hose bibs and drinking fountains. For details, click here.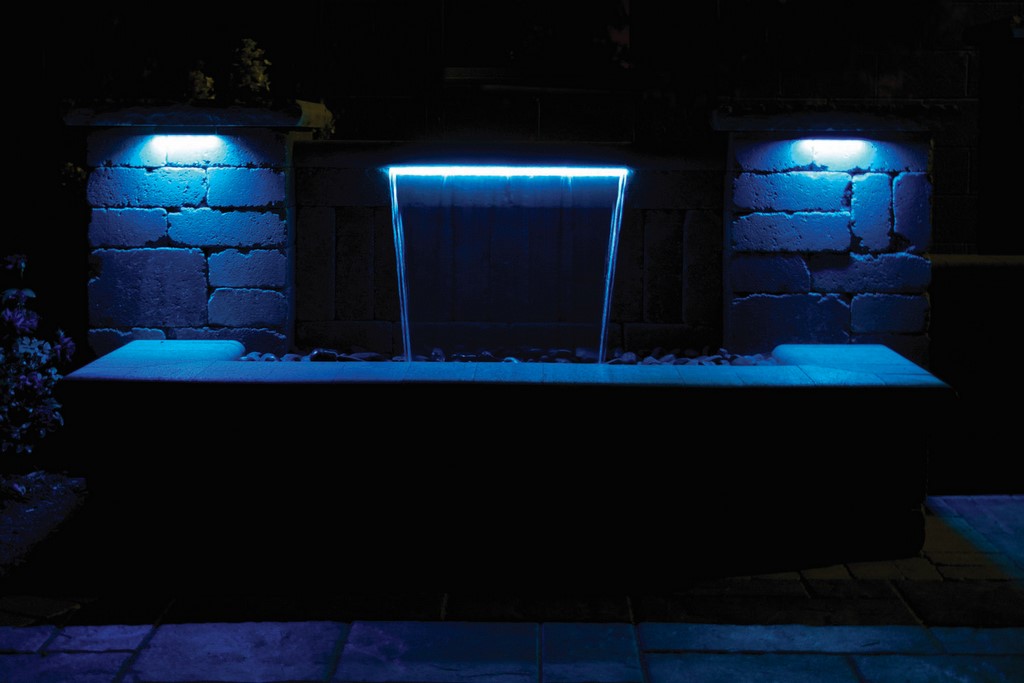 Atlantic Water Gardens (Mantua, OH) has added hardscape lighting to its Sol line of outdoor lighting products. Available in warm white and color-changing varieties, the cast-brass lighting fixtures are equipped with stainless steel mounting brackets, come in 6- and 12-inch widths and are designed to wash walls, illuminate steps and highlight ledges. For details, click here.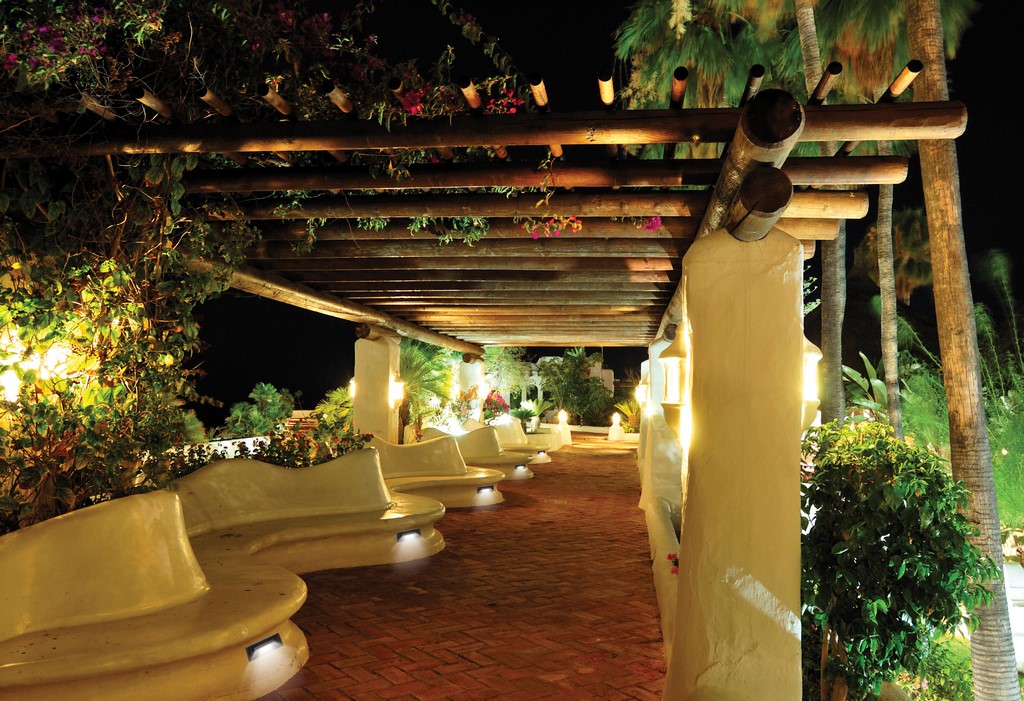 Lightcraft Outdoor Environments (Chatsworth, CA) has introduced a line of 12-volt, LED, flush-mounted step and accent lights. Available with 1- or 2-watt lamps and made with a design that eliminates the need for a back junction box, the units install easily and feature a low profile that projects (on average) only an inch from the surface. For details, click here.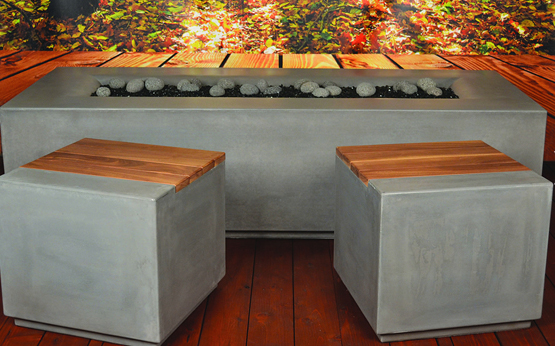 Grand Effects (Irvine, CA) produces Aura Fire Table, complete with matching seats. Available in ten colors ranging from urban slate to burnt terra cotta, the large tables come in both manual or automated models, include flame-monitoring technology, can operate with natural gas or propane and can be controlled using any home-automation system. For details, click here.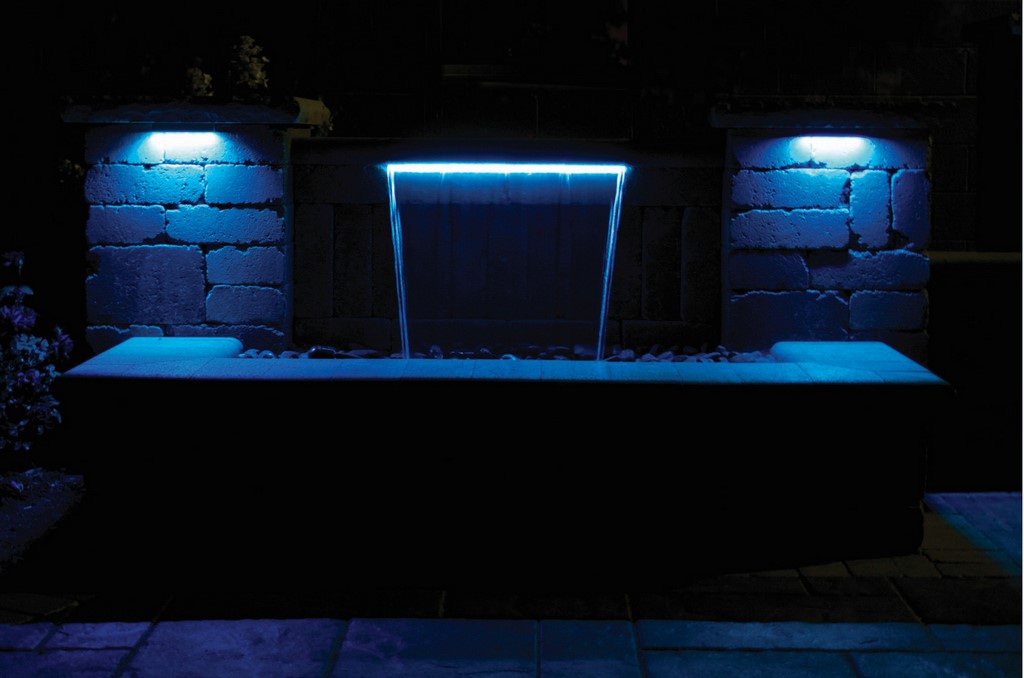 Atlantic Water Gardens (Mantua, OH) has released a new line of cast-brass hardscape lights in both warm-white and color-changing versions. Designed to wash exterior surfaces in light, the LED fixtures are available in 6- and 12-inch-wide models and can be used to illuminate steps, illuminate walls in light and brighten spaces under ledges. For details, click here.