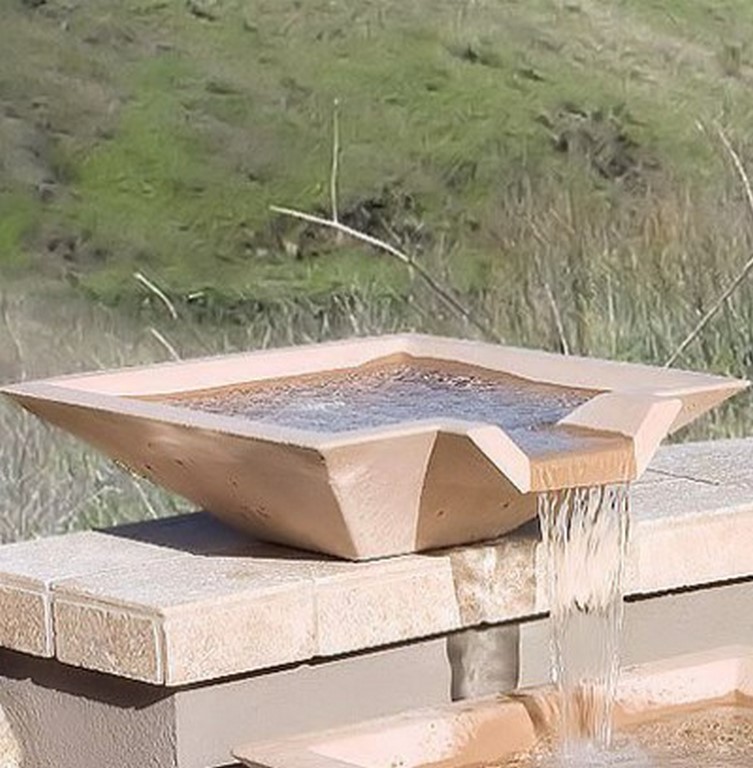 Fountains Unique (Laguna Hills, CA) manufactures Metro Bowls for residential and commercial projects. Made of natural stone and predrilled for easy installation, the bowls come in 24-, 30- and 36-inch sizes, bring a sleek, angular, modern look to any design and feature wide scuppers for full flow and soothing sounds in any fountain or poolscape. For details, click here.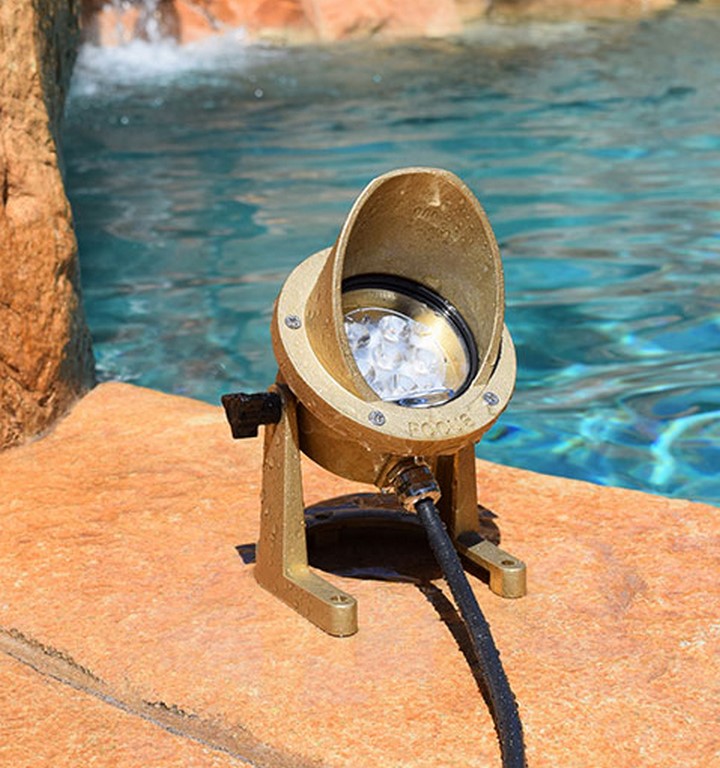 Focus Industries (Lake Forest, CA) has introduced the SL-11-LEDM series of underwater lights. Made with cast-brass bodies and caps in three finishes, the units feature 316 stainless steel screws; high-impact, liquid-tight lenses; and low-voltage 7-, 11- or 15-watt LEDs. They as 15-degree spotlights as well as 40-, 60- or 160-degree floodlights. For details, click here.
Crystal Fountains (Toronto, Ontario, Canada) manufactures the Model WMT122 Fyrefly Jet to bring multiple streams of arcing water to pools, spas and other watershapes. Made of cast bronze, brass and stainless steel with optional fiberoptic lighting, the units are not water-level dependent and can be mounted at 20- or 40-degree angles on decks or walls. For details, click here.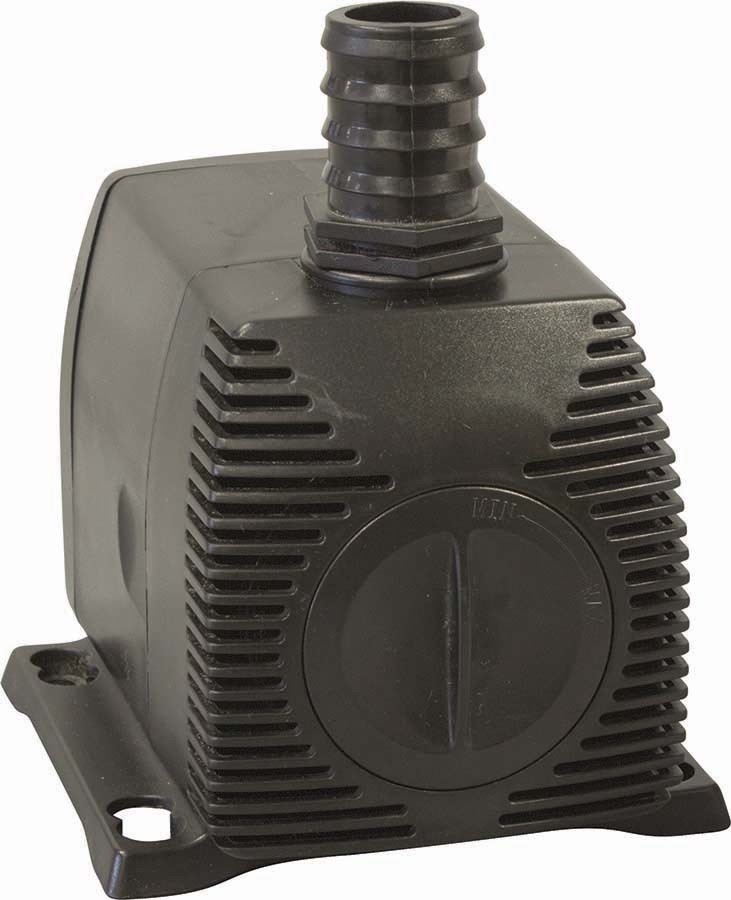 EasyPro Pond Products (Grant, MI) has unveiled the Tranquil Décor line of magnetic-drive pumps for use in small fountains. Made with all electrical components encapsulated in epoxy, the submersible, compact, energy-efficient units feature adjustable flow controls and come in eight models with flow rates from 85 to 1,000 gallons per hour. For details, click here.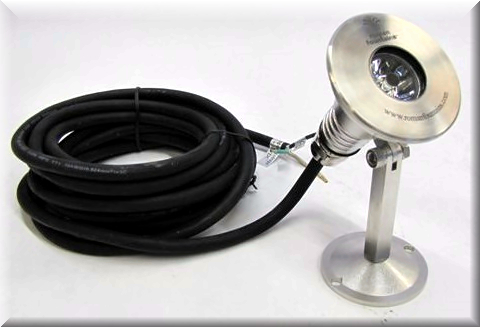 Roman Fountains (Albuquerque, NM) offers a freestanding, low-voltage mini-LED submersible light fixture. Model 5.39a RFL-CG-SFS-LED features a concrete forming sleeve for flush-to-floor or wall installation; a high-output LED diode in either white or RGB; a stainless steel and aluminum housing and fasteners; and a tempered-glass lens. For details, click here.
HaddonStone (USA) Ltd. (Pueblo, CO) makes a triple-ball fountain for gardens and landscapes. With its contemporary styling, the cast-stone system is available five colors (Portland, Bath, terracotta, slate and coade)and comes as a kit that includes a pump, plumbing fixtures and a basin pool. (The glass beads are not supplied.) For details, click here.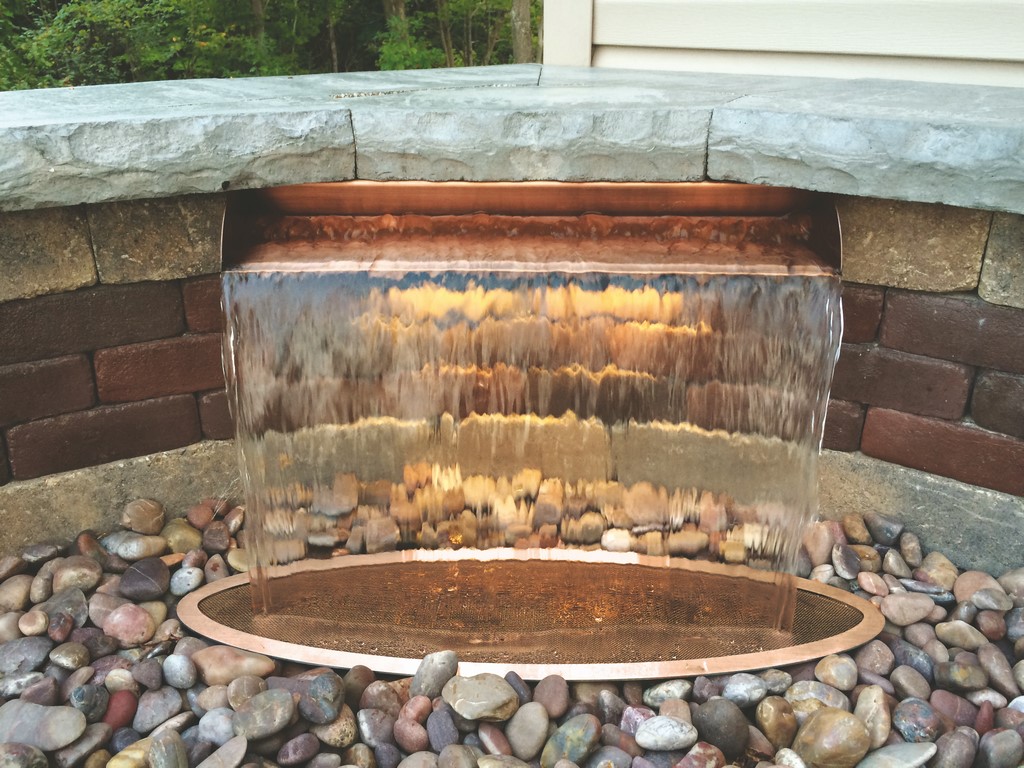 Atlantic Water Gardens (Mantua, OH) has added copper finishes to it Formal Spillways line. The units include an antique copper layer applied over 304 stainless steel and come in 12-, 24- and 36-inch widths with 1-1/2-inch female thread connectors for easy plumbing. An external white or color-changing light fixture is available as an option. For details, click here.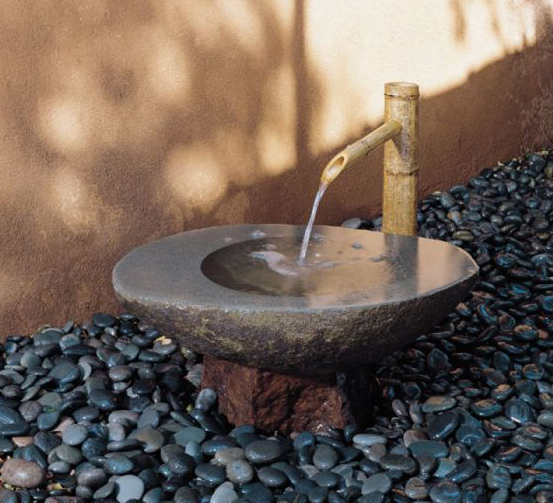 Stone Forest (Santa Fe, NM) takes natural boulders, slices off the top, carves out a basin and then polishes the top surface to create a contrast with the weathered sides of the boulder – a great companion to a bamboo water spout or, when drilled, a cool, bubbling fountain. The basins are made of green granite and have widths ranging from 24 to 34 inches. For details, click here.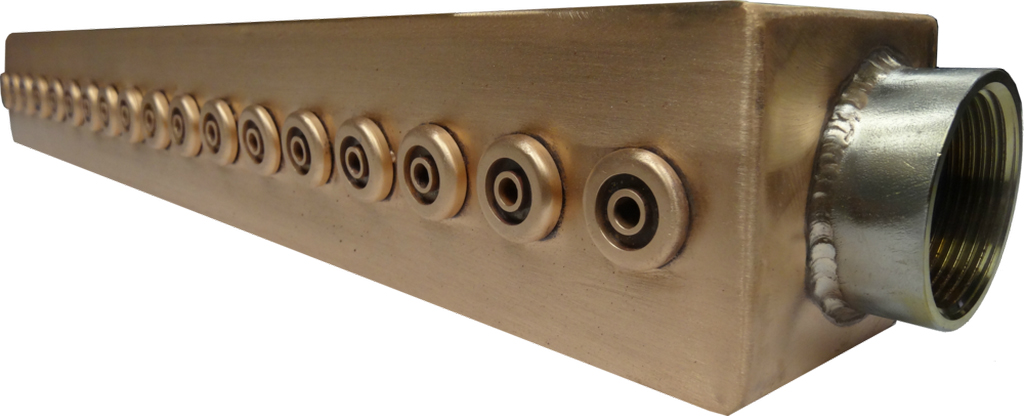 Bobé Water & Fire Features (Phoenix, AZ) manufactures Rain Fall, a waterfeature that captures the sight and sound of natural precipitation. Available in standard and custom lengths in straight lines or curves, the systems mask background noise, cool the air around them and come in four finishes: copper, stainless steel, bronze and black onyx. For details, click here.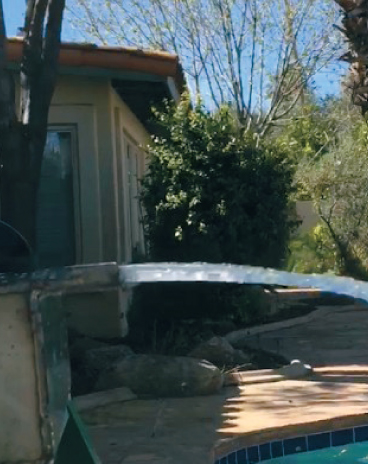 Bobé Water & Fire Features (Phoenix, AZ) now offers Pure Flow, a scupper made with quarter- and eighth-inch-thick marine-grade stainless steel. The pressurized units shoot water out up to 36 inches and have 1.5-inch threaded inlets in the back or can be customized with the inlets in the bottom. They come in six widths ranging from six to 48 inches. For details, click here.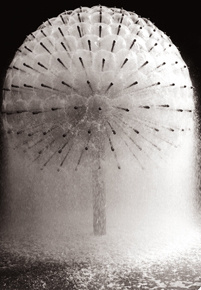 Fountain People (San Marcos, TX) manufacture Dandelion water effects in both spherical and hemispherical configurations. Made of machined brass, cast bronze and copper, the fixtures are designed to create curved contours covered in flat circles of water. They operate with very small orifices, so filtration is recommended to minimize nozzle maintenance. For details, click here.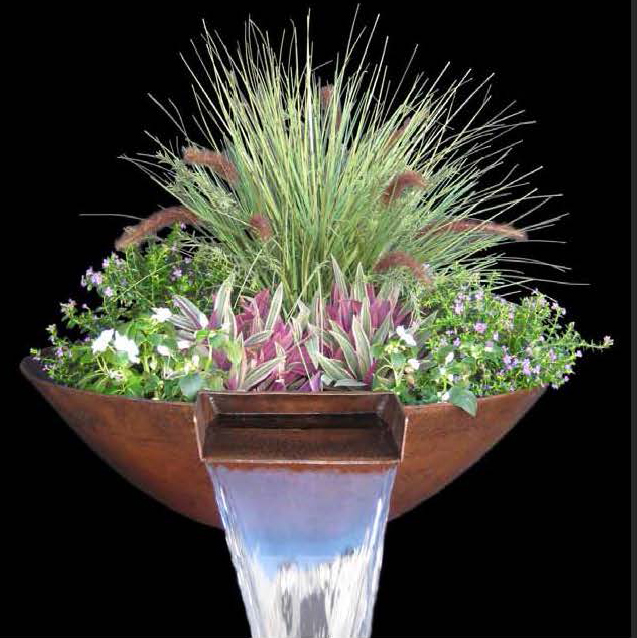 Grand Effects (Irvine, CA) has introduced a line of Water Plantiers made of either concrete or copper. Designed to be mixed and matched with the company's Fire Bowls, Water Bowls and Fire/Water Bowls, the units offer substantial room for planting, provide water flows at ten to 12 gallons per minute, can be automated and come in multiple sizes and colors. For details, click here.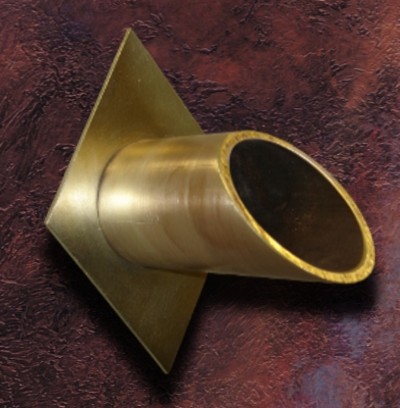 Fountains Unique (Laguna Hills, CA) manufactures wall scuppers in a Deco style that works in a range of settings, from classic to contemporary. Available with three faceplates (diamond, round or square) and three pipe diameters (1-1/2, 2 or 2-1/2 inches), the units can be customized in several polished finishes, including chrome, brass and nickel. For details, click here.