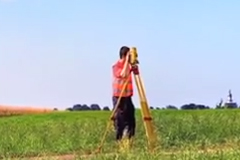 By Lew Akins
Some building sites are just tougher than others – and there are few of them that will complicate the construction process as much as the steep slopes discussed in the video linked below.
To be sure, top contractors love these difficult sites: Not only do they give us the opportunity to incorporate nearby and distant views into our design vision, but they also give us the opportunity to demonstrate our skill in overcoming the engineering hurdles dropped in front of us by the local topography.
It's a plain fact that neither the contractor nor the homeowner wants to wake up one morning to find that a pool has relocated itself from the top of a hill to a more comfortable spot at the bottom. It's a second plain fact that this should never happen because projects of this type should always be supported by complete soils and engineering reports. The former tells the contractor what he or she is up against; the latter guides him or her on how to build in a way that keeps our watershapes where they belong – permanently.
When we approach these jobs, we specify that we won't engage in anything more than preliminary design conversations until we have both reports in hand. Only then will we know what has to be built and approximately what it will cost to build it. Anybody who is willing to move forward without those reports is just guessing and hoping – and I'd like to suggest that this is not the best foundation for what can be decidedly complicated sets of tasks.
There are some who argue that every watershaping project needs these reports, even on flat lots in familiar locations. That's probably overkill in some places, but it certainly takes the risk out of a project in any area where there's clay soil, for example, or in a major development where it's impossible to tell what's going on beneath heavily graded surfaces without an expert taking a good look.
For a brief survey of how complicated projects should be approached, click here.
Lew Akins operates Ocean Quest Pools By Lew Akins out of three offices in central Texas. He started in the pool business in California in the late 1970s, opening his own design/build/retail firm in Texas in 1984. Widely acknowledged as a pioneer of the vanishing-edge concept, he added "design consultant" to his list of services in 1998. He may be reached at This email address is being protected from spambots. You need JavaScript enabled to view it..