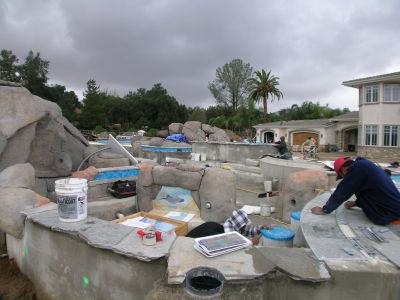 By Kathy Marosz
Some clients don't know any limits when it comes to their ambitions – and that's certainly been true in this case.
His mountain-sized home is set on a relatively flat four-acre parcel in otherwise hilly Ramona, Calif. The client himself describes the building as looking like a casino, and indeed it does have a decidedly "eclectic" architectural look. What he wanted was a backyard to match – a free-wheeling composition that might best be described as a Tommy Bahama-inspired tropical resort.
He let me know that the family includes three young children, so there was a clear need for fun, safe play spaces. He also informed me that he and his wife entertain a lot and wanted the backyard to be a venue in which they might throw parties for as many as 250 guests.
This basic information was offered in initial conversations that took place more than two years ago, and at that time I had no clue how deeply involved I would become or how brutally difficult getting everything done would turn out to be. In fact, this project has been the most elaborate and challenging I've ever tackled, mainly because the complex design kept evolving and growing, almost from the start.
It's a project so broad in scope that I'm inclined to see it as a clinic in dealing with the host of issues related to grand-scale design and construction.
A FOOT IN THE DOOR
I became involved here through Skip Phillips of Questar Pools (Escondido, Calif.) – another instance in which my involvement in Genesis 3's community of designers and builders has served me well.
In recent years, Skip has shifted the emphasis of his own business to design and consulting after long service in the design/build realm, and I had contacted him to explore the idea of being able to offer construction bids on some of his designs. As a San Diego-based landscape architect and contractor with a great deal of practical watershape-construction experience, I've always been interested in combining creative design with quality construction, and I thought working with him seemed like a perfect fit.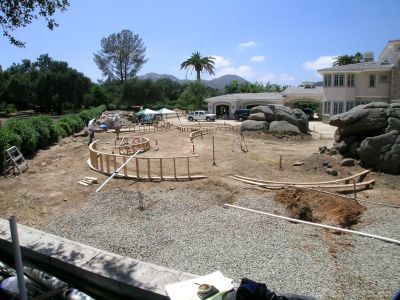 The yard we were called into was surrounded by hilly areas, but what we had was essentially a flat plane that rose a bit in one far corner. Up from this blank slate emerged a rock outcropping that broke the surface in two places – and provided the dual anchor for the entire design.
Skip had met with these clients and had developed a design that seemed to hit all the right notes with its free-form pool, beach entrance, spa, swim-up bar, diving area and various other touches that bounced off the concept of tropical fun and whimsy. To give you a sense of the scope and scale, the original plan called for a pool that was to be about 50 feet long.
When I met with the client to discuss the design, I asked him if there were other things that he'd like to see included. I had no idea I was effectively opening the floodgates.
Before long, I learned that he was somebody who wanted as many suggestions and ideas as I could offer – and that he was open to just about anything. There were lots of conventional features (and several unconventional ones) in the existing plan, but he let me know in clear terms that what he really wanted was something no one else had and that he wasn't concerned about conceptual or budgetary limitations. At the most basic level, he said, what he wanted was Big Fun for his family and friends.
Excavating for the pool was a distinct challenge because of all the subsurface rock, but attention was focused as well by the fact that the design called for a wild set of contours that needed to be painstakingly shaped.
He certainly had the room for that sort of playground: The area in which we're working encompasses approximately one acre stretching from the back of the house to the base of a slight slope at the rear corner of the property. In almost the exact center of that space is a large rock formation that, from the start, the client wanted to incorporate as part of the design for the pool and its associated structures.
It wasn't long before I recognized that he was more than interested in blowing the boundaries off the original plan and that we would be installing a much larger, much more elaborate lagoon-style pool with a far broader range of aesthetic, recreational and fun touches – not to mention a generous supply of bells and whistles.
Almost immediately, in other words, I set my thoughts of a serene, naturalistic setting aside and instead began thinking in terms of raw, unbridled fun – hoping at the same time that I would be able to maintain a sense of casual elegance.
PROJECT EVOLUTION
As mentioned above, the original plan called for a 50-foot-long pool with a swim-up bar, spa and beach entrance. Although much was eventually added by way of features, the core layout of that plan remained intact. From its outlines, we started exploring how the client wanted to use the space and ways we might enhance and manipulate the original layout – generally by bumping things up or out in various directions to accommodate his expanding registry of wishes.
In overview, the early stages were the very picture of chaos. In fact, the only way we could keep up with everything was to view the site as a set of zones we could evaluate and organize as individual subunits.
At one end of the pool, for example, we saw the swim-up bar as being a space for entertaining and adult-type fun. This zone transitions to a nearby shallow area designed for comfortable child's play. On the side of the pool nearest the home is the spa, which would evolve to become a large, raised, all-glass-tile affair set adjacent to the beach entrance. Opposite the swim-up bar is a deep end designed for diving and deep-water swimming or play.
Once our excavation work in the reliable portion of the soil was complete, we set up a system of big grade beams in the less-desirable filled area (which we'd used as a ramp down to the deep end of the pool) and began intricate preparations for concrete application.
The objective in everything we were discussing was to find approaches that made things fun for the kids and classy for adults at the same time.
By the time we were ready to begin construction, however, the original footprint of the pool had grown to its current length of just beyond 90 feet and an augmented width of up to 53 feet. And there were some added features that bear mentioning: To the original plan, we had now added a gargantuan grotto complex, various fire features, a unique set of deep-end beach entrances, diving rocks, elaborate tile mosaics, leaping deck jets, deck jets related to the beach entrance, fiberoptic lighting, sheeting and cascading waterfalls, extensive artificial rockwork, associated deck areas and, for good measure, a 25-foot vanishing edge.
One of the first significant expansions had to do with the vanishing edge. The existing elevations of the site and its limited outward views didn't particularly lend themselves to a traditional vanishing-edge approach, but it was something the client really wanted to go with his beach entry. The property sloped up away from the back of the house, so there was an excellent opportunity to view the proposed edge from the home's sunken great room; this led me to suggest raising the main pool so it would spill into a beach entry/play pool. The visual concept was to suggest the main pool was a lake spilling over its dam and toward the house.


Before this job, I'd been involved in projects that required a lot of steel, but this one is unrivalled in the tonnage of material we used and the sheer complexity of what this substructure was being asked to accomplish.
With the beach entry terminating at the vanishings edge's dam wall instead of flowing into the rest of the pool, this area is a particularly secure and visible play space for small children. In addition, this approach provided the opportunity of using a battered ledger-stone dam wall to create a whitewater-cascade effect the client also wanted. And when he asked me to suggest anything else I thought would be fun for the kids, I came up with the notion of including deck-level leaping jets adjacent to the beach entry. Everyone loved the idea.

The important point to note is that this episode set the pattern: If one new idea was good enough, why not come up with a couple more to make things truly different and special?
A GRACEFUL WEAVE
Another early addition to the program was the outsized grotto.
We were working with the natural rock outcropping as the core of the design, so it made sense to pick up that look and expand it into an elaborate, artificial-rock structure that would blend visually with the natural outcropping. It also made sense because if we'd just left the outcropping alone, it would have stood out so strongly in visual terms that it actually wouldn't look natural.
Blending real, native stone with artificial rockwork is, of course, a big challenge when it comes to balancing natural elements with those that are clearly built by human hands. We knew we couldn't rival Mother Nature here, so we decided to acknowledge that most of what can now be seen is a built structure that we have artfully interwoven with a natural one.
Of all the zones we developed for this project, none matched the intensity of what had to be done to make the spa into everything the client wanted it to be. It isn't that large, but the spa features 42 jets, a standup well and an amazing conglomeration of steel and piping – not to mention concrete that had to be applied with the utmost care and precision.
Once we headed in this direction, the client jumped in with both feet and the grotto itself began to grow. At this point, it's a 15-foot-high, 30-odd-foot wide structure with a broad, swim-in entrance masked by a waterfall. Inside, it has a natural-cave appearance with fiberoptic starlights in the ceiling that, with their shifting colors, lend an otherworldly atmosphere to the interior space.
As part of the already-established additive pattern of the project, we ended up building an ice bucket into one of the walls – and rigged it with fiberoptic lighting that makes the ice "glow."
We spent a tremendous amount of time with all of the rockwork for this project, but we paid special attention to the grotto knowing that we had to do all we could to make it a seamless visual extension of the real outcropping. This explains the careful detailing, for example, of the waterfall over the entrance: Rather than the usual straight weir you see with lots of these features, we carefully sculpted the edge so it is as irregular and broken as it would be in nature.
We also studded the grotto's exterior with a variety of fractures and irregular outcroppings interwoven with planting pockets, our aim being to drape the structure in greenery. When the project is finished, the back of the structure will nestle into the slope and hillside at the back corner of the property, and we'll dress the area with plants to ease the transition.
Working beyond the deep end of the pool on the side opposite the outcropping, we began building the grotto – and undertook the constant, difficult task of doing all we could to match our artificial-rock structures with the natural ones. Fortunately, we were able to make patterns using a number of local formations, and by the time the structure is planted out and the water starts to flow over various waterfalls, we're confident it will all seem as though it belongs there.
Even with this ambitious project element, however, the changes kept coming. Indeed, after we'd fabricated the steel armature to support the faux-rock structures, the client decided he wanted a dry rear entrance on the far side of the grotto. We returned to the drawing board, reconfigured the support structure and added a small waterfall to hide the new back entrance from view.
In the photographs seen here, the grotto currently appears as a mass of rocks that doesn't blend particularly well into the space. We're confident, however, that once we're finished, everything will look as though it truly belongs together.

TILE LINES
In sharp visual contrast to all that rockwork, the design also includes more than 1,000 square feet of extremely elaborate tile in ceramic and glass. As with all other aspects of the project, the client wanted something that was as customized and lavish as we could imagine – thereby setting the stage for expansion of this part of the project into its own long journey.
Fittingly, the tile treatments blend the work of two of the most creative suppliers in the industry today: Craig Bragdy Design (Dinbigh, Wales) and Lightstreams Glass Tile (Mountain View, Calif.). The great thing here was the extent to which both had aspired to work together on some sort of project that had not yet presented itself.
Beyond the Water
The watershapes on display here are still under construction at this writing. After two long years, I must say that I'm getting anxious to move along to subsequent project phases in which we'll be installing a whole range of dry-land amenities to go along with the pool, spa and all the rest.
Given the clients' desire to throw huge parties and catered affairs, this means we still need to get around to installing a variety of broad deck areas, facilities for catering services, outdoor cooking facilities, shade structures, changing rooms, bathroom facilities, extensive pathways and garden areas.
Much of this will eventually rise in the space facing the swim-up bar, but our work will spread throughout the yard – including the area around the deep end, where we'll be installing what we're calling a "fire deck" that will feature a number of fire elements for entertainment and family relaxation.
The final forms these amenities will take are still under discussion. If the experience we've had in creating the poolscape is any indication, however, it's safe to say that the ideas will evolve and expand in ways we can't anticipate as we approach the construction stage.
K.M.
I'd already been working with David Knox of Lightstreams on this project for quite some time, and in one of our many conversations I indicated that a coral-themed mural in Craig Bragdy Design's tile would be a perfect complement to his glass tile. Knox wasted no time in helping me make it all happen.
Craig Bragdy Design has long been known for its wildly expressive mosaics made up of textured ceramic-tile panels. Its artists can create almost any image, and in this case we asked them to work with underwater motifs featuring a whole menagerie of sea creatures as well as sandy beaches. Spread throughout the pool, the installation puts dolphins on the walls of the deep end along with flying fish, rays, crabs, seashells and assorted colorful fish swimming through coral reefs. There are also mosaics of tropical plants that reach up out of the water on the raised walls.
As is typical of this supplier, the work is colorful, textured and in all ways unique, with no image repeated twice. Some are quite large and dominating, but others are small and retiring – as if they're waiting for someone to discover them.
The work by Lightstreams, which creates vivid glass tiles that have almost mind-blowing optical characteristics, was equally spectacular. To get this particular ball rolling, the client offered me the use of his private plane and pilot to fly up to Lightstreams' facility so I could meet at length with Knox to set plans for the custom colors and tile shapes we'd use throughout the pool.
The colors in this case harmonize with the aquatic themes and hues used in the ceramic mosaics, which means all sorts of blues, greens and purples salted with warm accent colors. The spa is finished entirely with this tile, as are the 30-foot-long swim up bar and its nine barstools. Lightstreams' tile also appears at the waterline, on steps and benches and on the outside of raised sections of the pool wall in a variety of configurations.
Throughout the early construction phases, we spent an amazing amount of time making decisions about finish materials and how they'd be arrayed over the grotto's and watershapes' interior and exterior surfaces. Working through the myriad possible combinations took persistence – and the participation of a number of wonderfully patient and supportive suppliers.
Perhaps the most amazing tilework of all is in the shallow beach entrance, where Knox and Craig Bragdy Design's Nick Powell used both materials in a composition that's meant to shimmer and become animated once it's covered by water. In other places, the Lightstreams tile is used as tiny shards set in the surface to provide beautiful, visually enriching highlights. As with the small ceramic-tile details, these are accents that might be missed by those who aren't paying enough attention.
Here as with just about every detail of this project, no capsule description of the process conveys the seemingly endless discussions, design revisions, e-mail communications and phone calls required to make everything come together. Happily, the tilework is so spectacular that anyone who really bothers to look will be impressed enough to gather that this isn't off-the-shelf work. Indeed, it's about as custom as custom gets.
HIDDEN FROM VIEW
Beyond the surface details and complexity, of course, much of the difficulty of this project will be forever hidden from view and would be a candidate for feature-length treatment on its own. For now, however, let's limit this discussion to a few key details, starting with the excavation and basic structural work.
As one might expect from the presence of the large outcropping, simply digging the hole for the pool was epic both because of complex shape and the fact that much of the area was dotted with submerged granite boulders, some of immense size. In fact, to call this "digging" would be a misrepresentation of what we had to do.
It was so bad that our initial thought was to bring in demolition specialists to blast the boulders away with explosives. Our excavator checked into the possibilities to no avail: Not only are such subcontractors few and far between these days, but they're also tough to bring in on short notice.
To sidestep both a probable delay and all sorts of other headaches, our excavation subcontractor turned to chemistry: With the larger boulders, the crews drilled two-foot-deep holes at six inches on center, burning through numerous diamond drill bits in the process. These holes were then filled with a special expanding compound that, overnight, split the boulders into pieces. The job was backbreaking and labor-intensive, but it all worked.
Instead of taking a few hours or days, however, clearing things away to accommodate the pool complex took a difficult 30 days.
The natural consequence of such a complex set of features and structures was a need for plumbing and conduits – in quantity. Keeping track of every line was an absolute necessity, because everything had to surface in specific spots in what simply had to be an extremely well-organized equipment pad.
Now we faced the issues related to the soil conditions and the structural design. As it turned out, the pool spanned two areas – one filled with boulders and surrounding material adequate to support a concrete structure, the other with undocumented and inadequate fill. This resulted in a complex structural design from civil engineer Jay Shniderman of Mark L. Smith Architecture & Engineering (Tarzana, Calif.). The structure includes a system of massive grade beams (some of which were to sink as deep as six feet into the ground below the floor of the pool) as well as an equally massive double curtain of steel including lots of #7 grade 60 rebar that required off-site fabrication.
Also, because the steel structure contained such big rebar, our municipality required us to provide proof that we could achieve full encasement of the reinforcing bars with pneumatically applied concrete. We met that requirement by building a mock-up panel that replicated an area of the pool with the most congested steel structure. After we shot the test panel, we took six cores and had them analyzed to confirm that we had successfully achieved proper rebar coverage.
Concrete application was appropriately complicated as well, involving a multi-phased process in which we poured the grade beams as well as the pool floor up to the cove, using vibratory equipment to settle the concrete into place. Then we came back in and assembled the walls before applying shotcrete.
This entire steel and concrete installation process stretched over a period of several months. To be certain that everything we did complied with codes and met the engineering specifications for concrete application and compression, we hired a deputy inspector to sample and inspect concrete samples at intervals as the shell was installed.
WAY BEYOND NORMAL
Before any of that could happen, of course, the entire pool had to be formed and plumbed. As was true of everything else we did on site, those two operations were extraordinarily complex – so much so that the second article in this three-part series will focus on the hydraulic systems alone.
Once the shell had cured and appropriate waterproofing agents had been applied, the structures were literally crawling with craftspeople applying glass and ceramic tile and several varieties of stone. If all goes as planned, this work will be wrapped up by the time this article appears in print and we'll have moved on to tackle the array of amenities that are to be built around this phenomenal structure.
The forming was another big challenge, given the intricacies of the structure and its raised walls, the elevation changes related to the spa, the multiple radiuses and the footings for the rock structures. This phase of the project was so complex, difficult and important that I handled most of it myself, working with the invaluable support of my brother, Tom Marosz.
As we shaped the space, plumbing and steel crews were active all around us. The hydraulic-system design was tackled by All Water Tek of San Diego, Calif., a firm run by Steve Sebo, an extremely talented (and patient) hydraulics expert. He and his field supervisor, Paul Kelly, did an amazing job in laying out and installing the multiple and complex plumbing systems and establishing the enormous equipment area.
A Warming Touch
One of the most deluxe and unique features of this project involves the area around the huge swim-up bar.
This whole section of the swimming pool is separated from the rest of the vessel by a three-foot wall that breaks at a level just above the water's surface. There's a gap in the wall that allows bathers to move easily from the pool to the bar area, which in itself is almost large enough for lap swimming.
The wall is designed so the gap can be closed using an acrylic panel, thus isolating this area from the rest of the pool. The circulation system (with separate filtration and ozone generation) is designed to heat this area of the pool to spa temperatures – all to increase creature comforts for those relaxing at the bar.
K.M.
The spa offers a particular testimonial to their engineering and craftsmanship: This vessel measures just 12 by 18 feet but has 42 jets, a two-person deep well for full-body hydrotherapy and seating for 14 people. Fitting so much pipe into so confined a space was an effort that required consummate skill.
The area with the deck-level leaping jets was similarly complicated, as were the waterfalls for the grotto, the circulation system for the swim-up bar area (discussed briefly in the sidebar at right), the vanishing-edge detail and its deck-level collector system – not to mention the pool itself.
All of this plumbing leads over to an equipment area unlike any I've ever seen outside of a waterpark. The set includes 20 Intelliflow variable-speed pumps from Pentair Water Pool & Spa (Sanford, N.C.) along with five heat pumps by AquaCal (Port Charlotte, Fla.), two propane heaters, a half-dozen diatomaceous-earth filters (also by Pentair), three corona-discharge ozone generators from ClearWater Tech (San Luis Obispo, Calif.), automatic chemical feeders, pH controllers and extensive control systems arrayed with a staggering number of valves and valve controllers.
STICKING TOGETHER
At every stage so far, this project has been all about collaboration, from my initial conversations with Skip Phillips and the homeowner through to countless discussions with consultants and subcontractors too numerous to mention. We still have a long way to go before the project is complete, and there's little doubt that others will get involved to help me clear the hurdles that still remain between us and completion.
Without question, this has been the most difficult and, at times, the most frustrating and exhausting job I've ever tackled, but I'm finding a great deal of satisfaction as each of the zones we've established take their shapes and the grand vision comes to fruition. If all goes well, we'll wrap up our work this summer, and I can't convey how much I look forward to sharing not only the promised article on hydraulic systems but also the finished product with you in WaterShapes sometime this fall.
For now, I'm still enjoying the process of exploring all the possibilities we have at our disposal as watershapers and, on the flip side, figuring out just how much work creating Big Fun can sometimes be.
Kathy Marosz is founder and principle designer at Vision Design & Watershapes, a landscape and watershape design/construction firm based San Diego, Calif. She established the firm in 2006 as a reorganized offshoot of her previous company, Enviroscapes, which she had established in 1997. Marosz has specialized in residential landscape design and construction since 1989, the year she earned her degree in landscape architecture from California State Polytechnic University at San Luis Obispo. She was the first woman who qualified for membership in Genesis 3's Society of Watershape Designers and currently teaches classes in site analysis and architectural drafting for Genesis 3's design schools. Before entering the landscape and watershaping industries, she was a professional musician and recording engineer.