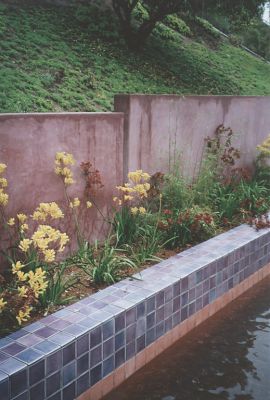 Watershaping advanced by leaps and bounds from 1999 through 2004 – a journey of artistry and practicality that was an inspiration to witness. In this retrospective feature, WaterShapes Editor Eric Herman reviews 25 key projects published during that time frame, offering an ongoing resource to watershapers while defining a Platinum Standard for the designers, engineers, builders and artists who use water as their chosen medium.
David Tisherman
David Tisherman's Visuals
Manhattan Beach, Calif.
Using a startling color scheme inspired by the homeowners' use of vivid colors inside and outside their home, David Tisherman seized on their adventurous sensibility to create an outdoor environment that features not only a red-plaster pool, but also boldly colored tile, walls and decks. Not too surprisingly, this project is one of the most controversial ever to appear in WaterShapes – a lightning rod for readers driven to the point of agitation by Tisherman's bold designs and aggressive attitudes.