By Scott Cohen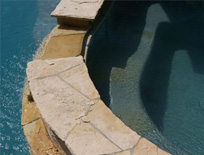 Water passing from one level to another will always be a popular feature in watershapes — from the familiar spillways from spas into pools to the intricate flows found in many fountains, reflecting pools, runnels, rills and even koi ponds (to name a few possibilities).
Depending on the application, these features might be called scuppers, weirs, cascades, edge overflows or just plain waterfalls. For our purposes here, let's call them spillways.
One of the common characteristics of spillways of all sorts is that they create turbulence, especially at their edges. If you don't take this special behavior of water coming out of a spillway into consideration, you can wind up with surprisingly serious issues on your hands.
Scenario: With most common spillways, the water flowing over the edge has a strong tendency to migrate laterally at the edges — that is, away from where it's intended to flow — sometimes causing problems as it goes. Indeed, it doesn't take much water migrating out of the system to empty a pool, saturate the surrounding soil, damage concrete or, most common of all, attack any stone it happens to encounter.
Take flagstone, for instance: Although it's frequently used in spillway applications, the fact that it is sedimentary and was laid down layer by layer through hundreds of thousands of years can make it extremely susceptible to water damage. While it may be something of an oversimplification to declare that flagstone is made by water, you can accurately surmise that water can destroy it — and quite easily, depending on the specific material at hand.
While some flagstone materials are harder and more durable than others, all of them will, without exception, slough off layers over time, and clients need to be aware of that fact. As professionals, however, we also need to know that those processes can be dramatically accelerated in wet/dry applications such as spillways, and that things can get even worse if the stone happens to be installed in a place where freeze-thaw conditions exist.
Moreover, even if the stone resists physical damage for a time, water migrating across its surface will eventually leave deposits that require cleaning. When abrasives are used to clear away these deposits, the process will generate silt that can attach to plaster (especially if it is fresh) and compromise its appearance. And if the problem is large enough, the loose material can even overwhelm a filtration system.
All of this is why I avoid using flagstone in waterline applications, because along with the wet/dry conditions, basic cleaning tends to accelerate deterioration.This is true even with material reputed to be very stable and durable, such as slate.
The Fix: Happily, the options you have here are relatively straightforward. First of all, try to avoid using stone to create spillways whenever you can. Tile and metal fixtures are preferable, and both look great in a huge range of applications.
If the client is determined to use stone or you decide it is the best visual choice for the application, talk to your vendors and find a material that withstands water, such as river rock or granite. In doing so, you run the risk of creating a visual compromise: If I'm using stone to create a spillway, it's very likely that the stone I use will be different from every other stone selected for the design, simply because I won't settle for anything less than the hardest stone I can find. I do my best to match colors and textures, but it's often tough to find a good match.
There are, helpfully, some other options you might consider. Penetrating sealers will slow deterioration, for instance, but in most wet/dry situations, regular reapplications are required. If you're set up to service the stone for the long haul, that's fine. But if the homeowner is left with the task, it's unlikely the stone will be maintained as it should if frequent applications are required.
There's also an approach that limits the water's ability to migrate: Just create small flaps or baffles at the edges of spillways to direct the flow back to the feature's center. I've found this to be a terrific way to avoid many of the problems associated with water migrating away from the spillway's desired outfall. As the water leaves the edge of the weir, it's directed back to the center, creating secondary turbulence that prevents it from migrating beyond the spillway's edge.
Lesson Learned: I'd used baffles for many years before learning the specific hydrodynamics of baffled spillways from Steve Gutai of Jandy/Zodiac Pool Systems (Vista, Calif.). That's just the kind of knowledge you gain by keeping up with current information, either through attending trade shows and seminars or simply by getting to know people who have useful knowledge they're willing to share.
Scott Cohen is president and supervising designer of The Green Scene, an outdoor design and construction firm based in Canoga Park, Calif. He provides consultation for clients nationwide and gives seminars on designing landscapes, swimming pools and outdoor kitchens. For more information, visit www.greenscenelandscape.com.