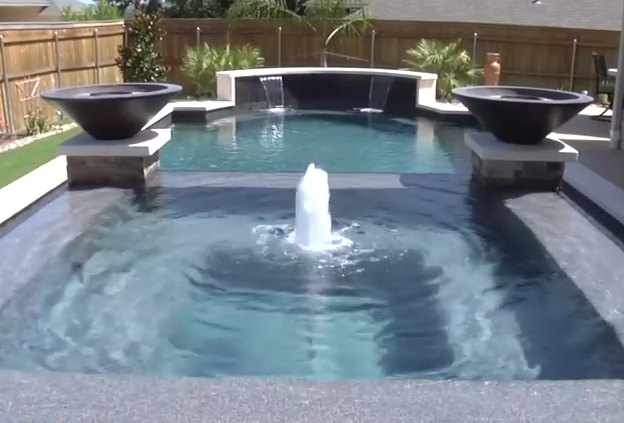 By Lew Akins
For almost as long as I've been in business, people who are interested in swimming pools have also usually been interested in having a spa or hot tub to go along with it. It's always been a natural combination, and as watershapers we've found myriad ways to meet thegeneral demand.
In the video linked below, I offer a quick discussion of two key factors homeowners need to consider in planning for a spa – specifically a good-sized heater and some sort of remote-control system. The former is crucial in cutting down on the time a concrete spa takes to heat; the latter takes care of substantial ease-of-use issues.
But there's another point that bears mentioning: The simple fact is that it is very difficult to make the experience of a concrete spa line up with the experience of sitting in a well-engineered, high-efficiency portable hot tub. Sure, it's possible to approximate the pleasure given by the lounges, jet arrays and massage features that prevail in the portable marketplace, but it's never really quite the same.
The key here is the important one of recognizing, working with and managing client expectations: If they're thinking that using their concrete spa will be the same as using the neighbors' deluxe, full-featured portable tub, they'll likely be disappointed. But if they know going in that the experience won't be precisely the same, it's unlikely that you'll ever hear a complaint – so long, of course, as your efforts place the spa somewhere in the right ballpark with respect to performance.
This is the last of this long sequence of videos I've brought to your attention through WaterShapes, and it seems appropriate to wrap things up with this huge point about working with client expectations: It's in the background of many of the other videos I've presented, and it's at the heart of the communicative relationships I try to develop with my clients. (And by the way, I teach my staff to be thoughtful here as well).
I hope all of the videos have been helpful and that the introductions I've prepared for WaterShapes have added depth that has made them more meaningful and valuable to professionals who read this newsletter – and instructive to consumers who've found them through WaterShapes.com!
To see my brief presentation on key spa characteristics, click here.
Lew Akins operates Ocean Quest Pools By Lew Akins out of three offices in central Texas. He started in the pool business in California in the late 1970s, opening his own design/build/retail firm in Texas in 1984. Widely acknowledged as a pioneer of the vanishing-edge concept, he added "design consultant" to his list of services in 1998. He may be reached at This email address is being protected from spambots. You need JavaScript enabled to view it..