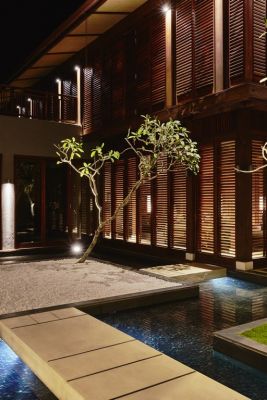 By Brian Van Bower
Working on a wide range of projects in a wide range of locales for a broad range of clients is an interesting way to make a living, I have to say, but in some cases the projects we participate in are so high end that we know we'll only ever experience the finished product in pictures.
A case in point is the Ani Villas, a resort property in Dikwella on the southern edge of Sri Lanka, a large island off the southern coast of India. It's a water lover's paradise, with 270-degree views of the Indian Ocean as well as grounds dotted by multiple watershapes: two large main pools, numerous small private plunges for certain guest rooms, a pair of pools for kids, a weeping wall to greet visitors and a river/cascade system through portions of the property.
It's an amazing place, and I'm proud to say we handled the design of every bit of water there. But I've never been on site, and given its remoteness (it takes three full days just to get there from my base in Miami), it's unlikely I ever will.
REFINED AMBITION
Projects of this kind are long in the making. We began our design work early in 2013, and the property has just opened for business three years later. The lead architects – AW2, a Paris-based firm – controlled every phase of the process.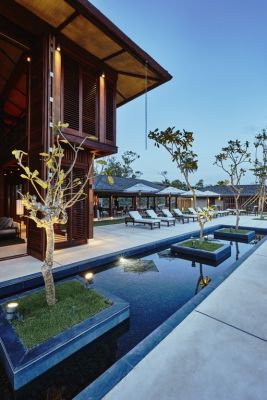 In some cases, they had distinct ideas about how they wanted things to go and we worked to their general specifications. In others, however, they'd send us basic information on a space and leave us to follow our own path in keeping with the spirit of the place. It was a great relationship with lots of collaboration – and it never hurt that they had high ambition, great taste and a singular determination to make the property completely extraordinary.
There's so much water here that we soon stopped thinking of each watershape as an individual unit: As I'd learned in my small role on the Jade Mountain project on St. Lucia, in which all of the pools on a given level of the resort all shared a single circulation system, we started breaking Ani Villas' watershapes up into hydraulic collectives, using proximity and, where we could, gravity to help us simplify our hydraulic designs.
Once that basic decision was made, we were free to work our way around the property knowing on the one hand that our plumbing plans would be greatly simplified but that, on the other, there were countless details of each ganged system that we needed to think through in terms particularly of maintenance and, on a larger scale, of surge capacity – particularly with the grand river system.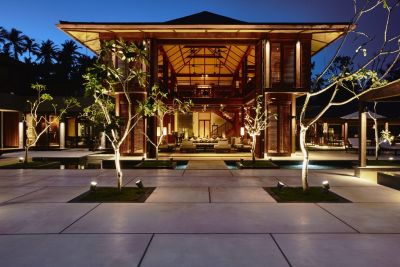 With these decisions made, we were able to focus our attention on myriad aesthetic details – and on the practicalities of making our construction documentation clear enough that there would be no room for confusion across thousands of miles and a range of languages and construction practices.
AN INSIDE LOOK
The Ani Villas in Sri Lanka exist at the very top of the high end when it comes to resorts. The 15 rooms can handle a total of 24 guests, and the whole idea is that the accommodations are designed for groups, mainly weddings and corporate retreats. If you want to stay, there are two grand "villas" – multi-structure compounds, really – each boasting a game room, a wine cellar, a big swimming pool, multiple spas and a kids' pool with a waterslide.
Let's run through the highlights here:
---
Arriving in Style
As guests enter the property, they're greeted by a most unusual weeping wall. Made up of thousands of clay roofing tiles piled in dozens of undulating layers, right away this composition lets visitors know they're onto something special.
---
Rolling Rivers
A large portion of the property is set aside for a river system that flows from the reception area down toward the guest rooms. By intention, the sounds of gently flowing water are used to advance guests' perception that they really are 'getting away from it all.'
---
Private Pleasure
As if a nice stay in one of the remotest places on the planet just isn't enough, most of the resort's master suites have their own inground spas to help guests get a bit more relaxed. Many of them offer ocean views – and all of them are gems that lead the eye and complement the architecture beautifully.
---
Focal Points
Each of the property's two villas has a large, waterfront swimming pool meant to serve as a focus for relaxing, socializing, swimming and lounging. The knife-edge watershapes are beautiful, but the views they offer of the beach below and the Indian Ocean beyond are nothing if not spectacular.
Brian Van Bower runs Aquatic Consultants, a design firm based in Miami, Fla., and is a co-founder of Genesis 3; dedicated to top-of-the-line performance in aquatic design and construction, this organization conducts schools for like-minded pool designers and builders. He can be reached at This email address is being protected from spambots. You need JavaScript enabled to view it.