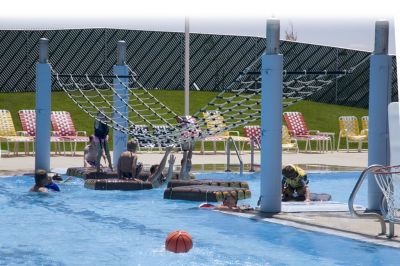 By Johnathan Roberts
Swimming continues to grow as a preferred method of exercise and physical therapy for people of all ages, with commercial aquatic facilities seeing healthy increases in patronage year after year. And whether it's water aerobics, resistance training, water walking or aquatic yoga, there's now much more to this popularity than traditional swim lessons for newcomers and laps or competitions for those with developed swimming skills.
With this popularity comes more traffic in and out of a pools and on decks, all of which goes to explain increasing concerns about liability: With so many patrons performing such a wide variety of activities in and around the water, the possibility of accidents has risen to a level where all facilities – and the designers and builders who help to make them happen – have no choice but to put a strong, ongoing focus on safety.
Products, materials and systems designed to accommodate safety concerns are in abundant supply in today's marketplace – so much so that simply keeping up with what's available is an ongoing challenge for everyone involved. And it's about more than the pool alone: Concerns reach beyond the water to the deck areas and out into locker rooms with a need to make and keep them safe for patrons of all ages and physical abilities.
Let's take a quick look at what's available both for new facilities as well as those undergoing upgrades, focusing on products related to diving stands, slides and waterfeatures as well as floor finishes for decks and locker rooms, drain grates, rails, ladders and more.
SOFT LANDINGS
All commercial pool facilities that have them are concerned about the safety of diving boards and slides. These products make pools much more attractive and enjoyable for users, but they also offer opportunities for injury. Fortunately, there are now multiple options for safety padding designed specifically to help prevent those accidents. And these padding options can reach beyond diving stands and slides to encompass safety around the climbing walls, rope bridges and lilypad walks that are so often parts of modern aquatic environments.
[ ] Dive stand pads: These systems are specifically designed for pools equipped with three-meter dive stands and were developed to protect patrons from falls to the deck below. The pads are made of durable, colorfast, watertight, slip-resistant, low-maintenance, pool-compatible polyvinyl chloride (PVC) and foam and definitely make dive areas safer for pool patrons.
In addition to this diving stand, any aquatic amenity that includes a ladder should be considered a reasonable candidate for padding around its base to prevent serious injury in the event of a mishap or misstep.
These pad systems are available for on-deck, flush-mounted, or underwater applications, depending on the specific application and whether the facility is new or undergoing a remodeling process – and their deployment may also be incentivized by reduced insurance costs.
[ ] Slide pads: For slides with an open run-out, safety is a concern at the exit, particularly in water-playground applications where the slide drops the user into relatively shallow water – thereby increasing the possibility of injurious contact with the hard pool floor. Here, it's helpful if the padding has a slip-resistant surface, and the good news is that these pads are available in standard sizes that should adequately cover the slide's landing area. (In this and other cases, however, it's important to take the time to observe patrons using the pool to make certain the padded surface is extensive enough to cover most needs.)
In addition to concerns about a slide's exit, padding behind slide ladders should also be considered: Falls from just about any height can be dangerous, and as has long been the case with conventional slides in playgrounds, aquatic facility operators need to do what's required to ensure the safety of users as they climb to the slide's entrance.
And don't overlook the possibility, in the event the slide starts with a closed flume, that patrons will hit their heads either at the top of the flume or at some point along the way down to the water. At the least, it's a good idea to include padding at the entrance of this type of slide.
[ ] Column pads: Aquatic play features come in a wide array of configurations, with many of them featuring metal columns that rise vertically from the deck or pool floor. Common in waterparks, on splash pads and in activity pools, these features are also found in conventional pool facilities for the same reason as dive stands and slides: They attract patrons and keep them coming back for more!
Slides produce some of an aquatic facility's most enthusiastic users (left), which is why the exposed fiberglass at the tops of open flumes (middle) should be considered as prime candidates for padding (right).
The simple fact is that children in these play areas will run around, often without a lot of thought involved, and can collide with these columns – hence the wisdom of installing padding systems to make them safer. And that's true whether the column spouts water or supports netting and ropes for popular lilypad walks or some other structure: Added cushioning of these hard columns makes them safer for all patrons.
[ ] Edge pads: These 90-degree pad assemblies are installed onto the deck over the edge of the pool wall and reach down into the water – a great safety solution in areas where patrons may frequently bump against these surfaces during enthusiastic aquatic play. They are found quite often, for example, near lilypad walks to protect those who may fall off near the edge of the pool.
Even access ramps and the edges near in-pool ladders and rails can potentially be involved in collisions with bathers, but edge pads are most commonly found in shallow pool areas where children play tag or toss beach balls – or in designated areas where smaller children play and are likely to trip, slip or fall toward the pool's wall edge. In fact, some facilities pad entire shallow-end walls as a means of increasing safety.
SAFETY AT HAND
The situations above all have to do with what can happen when people collide with hard surfaces. But not all pool-area hazards are quite so obvious – starting with the gratings that cover most modern pools' perimeter drainage systems. These aren't the clearest source of safety concerns, but they get that way in a hurry if they fail. Sometimes they just break, but other times they bend or sag because of support-system failures – and the result can be more than just a trip hazard.
Pool facilities need to implement daily grate-inspection processes – especially in-season – to encompass the pool's full perimeter. And it needs to be more than just a visual scan: As mentioned above, the supports hidden beneath the grates can fail and, if undetected, will offer an imperceptible hazard to bathers.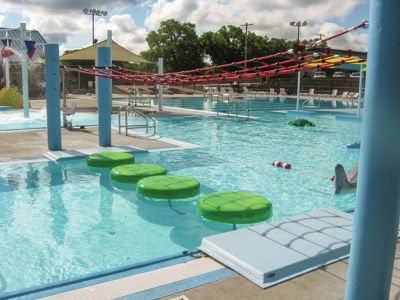 Amenities that attract younger children – including lily pad features such as this one – are frequently considered for padding at the edges of the pool. Note also the value of padding of the columns adjacent to this raucous play area.
Pursuant to this program, it's necessary to have supplies of slip-resistant replacement grates and support fittings on hand in suitable quantities. It's also a good idea to schedule routine, annual replacement of grates in areas that see particularly high traffic, just to be on the safe side. Aquatic facilities looking for a long-term solution also have the option of acquiring granite gratings, which will last for more than 30 years. These single-piece units have fixed, non-flexing slots, so there's minimal risk of breaking the grates during normal pool usage.
And there's more: An aquatic facility's decks, for instance, are often overlooked as being hazardous parts of aquatic facilities, but they can become slippery and, when damaged or cracked, easily turn into trip hazards and a possible source of cuts and abrasions. With older decks, one retrofit possibility is encapsulating the surface in a non-slip, waterproof PVC finish. These surfaces are low-maintenance as well and typically include anti-fungal additives that make for easy cleaning. They can also be installed over a layer of foam for added comfort.
Even aquatic facilities that have modern, well-constructed decks might benefit just the same from adding safety mats at the entrance/exit points around the pool – spots where most slipping occurs. These textured, self-draining mats minimize the consequences of such mishaps and are available in a wide variety of sizes to suit just about any location. Over in locker rooms, there are also shower-circle mats that can ease concerns about another common location of slip-and-fall accidents.
In time, plastic pool grates are subject to ordinary wear, tear and eventual breakage. Damaged sections should be identified in routine inspections and replaced immediately with new ones that should be on hand for such purposes.
Finally, the stainless steel railings that are meant, by design, to offer a safe way of getting in and out of the water are themselves a potential hazard that some facilities are taking seriously. Here, operators and managers are often adding easy-to-install safety-grip rail covers, which help by providing a better gripping surface than can be found with a bare metal railing.
The metal railings themselves should, along with drain grates, be part of a daily inspection program. With use, they can become loosened and unstable and may require tightening or the use of stabilizer plugs. They should also be checked for corrosion, particularly if the pool's water is treated with a saltwater chlorine system. In these cases, replacement of damaged metal railings with powder- or thermoplastic-coated railings is a good idea – and they're less slippery, too, so no more need for rail covers!
THINK SAFETY
As you read through this article, you may jump to the conclusion that everything in an aquatic facility will someday end up being swathed in thick layers of bubble wrap to protect anyone who enters the space from ever coming to harm. Although some liability attorneys might see that as the ideal solution, it's not what's being discussed or proposed here.
The products, materials and systems used to increase the safety of aquatic facilities can, when selected well, even enhance a facility aesthetically through the addition of color and visual texture. On that level, they stop being obtrusive the first time someone walks away from what might otherwise have been a serious injury. On that level, working with possibilities suited to the needs of an individual facility just makes sense.
In the Flow
When it comes to safety padding, some of the greatest beneficiaries in the realm of watershaping are waterparks, wave pools and facilities with active lazy-river systems. With turbulent water currents that can push patrons into walls or fixed features, padding just makes sense – particularly if children are in the water.
In these facilities, experience is the best guide: Operators and managers are aware of places that tend to pull or push people in hazardous directions and have little difficulty figuring out where padding is the right safety solution.
-- J.R.
Looking at facilities individually is indeed the key: Those who operate and manage aquatic centers know how they're used, by how many people, at what activity level, at what ages and on what schedules. In that context, recommending and/or selecting safety systems is an
a la carte
process: Only what is wanted, only what is needed.
Even so, ensuring that aquatic facilities remain safe takes thought, time and effort. Developing daily, weekly and monthly maintenance routines and safety checklists is a good way to keep up with potential safety hazards. It may seem like overdoing it at times, but the consequences of inaction are too painful for most facility operators and managers to want to consider.
The safety measures discussed here are, of course, only a few examples of what's involved in making various areas of a facility safer for patrons. While supervision, anti-entrapment considerations, first-aid kits, lifeguard stands and safety signage (subjects for another article) are at the forefront of every aquatic facility's safety plan, the products and systems discussed here nonetheless play roles that are every bit as significant in day-to-day facility operation and management.
So think padding and non-slip surfaces: Facility patrons will be glad you did!
Johnathan Roberts is a division manager with PoolEquip.com, a division of Renosys Corp. based in Indianapolis, Ind. He oversees the sales and production of the company's DuraTech Grating and SoftSide Safety Padding products and has an extensive background in the construction industry. He can be reached via e-mail at This email address is being protected from spambots. You need JavaScript enabled to view it..