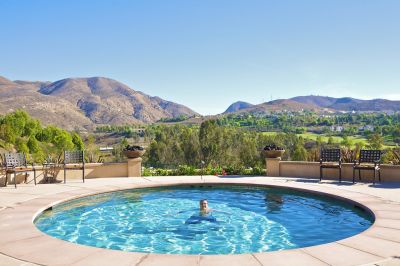 By Stefan Kanetis & David Stone
It's no secret that swimming pools have come a long way in recent years and are now graced with all sorts of features, functions and materials that, once rare or non-existent, have now become common and (in some cases) familiar. For all of that innovation, however, there really hasn't been what one might call a re-imagining of the product or any fundamental reassessment of its nature.
In fact, as we and certainly some prospective clients see it, there are problems with pools as they're traditionally designed and built. For one thing, bathers with physical limitations have difficulty getting in and out of the typical pool. For another, pools take up a good bit of physical space, which is increasingly an is ential lots become smaller and smaller.
And then there's the whole array of societal issues having to do with the use of chemicals, water evaporation and the energy required to keep water warm – all increasingly substantive considerations as the Green Revolution takes hold. Finally, there are safety concerns about accidental drownings and suction-entrapment incidents, especially where small children are present.
There's no question that the watershaping industry has dealt with each of these issues in innovative and creative ways. At Hidden Water Pools in San Diego, Calif., however, we've evaluated these challenges as a group through the past three years and have come up with what we consider to be an outside-the-box solution that offers designers, contractors and homeowners a unique approach that tackles these issues all at once.
A SIMPLE IDEA
In a nutshell, our design is a pool shell that includes a platform that raises and lowers on a column mounted in the floor of the pool. When the pool is not in use, the platform is at deck level, supported by a series of stabilizing legs. When the pool is in use, a hydraulic cylinder drops the platform to any depth below water level, taking on the characteristics of a shallow wading pool, a reflection pool, a play pool or a full-scale swimming or hydrotherapy pool.
The platform can be finished with almost any type of deck material, and when the platform is at deck level, the pool essentially vanishes. When it's time to get wet, the platform can be lowered to any desired depth, from just an inch or two down to a full extent of five feet, six inches.
In the center of the platform structure stands a round or rectangular table that can be raised and lowered to any height, from flush at deck level up to bar height. This table includes an umbrella sleeve, making it suitable for outdoor entertaining and dining – or simply disappears to make way for a dance floor. And the table functions with the platform underwater as well, making it particularly useful with the pool at wading depth for children at play.
Building one of these pools should be familiar to any pool or fountain contractor – the exception being the need to install a central column (first three images, from left) to contain the lifting mechanism. Of course, precision is an absolute requirement, which is why we've developed special jigs to guide completion of the shell to exacting tolerances. So is the strength of the structure that supports loads of up to 20,000 pounds.
This concept of a moveable pool floor should be familiar to watershapers, but mostly in commercial applications as bulkheads or in providing access to aquatherapy tanks for the handicapped. We developed a completely new system that is affordable, quite simple to install and tailored to meet the functional and aesthetic needs of backyard environments.
Unlike previous moveable floors in which the water evacuates through the platform surface, when a platform rises and sinks in our pools, the water flows over the edge at the perimeter – meaning the platform's surface is solid. We accomplished this by creating a gap between the edge of the platform and the sides of the pool: When the platform reaches deck level, the gap closes by means of a slightly cantilevered coping that seals against the platform's narrow rubber flange.
There's definitely a 'wow' factor involved in watching the deck drop below the waterline, with water rushing across the surface to fill the void. It will drop all the way down to a depth of five and a half feet in just two minutes – and rise all the way back up to deck level in that same span.
In operation, the platform moves slowly to maximize safety – but quickly enough at two minutes per full cycle (up or down) that the process is not burdensome. We didn't expect it, but in our work with consumers we found that there is a "wow" factor in this process – something surprising and satisfying just in watching the deck lower and the pool emerge (and vice versa). Indeed, the system turns out to be fun to watch.
A simple control panel drives the platform. As a safety feature, it must be mounted at a spot within the pool's line of sight – important because we want homeowners to move the platform up or down only when no one is standing on it other than in cases where the platform is being used for handicapped access. As an added safety feature, controller use is password protected and must be unlocked before the system will work.
Finally, there's a key maintenance feature: The platform includes a panel that can be removed to allow access to the area below for periodic vacuuming of debris or leaves or removal of any toys or other objects that might find their way underneath the deck surface.
IN THE FIELD
The pools we've installed so far are circular and measure up to 18 feet across.
We've also developed models with 12-, 14- and 16-foot diameters as well as rectangular models measuring eight-by-14 and 10-by-18 feet. Although we're not quite there yet, we anticipate being able to customize systems for use with freeform pools and foresee no real size or shape limitations: All these applications would take is installation of multiple platforms and lifting mechanisms.
(Our standard-size pools are relatively small, so we recommend swim jet systems to make them suitable for use in exercise programs.)
One of the more interesting system features is the tabletop that rises in the center of either the pool or the deck – particularly convenient for play in a shallow wading pool and a dynamic centerpiece for entertaining.
Beyond the presence of the platform, its hydraulic-lift system and a set of locking supports that hold the platform up in its fully raised position (with a total load-bearing capacity of 20,000 pounds), the construction of these watershapes is remarkably similar to installing a standard concrete swimming pool. To simplify things, we even provide a special jig the builder can use to mark the internal dimensions of the pool and then finish the inside surface to the exacting tolerances needed to accommodate the movement of the platform.
In thinking all of this through in the product-development stage, our goal was to develop a system, a component set and construction documents that would enable just about any competent pool contractor to get involved. It's not foolproof – no construction process is – but we've consistently been told that once a builder understands the basics, system installation is not intimidating by any stretch of the imagination.
Maternal Drive
The concept behind Hidden Water Pools (San Diego, Calif.) first emerged from my desire to help my mother.
Back in the 1950s, she started working as a featured dancer with "TV Toppers," a group that performed regularly on the British Broadcasting System. (In that role in the late 1950s, she performed in the BBC's very first color broadcast.) She moved to the United States in the early '60s, opening a dance studio in New York that taught ballroom dancing to future stars.
In 2004, her doctor told her that all those years of dancing had not been kind to her body: She had developed severe arthritis and suffered some muscle damage in her lower extremities. To avoid confinement to a wheelchair, he advised her to exercise daily in water at over 92 degrees Fahrenheit, but by that point it was already almost impossible for her to transition from the floor to her feet or get in and out of a bathtub without assistance, let alone enter and exit a swimming pool.
I was with her for dinner one evening when she shared her doctor's recommendation with me, and I told her not to worry – that I'd build her something that would take care of her access problems at the touch of a button.

As a career inventor, this was a challenge I relished, and within a day I'd sketched out the basic concept for the first Hidden Water Pool system, which I installed soon thereafter in my mother's backyard. I'm happy to report she is doing quite well.
S.K.
The heart of it all is a 20-inch PVC hydraulic cylinder. We fabricate these units in our own shop to extremely low tolerances, and they are delivered to the site ready to install – no field assembly required. They operate with pool water: To raise the platform, water is pumped into the cylinder; to lower it, the water is drawn out.
What surprises people is how little pressure is required to operate the system. In fact, the platform can be raised using pressure of less than 25 pounds per square inch, which is about half the water pressure delivered by an average garden hose.
We refer to these hydraulic cylinders as "columns" for a simple reason: They provide much of the system's structural stability along with the locking structural supports. The outer sleeve of the two-ringed column is set in concrete, while the inner sleeve moves up and down with the platform.
All it takes to make the system work (in our standard sizes, that is) is a three-quarter-horsepower pump. In fact, if equipment-pad space is at a premium, this same pump can be used to drive the circulation system. Our cost analysis, however, leads us to recommend use of a dedicated pump to drive the system, basically because it's less expensive to install two pumps rather than set up a single pump with a pair of automatic valves.
GETTING IT DONE
On site, excavation for these systems is straightforward and can be accomplished easily with a backhoe – no need, in other words, to bring in an auger rig. As mentioned above, we provide a pattern the builder uses to devise a simple plywood jig that spins on a device we call a "top hat" to shape the exact internal dimensions of the shell. (If you're handy with a skill saw, assembling the jig takes just a few minutes.)
The key to keeping overall project costs down is the ease with which the systems can be installed. Of course, there are variables involved, from prevailing soil conditions to local labor rates, but we've done all we can to prepare the system so that it's within reach of a broad range of prospective pool owners.
Just about any surface material in any sort of style works atop the platform – so long, of course, as weight issues are brought into considered. In this case, for example, the look is casual and almost rustic in distinct contrast to the elegant formality of materials chosen for the other project seen in these pages.
So far, the homeowner response has been more than encouraging. They like the convertibility factor and the fact that they don't have to sacrifice all of their deck space to a pool – a key factor at a time when lots are shrinking even in upscale neighborhoods and any outdoor space comes at a premium.
They also like the flexibility of being able to raise or lower the water level to any depth they choose, whether it's to create a safe, secure wading pool for small children, a shallow lounging pool for sunbathers, a splash pool for pre-teens or a swimming pool for older children and adults.
We've also run into homeowners who are increasing conscious of environmental issues and see ours as a "green" system that reduces evaporation, keeps the water cleaner and thus involves less chemical treatment. Moreover, they like the fact that the solid cover retains heat, meaning it's possible to maintain comfortable bathing temperatures beyond the average "swim season" and makes the possibility of heating the pool on a year-round basis much more affordable.
All through product development, we were aware of the fact that, for homeowners to derive maximum satisfaction, we had to make certain the system was fully functional both as a deck and as a pool. The inclusion of jets makes the water suitable both for swimming and hydrotherapy, while the adjustable depth makes it a safe, happy environment for small children.
There's also the fact that the platform can be finished using almost any type of stone, tile or concrete, adding an aesthetic aspect to the system that has lots of appeal to homeowners who like the thought of having a pool with a custom-finished floor and don't mind having a nice-looking deck as well. The deck aesthetics make it likelier that the homeowners will keep the platform raised when the pool's not in use – a key safety feature in that children aren't at risk when they can't reach the water or gain access to main drains.
As noted above, these are all issues that have been addressed by watershapers in a variety of highly successful (but nonetheless piecemeal) ways. Our pools tackle all of these issues at once, which we see as a real edge in overcoming consumer hesitation about getting into a watershape.
So far, the concept has met with a highly favorable reception. We've been the subject of numerous television pieces that have put us in front of more than 50 markets, and several consumer magazines have picked up on our story.
We're proud of our progress at Hidden Water Pools and optimistic about our chances of making a difference in the watershaping industry. Time will tell, but we're moving into the future with our thoughts set on making the joys of playing, bathing and swimming in water accessible to more and more consumers – and to doing so in ways that make sense for homeowners and their backyards.

Stefan Kanetis is the founder and CEO of Hidden Water Pools, a San Diego-Calif., firm specializing in moveable deck systems for residential swimming pools. A career inventor and self-taught machinist and engineer, he holds numerous patents for his inventions, including one for a 500-ton press used to make decorative glass – the largest machine of its type in the world. Raised in England, Kanetis moved to Costa Mesa, Calif., at age 17 and soon began developing a variety of machines for a range of industrial applications. David Stone is president and COO of Hidden Water Pools. A native of Pittsburgh, Pa., he earned a bachelor's degree from Penn State University with a concentration in business logistics. He has founded two multi-million dollar companies; serves on various advisory committees and boards of directors; and has been an angel investor in several start-up companies. Stone has also been featured in the publication Walking With the Wise along with other successful entrepreneurs.