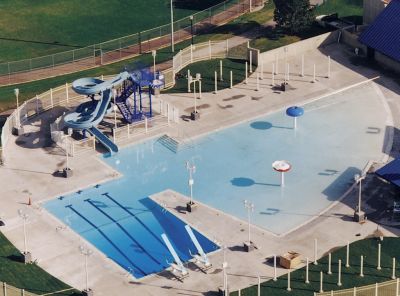 By Holli Adams
These aren't our parents' public pools.
Whether run by a city or by a county, these recreational facilities are now subject to a new set of rules in response to evolving consumer demand and the growing popularity of elaborate waterparks. The inert, rectangular pools of years past – ten or 12 feet deep at one end, three or four feet deep at the other – are fast being replaced by multi-faceted, multi-purpose, quasi-organic forms that appeal to users of all ages and abilities.
The new designs incorporate large beach entrances, passive or interactive waterfeatures, lazy rivers, floating fountains, water sculptures and, of course, slides of the sort that drive the big attendance figures for waterparks. The use of these interactive amenities at public pools has profoundly changed the design principles for these facilities – forever, I think – and is leading to a resurgence in commissions for public pool projects.
So strong is this trend, I think it's accurate to say that not since the public baths of Rome have public swimming pool facilities received so much attention or undergone such dramatic changes in perception of form and function.
MULTIPLYING USES
It's easy to overanalyze trends like these, but at their root is the plain fact that people have changed the ways they have fun in the water – and that more people are getting in on the act.
Thus, for a swimming pool to be an effective asset to a community, its design must be flexible enough to attract a true cross-section of the public it serves. And this means that the designer must be aware that a swimming pool is many different things to diverse sets of people.
Public pools serve as places for fun with family and friends, for example, and as meeting places for teens and young adults. They are also venues in which senior citizens enjoy the benefits of water-exercise programs, and there has been a dramatic rise in programs developed for extremely small children and for people with physical disabilities. An all-important goal in pool design is therefore to create a facility that appeals to and adequately serves all ages and interests.
This aerial shot offers a view of the facility no bather ever sees, but this perspective shows how the pool area is "zoned" to meet the needs of swimmers, divers, waders, daredevils, picnickers, sun worshippers and those who crave some shade. This sort of multi-purpose facility may be just the ticket for communities looking to respond to the booming popularity of commercial waterparks.
Meeting this cross-generational, multiple-use demand requires the careful inclusion of many specific features and areas. In other words, it goes far beyond water toys and slides: The key to a successful public pool design begins with the notion that the facility must be flexible enough to accommodate everything from the splashing play of small children and the lap swimming of adults to instructional courses in swimming and life-saving – and even, in some cases, competitive swimming events.
This diversity of use is achieved by "zoning" the facility, dividing it into areas meant to meet the concurrent needs of different customers and the programs they now demand of their public pools.
Zoning gets you involved in planning for various features and activities in different portions of the facility. The goal here is to attract various age groups and enable them to congregate at various points in and around the pool. That may sound simple enough, but it's an idea that must inform and drive a design from the very start of the process.
PLANNING THE ZONES
The design factor that has the greatest influence on the behavior of those using a public pool is the depth of the water. This is the means by which the most effective zoning is accomplished – at least as a starting point.
In recent years, designers have moved toward large, multi-depth pools ranging from zero-depth beach entries to 12-foot diving areas. The shallow areas attract small children and their caretakers, and such amenities as small slides or gentle fountains have proved very appealing to this target group. Somewhat older children will seek somewhat deeper water; here, more vigorous water toys and features attract attention with a greater variety of interactive components.
Fringe Benefits
One of the side benefits of a zero-depth entry with a gradual slope to deeper water is the advantage this contour has in facilitating the entry and egress of bathers who are physically challenged.
Common now at public pools are specialized "water wheelchairs" that can easily be maneuvered through the splash zone, eliminating the need for assistance from others or the use of mechanical lifts, transfer walls or dry wells. The same benefit applies to older swimmers with limited mobility or upper body strength: They can easily get into and exit the pool with little or no assistance and will not need to pull themselves onto the deck or up a ladder.
But note: If beach entries are to be used in this way, the slope from the lip should have a drop of just one foot for each 20 feet of length. This works for the wheelchair-bound, among others, and brings the design into full compliance with the slope requirements described in the Americans with Disabilities Act (ADA), the federal code that defines access to buildings and public facilities.
– H.A.
Next, open transitional areas with depths of approximately three feet are suitable for many types of water games, from structured games like volleyball to impromptu bouts of water acrobatics or small-scale competitions among siblings and friends. Going deeper – and as target users approach their teens – features such as waterslides and diving boards best draw their attention. These elements permit more aggressive play and foster more intense forms of competition.
By sequestering diving boards and slides in close proximity at the deepest portions of the pool, the designer creates a natural gathering place for teens and pre-teens, freeing up the shallower areas for smaller children (and adults) who might otherwise be intimidated by the rougher play of the older children.
Into this mix must be designed a zone intended for adult fitness swimmers. This typically takes the form of an area with defined lanes of a length suitable for lap swimming. Typically, pool operators on old-style public pools end up roping off areas adjacent to diving boards for lap swimming – generally not without complaints. Or these older facilities will establish designated times for lap swimming – again drawing complaints because the times can't always be at everyone's convenience.
In most newer designs, however, the pools are zoned so that these activities can go on simultaneously, thereby increasing the full usefulness of the pool's operating hours.
Generally, these zoned designs call for an increase in the surface area of the water – typically to 10,000 square feet or more. This does not necessarily translate into significant increases in water volume, however, because much of this space is consumed by expanses of shallow water.
IN THE SHALLOWS
In the past, traditional public pools were designed with small shallow areas. In many cases, a perceived need for shallow water was met by installing a small wading pool off to the side of the swimming pool, completely separate from the main body of water. These pools were kept small for many reasons, not the least of which was a common code requirement that water in a wading pool be filtered ten or more times an hour.
All that has changed with the proliferation in the last ten years of zero-depth or "beach" entries – perhaps the biggest development going in public-pool design. Often referred to as the "splash zone," these areas are, according to pool operators, where the vast majority of bathers stay when in the pool.
Many zero-depth pool entries are designed in an arc, a shape that comes closest to emulating the natural configuration of water on a beach (which is rarely contoured in straight lines and right angles). With this approach, the gutter of the pool perimeter is concealed under slotted coping stones, an approach that lets the designer eliminate a lip or exposed gutter. Typically, the water falls gently through 1/4-inch slots in the joints of the coping stones.
From the sweep of the beach entry to the placement of the waterslide and the space devoted to decks, this facility has been arranged with the multiple interests of its patrons firmly in mind. In contrast to the aquatic center depicted on the opening pages of this article, the pool shown here offers far greater room to its swimming customers than to its waders.
Ideally, the edge slopes very gently from zero depth at the edge to a depth of three or four feet at the deepest. This natural slope permits children to become comfortable with changing water depths. As gradually as they need to, small children can test their skills, confidence and progress as they move more and more toward the deeper water – a process that may take place over a series of visits. Designers can aid the process by incorporating water toys and features, beginning with passive elements in the shallowest water and progressing to more interactive elements as the water deepens.
(These shallow areas also ease the use of public pools by those with disabilities. For more information, see the first sidebar above.)
In this context, straight traditional slides and standard diving boards no longer merit the attention that spiral waterslides and other water toys or fountains receive. Features such as large "umbrella" fountains and interactive piping "sculptures" are in tremendous demand, as you'll find in any quick visit to a facility that has them. Basically, say pool operators, they are in constant use.
ON THE PERIMETER
When you observe the recreation patterns of swimmers, one thing becomes quite clear: The edge of the pool is the most occupied area. At some point, all swimmers need to rest, and so they'll head for the edge.
As a result, a pool that maximizes the amount of perimeter zone available to swimmers gives each one an ample opportunity to claim a portion of the edge as their own personal space. And make no mistake, this familiar concept of "personal space" comes heavily into play when people congregate around water. Good examples of this space claiming can be seen at a natural beach, where groups or individuals space themselves out, comfortably removed from others – moving closer only when crowded conditions dictate.
The Almighty Slide
Perhaps the most recognizable symbol of waterparks' influence on today's public pool facilities is the presence in the latter of winding waterslides, whether tubular or open-trough. These towering structures are visible from great distances, instantly marking the presence of a recreational facility.
Waterslides have truly raised the bar in terms of fun and excitement and have rendered traditional slides obsolete. As a result, it is now common for planners and operators of public pools to want one in any new or revamped facility. Otherwise, they say, the municipal facility simply will not be able to compete.
They are correct – but only to a limited extent.
In fact, waterslides present public pool planners with a mixed bag of issues and in many ways do not tell the whole story of modern facility design. For starters, these slides are extremely expensive. A 150-foot slide of the sort included in most of my firm's designs, for example, has an installed cost of $100,000 at a minimum. And waterslides also drive up operating costs, so their impact on budgets can be catastrophic.
And that's just for one slide in an era when modern waterparks typically include multiple slides of varying designs. So even with the added investment of a slide in a public pool facility, planners and managers still won't directly compete with any local waterpark worth the price of admission.
When you boil it all down to the basics, the decision to be weighed in considering a big waterslide is not whether having one will let you keep pace with the waterpark down the road. Rather, it's an issue of understanding that the slide is one part of the formula for a successful public facility – not the only part or even the primary part.
A slide works if put in perspective and appreciated as an excellent focal point for teens and other vigorous bathers who enjoy spills and thrills. But only if you've given equal thought to the other zones will the overall facility succeed and become a full and successful community resource.
– H.A.
By providing space to congregate (or rest alone) at the edge of the pool, a designer adds immeasurably to the overall usefulness and comfort of the facility. Small children just learning to swim can be easily supervised; sunbathers can dangle their legs in the water; a greater number of informal games can take place at once; and, in general, more people can "hang out" in the water and on a pool's edges.
Pool designers have many ways to increase the amount of edge in relation to the surface area of the pool. The handiest approach now seems to be the inclusion of peninsulas or islands.
Peninsulas in particular are useful because they not only create more edge space, but they also provide the designer with an effective means of creating and marking depth transitions. In addition, they permit lifeguards to focus more attention on the center of the pool, and instructors appreciate the opportunity they offer to better observe their students. Islands, while somewhat less practical, create great interest and foster the development of swimming skills as children strive to "swim to the island."
The big concerns with edges, regardless of pool layout, are comfort and safety. Many designers address the comfort issue with deck-level, flow-over systems using slotted coping stones; these gain the benefits of perimeter flow while avoiding problems of entry and egress associated with gutter systems. As for safety, the main concerns are away from the shallows, where broad steps and narrow intervals between ladders are a must.
BEYOND THE WATER
No contemporary public pool design is complete without encompassing the spaces around the pool.
Broad decks, for example, are crucial. Indeed, if the facility has limited space, it's almost always better to shrink the pool a bit rather than condense the decking to the point where crowding and clutter may become a concern. In other words, however spacious, these peripheral areas should be given the same level of attention in the design phase as the pool itself.
Lawn areas around the pool, for instance, offer a great alternative to sun-heated concrete decking. A gradual slope up from the pool deck to a grassy berm in close proximity to the water is both visually interesting and desirable from a comfort and convenience standpoint.
These areas become popular sunning and napping locations. They also allow visitors to view the pool without impeding traffic at the critical edge zone (five to eight feet back from the water). And parents can spread out their blankets well away from the splashing water while still maintaining watch over their children.
As important to a facility's performance as the pool itself is the area surrounding the pool, its provision of shaded and open areas, the lines of sight it offers – and the kinds of amenities it provides for families and children of all ages who use the aquatic center over the course of a long summer's day.
In recent years, the demand for shaded areas also has increased dramatically as concerns over exposure to the sun have become so much more serious. Because trees are a costly pool-maintenance problem, it's preferable to design shade structures. These features provide the designer with another chance to get creative and lend the facility some flashes of a signature architecture.
Stretches of dappled sunlight reaching across a deck area are often sought out by those looking to escape direct sunlight but still enjoy the warmth of a summer day. You'll find that these areas are among the first claimed by families and often serve as bases of operation for parents managing children of different ages. Outfitting these shaded areas with picnic tables and other seating will enable families to stay at the pool, comfortably and for longer periods.
It's useful to provide shade in various spots around the pool as a means of maximizing use of the whole space. Even so, concentrating several of these areas near the splash zone helps optimize a facility for family use.
FLEXIBILITY RULES
Just as the buzzword for good public pool facilities is flexibility, so should it be for the designers of these facilities. Location, budget issues and, most important, the pool's expected uses all influence the project at hand and call for ample flexibility and creativity.
The Swimming Connection
For all the commotion about a new age of public-pool design, an old-fashioned swimming pool must stand at the heart of any successful project. In many respects, what this means is that the new-breed "swimming pool zone" must remain true to the traditional laned, rectangular forms and dimensions found in classic public pools built straight through the 1980s.
The key physical difference in new designs is that this traditional space will be connected to the splash area in some way and at some point, which means that a portion of one side of the swimming zone will open into the fan-shaped, gradual slope of the splash zone.
This transition can be designed so that it dominates an entire side of the swimming zone, or it can take place via a narrower channel that disrupts less of its perimeter. Either way, you need to set things up in such a way that the transition occurs in a logical, safe and readily observable way.
These decisions about depths and transitions can get complicated, especially in cases in which management's desire to control operating costs drives designers to offer shallower pools that reduce water volume and operating cost.
In some cases, this goal can be met. In pools intended solely for water-exercise classes, swimming lessons and lap swimming, for example, the depth can be kept to an economical three to four feet throughout. But if the pool needs to double as a competition pool, then you enter a different world of specifications for length, depth, number of lanes and lane width dictated by federations of high schools, the NCAA, U.S. Swimming and various Olympic agencies. Likewise, if the pool includes diving boards, minimum depth standards must be observed along with local safety rules for commercial pools.
It'd be great to get a blank space and unlimited project funding, but that's just never the case. Thus, to provide adequate services as a public-pool designer, you need to size up all of these factors and define the ultimate uses of the pool in advance of any serious planning. It's the only way you can hope to meet your clients' needs and offer them a facility they can maintain within the desired budget.
– H. A.
At the same time, there are basic design principles that should be observed and kept firmly in mind. To a large extent, the fundamentals are defined by local building codes, and following them is the responsibility of any good architect or contractor.
That said, the task at hand for the designer is integrating the needs of the pool's intended users with the demands of code writers and inspectors. This means knowing your business; it also means understanding and planning for the behavior of those who will spend their days in or near the water and casting ahead as much as you can to accommodate future needs of the pool's patrons.
Luckily for all of us, much of that understanding comes from simple common sense: All it takes is observation and appreciation of the fun and joy that goes along with spending a day at a local swimming pool or aquatic center. If you plan with flexibility in mind, the opportunity for fun naturally follows. In this way, simple planning can result in a facility that will become a true asset to a recreation-minded public and the pride of its community.
Holli Adams is an associate with Edwards and Daniels Architects, a Salt Lake City-based firm specializing in the design of public and commercial projects in the Intermountain West. Adams holds a masters degree in environmental design and architecture and focuses her work on recreation projects, community pools and aquatic facilities. The key to her designs is a focus on fun and fitness in service to community needs; this requires her to encompass disparate aquatic zones and functions – a balancing act that calls for a great deal of interdisciplinary engineering coordination. Most recently, Adams completed design work on the Deseret Peak Swimming Pool.