By Mark Holden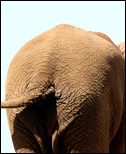 How many times have we seen a pile of artificial rocks plopped on the end or along the side of a freeform pool, left with no visual connection to anything else in the space? The answer, of course, is "countless times" - which prompts a far more important question: why?
Why are we still seeing watershapes installed with edges that look to my eyes to be lumpy pachyderm posteriors? And why are these visual abominations so often featured in advertisements, trade publications and design competitions?
I suppose those same questions could be asked about vanishing edges or any other trendy look, but to me these lumps of concrete constitute the most obviously repulsive design trend of the past 30 years.
And not only does this look refuse to disappear, but it also seems to be accepted by professionals who really should know better. I say enough is enough and that it's long past time that we should be saved from these visual atrocities. The Tiki-pool volcano emperor is wearing no clothes, and we should all let him know!
IN A RUT

Although it does commonly appear in these offending settings, let me make it clear that I have no particular beef with artificial rockwork. Those who do well in reproducing naturalistic elements deserve our respect and should be rewarded for their skills. My problem is with those who've convinced themselves that plopping a simple pile of faux rocks down by any nonlinear pool instantly creates a private paradise.
And truth be told, plenty of people who bring in real rock have no idea what they're doing, either, although these offenses are rarer. What bugs me specifically about so much faux rockwork is that it isn't elegant, tropical, convincing or appropriate, and all too often it relates to absolutely nothing in the setting. As such, it fails to make any sort of design statement or create any sense of visual harmony.
Still, despite the fact that people writing for WaterShapes have railed against these abominations for more than a dozen years now, we continue to be forced to endure them and are still occasionally told that they're cute, neat, fun and inventive. That line may have worked in the 1980s, when we were all younger and didn't know any better, but it's no good now and should have been combed out our collective hair long ago.
I can only conclude that this is further evidence that we are cursed by product- or situation-oriented design to the detriment of artisan-based design. The elephant-butt pools bear striking testimony to the fact that our industry has perpetuated the notion that simply shoving random objects/products/stuff into environments is the way to go instead of developing and refining design ideas and then finding solutions to fulfill the challenges at hand.
It would be one thing if people in this industry could truly say they were committing these visual crimes at the behest of insistent clients and then laid low knowing a given project was visually substandard. But what I see instead are whole flocks of watershapers who proudly submit these projects to trade magazines, submit them to suppliers for use in ads and proudly offer them for consideration in design competitions. It's apparent, in other words, that at least some of us see these projects as being good and worthy of wide praise.
I was stunned last fall, while judging what I consider to be a prestigious awards program, to find not one but two submitted projects that were just average pools at best, with nondescript "formations" set on one side and water oozing from the top. Why does this happen? Why does this keep happening?
STUFF HAPPENS

I'm certain there are situations in which the property owner, the general contractor or the developer believes that packaging one of these design elements with a swimming pool is a sound idea because they've seen it before - monkey see, monkey do. What I'd like to suggest is that as design professionals, we have a responsibility to display enough gumption, courage, skill and power of our convictions to guide clients away from this approach.
As a baseline, we should all know that when an object is selected for installation well before a quality design is created, you've already put opportunities to make visual and emotional connections within the space on the chopping block.
By contrast, if you know a client wants a lagoon-style pool, then talk about infusing the water with areas of lush landscaping, tropical color palettes and materials, appropriate landscape decorations, thatched huts, romantic seating areas, hammocks, torches, a beach entry and maybe some natural or artificial rockwork as a complimentary element.
But for crying out loud, don't allow yourself or your clients to think that piling up an artificial rock formation on one end of the pool and fitting it with a razor-edge fall spilling over the opening of a square grotto will ultimately remind anyone of the pool complex at Maui's Hyatt Regency Hotel. It just doesn't work, and it isn't satisfactory on any level.
And I'm not saying that these elephant-fanny rocks don't have their place. If a client sincerely wants a kitschy, 1950s-style, over-the-top Hawaii 5-O campout setting, I could see using the lump of concrete in a way of reinforcing the thematic artificiality and excessiveness. Or where there is topography that supports a "natural" stream effect flowing into a pool, I can also see using these materials. But when I see a kidney-shaped pool with the elephants' backsides lined up on the bond beam, it's game over: The work is a failure.
THE LARGER ISSUE

I have advocated the need for artisan-based design over product-based specification for decades now, both in print and in classrooms, which makes sense because this line of instruction is at the core of most architectural design programs. You figure out first what you want to do, then you figure out how to do it. It's a method of design that typically does not lead to blobs on the edges of pools.
So how do we change course and mend our ways? Well, I've sometimes tried ridicule and sarcasm, but I've learned that making fun of someone's past accomplishments usually produces animosity rather than progress. So now I do all I can to lead by example and to teach what I believe to students at every opportunity.
The whole point of my Genesis 3 art history classes and my work in university settings is to center discussions on inclining watershapers' design sensibilities toward more holistic and dynamic perspectives. I show examples of what I consider to be the pinnacles of watershaping in slideshow presentations and reinforce those concepts through workshops and design sessions.
When we see great work, embrace it and praise it as part of our own creative value system, wonderful things can happen. By contrast, if we linger in clichés and lazy solutions borne of lower thinking, then we're destined to repeat patterns of work we should've set aside long ago.
I would enjoy hearing if you think I'm being too hard on poolside-blob waterfeatures of if I haven't been nearly harsh enough. I would also be delighted to read alternative perspectives. It's a dialogue that will, I think, help all of us.
- M.H.
Mark Holden, founder of Holdenwater in Fullerton, Calif., is a landscape architect, landscape and pool contractor, and educator specializing in watershapes. He is a veteran contributor to WaterShapes magazine. For more information, go to www.waterarchitecture.com.