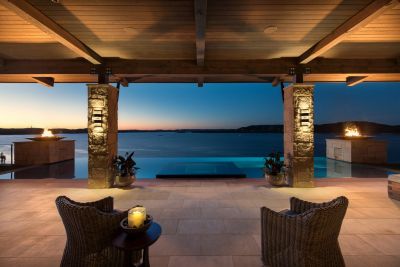 By Scott Cummings
When we get involved in backyard projects, it's rare these days that we don't have a fairly high level of creative control: We're the ones who figure out where to place the pool, what shape it should have, how it should be finished and what should surround it with respect to the hardscape and landscaping and even the furnishings.
That's why it's a bit funny that this is the second in a pair of projects we've recently published through WaterShapes in which many of the fundamental shots were called by others – in this case by a talented home-construction firm that brought us in after the footprint for the pool and spa had been set as part of the home's foundation.
We at Design Ecology (Austin, Texas) are proud of the fact that we're typically a one-stop service for clients who want us to create wall-to-wall, lot-line-to-lot-line outdoor environments for them. But we're also sensible enough to recognize and pursue great projects in which our role is less extensive – and the one I'll discuss here is a great example of just how good those can get.
STUNNING VIEWS
The pool and spa are situated atop a rocky slope that tumbles into Austin's Lake Travis – a remarkably pretty setting on a prominence offering 270-degree water views. Banister Homes, a custom builder also based in Austin, included a foundation for the watershapes in an early construction phase.
We've worked with that firm many times in the past, but we didn't become involved in this instance until the plans had been finalized and home construction was well under way. The architect had established the pool location and set its rough shape and features; this left us to step in and work directly with the client to develop details of the package we'd eventually install.
I don't know exactly what the architect had envisioned, but when I presented our design – a Lautner knife-edge perimeter-overflow pool with a slightly raised, perimeter-overflow spa and an in-floor cleaning system – the clients were more than excited about the way it all fit within the overall style and spirit of their brand-new home: They loved the fine details and came on board quickly.
Once the concept was approved, we assembled a complete set of construction documents including dimensional layouts, sections, plumbing and hydraulic plans, construction details and more: This was, after all, critical construction atop the home's foundation – a project that required rigorous engineering and tight planning as well as precise construction. Once our documentation passed through technical reviews and client approvals, we obtained the necessary permits and began working on site.
The platform atop which we were to build the pool and spa had been defined and put in place well before we became involved with the project – and in retrospect we were glad we didn't have to insert it ourselves: Given the slope and limited access, it would have been nearly impossible to make it happen.
As noted above, the scope of our work was limited to the swimming pool and the slightly raised spa as well as the stone patios. But "limited" isn't exactly the right word, because within our set of responsibilities fell both the need to complement the architecture with the right looks and materials while also providing the home's primary space for outdoor entertainment, recreation and relaxation.
The house was already being framed by the time we arrived, which actually helped because, as a designer, it gave me a clear a sense of scale and proportion as I studied the structural platform the builder had set up within the home's foundation as well as the surrounding spaces. I immediately recognized that had this platform not been included as part of the early planning, access to the site for placement of a pool would've been almost impossible.
As is the case with any project where the pool is essentially a part of a house, moving forward with our own tasks meant we had a whole range of coordination issues to address. Fortunately for us, the supervisory staff at Banister Homes knows its way around complex projects and was superb when it came to coordination and scheduling.
The only unexpected challenge was a late request by the clients that we move the equipment pad to a different location. Originally, it was to be placed along the wall adjacent to the vanishing-edge trough, over against a quarry-block wall. Now it was to be placed on the other side of the pool, with pipes passing diagonally through a lawn area to reach a more-secluded space below a retaining wall.
Unfortunately, this presented us with the task of digging a new eight-foot-deep trench through an established lawn terrace. But on the bright side, this decision was made before the gunite stage, so we were able to adjust how and where the plumbing exited the pool. All in all, it was a good decision: The new pad location is better screened from view, and we were still able to go deep enough with the trench that there was no significant effect on hydraulic efficiency.
ASSEMBLY REQUIRED
We completed our work of framing and plumbing the pool in preparation for the gunite shell. We then finished the pool's interior with French Gray Hydrazzo from CL Industries (Orlando, Fla.) and used their Maui Midnight blend for the spa. The interior color of the pool was chosen so its water would closely match the appearance of the lake beyond – very important to the clients – while the spa color was chosen to add depth to reflections off its elevated surface.
The coping and pool deck – and all of the site's flatwork, for that matter – is made up of cut Leuders limestone, a very dense, very durable local material that offers an excellent surface for patios and decks. There isn't much tile in the pool, but the spa is topped by a custom blend from Oceanside Glasstile (Carlsbad, Calif.), complete with bullnose pieces that wrap the corners and eliminate any exposed tile profiles.
The equipment is mostly from Jandy (Zodiac Pool Systems, Vista, Calif.), including variable-speed pumps that offer quiet operation as well as energy efficiency. We set the circulation system to run full time to keep the water crystal clear, but the variable-frequency drives make it easy to ramp things up when the clients want to heat the pool or spa.
Much of our initial work on site had to do with setting things up so our finished edges would rise to the level set for the deck. Forming on the steep slope was a tall task (top left), and then there was the laborious chore of drilling into the platform and setting rebar dowels to tie our shell to the support structure (top middle left). Next came filling the void with sandbags, compacted gravel, pipe and more steel (top middle right, top right, bottom left and bottom middle left), working with an initial assumption of where the equipment pad would be that was later changed. That proved workable (bottom middle right), and finally we were able to shoot the shell (bottom right).
The separate vanishing-edge and spa pumps can be run at various speeds as well, depending on desired effects and to compensate for different levels of the often-stiff Texas breezes. There are two filters, each with 580 square feet of cartridge surface, to go along with an ozone-generating system from DEL Ozone (now part of CMP, Newnan, Ga.) and a chlorine-tablet feeder. Any debris that finds its way into the pool is removed by the PCC-2000 in-floor cleaning system from Paramount Pool & Spa Systems (Chandler, Ariz.).
We cleared all of these selections with the clients – materials as well as equipment – in the former cases to make certain they were comfortable with colors and textures and their compatibility with the home's basic aesthetic scheme, and in the latter to do what we could to make the systems quiet as well as energy efficient.
One other consideration: Bracketing the vanishing edge, the architect's original sketches included tapered versions of large columns topped by fire bowls with spillways. These spillways were close enough to the vanishing edge that we tried to ease them out of the design, but the clients liked them a lot, so we did as they wished while finding sheet-fall systems that caused only limited disruption of the smooth-water effect that was equally important to them.
The pool and spa are now sitting pretty, with the equipment pad that was to be set adjacent to the platform (in a spot at the lower right corner of the image at top left) successfully moved to the opposite side of the pie-shaped lawn into a more secluded location. Up on deck, our work complete, we were able to share a gorgeous, color-matched water-on-water effect with the clients (with or without spillways flowing!) and set the scene for good times and beautiful views both day and night. (Opening and finished photos by Jimi Smith Photography, Charlotte Amalie, U.S. Virgin Islands)
These twinned structures do a nice job of framing the view and complementing the spa, but we altered the architect's program a bit by squaring the columns rather than tapering them so they would more closely reflect the form of the spa. We also specified fire bowls with extremely low visual profiles – another visual echo of the spa's appearance – and equipped them with the abovementioned sheer-flow spillways.
To give the clients flexibility (and in the secret hope that they will see more limited use!), we inserted an independent pump to power the spillways. This way, they are an on-demand function and can easily be turned off when a completely still water surface is desired.
HILLTOP TEAMWORK
Although this wasn't a project over which we had total creative control, we still found ways to contribute our own design touches as we made the poolscape both a complement to and an enhancement of the home's design.
As is the case with many projects in which watershapes are built at the same time as a home, this meant that we had to be patient as we moved along. Between our design time and on-site activities, we were at it for a little more than a year, spending long periods in which we did little or nothing on site and had to wait for other crews and trades to advance their parts of the overall project before we could jump back in.
The staff at Banister Homes did a great job in handling the logistics of what proved to be a large, lengthy, complex undertaking. Thanks to their diligence, everything came together smoothly, leaving the clients an amazing home and a stunning backyard they love – a fact that makes us proud to have played such a prominent role.
Great site, great clients, great poolscape. We became involved because the project had incredible potential, and we knew we'd have a chance to make our mark on a fantastic composition. If that meant we had to cede a bit of our usual control, no problem!
Scott Cummings, PLA, ASLA, is partner and principal landscape architect for Design Ecology in Austin, Texas. A graduate of Mississippi State University's landscape architecture program and a member of the American Society of Landscape Architects, he brings more than 18 years' experience to bear in working with the firm's associate designers as well as clients to ensure that all plans fully address unique project challenges. He has a broad range of experience with both residential and commercial projects from backyard pools to streetscapes, parks and botanical gardens.