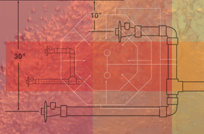 By Steve Gutai
People who design and build swimming pools with attached spas are always on the lookout for ways to differentiate themselves in the eyes of the client. The spa, I think, is the perfect place to start.
But the cold fact is that a great many watershapers who build spas do so very conservatively, whether out of habit or because they fear creating overly complex systems that will, after all, be imbedded in a concrete matrix that will make alterations and repairs both expensive and difficult after the fact.
The caution may be understandable, but it leaves the watershaper several steps behind on the hydrotherapy front compared to what's available in off-the-shelf portable spas. Nowadays, consumers are certainly aware of the fact that they can purchase an entry-level portable spa with as many as 20 jets, all with great action, at a reasonable cost.
A typical spa built in conjunction with a pool will include just four to six jets that, because of the choices made, often won't deliver good "action" and, while they may look good, will be almost worthless when it comes to hydrotherapy. Too often, I've seen jets hampered by [more]
Steve Gutai is Director of New Product Development, Hydraulics and Heating Systems, at Zodiac Pool Systems, Vista, Calif. He may be reached at This email address is being protected from spambots. You need JavaScript enabled to view it..