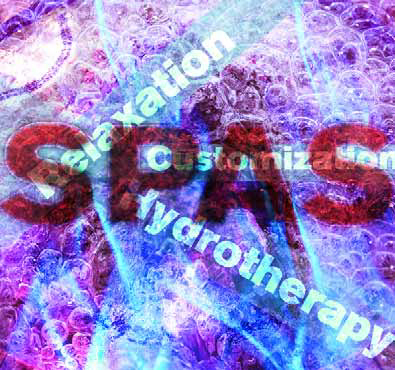 By Brian Van Bower
It seems like ages ago, those glowing days when a spa – whether separate from or connected somehow to a swimming pool – stood on the absolute cutting edge of residential watershaping.
These days, by contrast, systems designed to deliver hot water and hydrotherapy to our clients have become so familiar that they're almost taken for granted. From what I've heard, it's almost reached the point where discussions leading up to some of the best custom projects are treating spas as an assumption rather than as a key part of the conversation.
Personally, I think that's short-sighted. Clients still love relaxing in hot water, and the more we're able to customize these vessels to meets clients' needs and desires, the happier they will be with a project's outcome. As I see it, there's huge potential here to up the ante, distinguish what I do and thrill my clients – and the only way to do so is to ask questions, gather information and respond to what I learn as best I can.
WHAT'S IN A NAME?
In considering why spas have tended to become marginalized, it is perhaps not beside the point that we in the watershaping trades still are not consistent in what we call these things. Some advocate calling them "hot tubs," while others call them "whirlpools" and still others insist on labeling them as "Jacuzzis."
I don't want to step into the middle of this terminological disputation, but for clarity's sake I always have and always will call them "spas" – and most major dictionaries back me up. I prefer this term because, among all the options, it does the best job of suggesting luxury and relaxation while carrying implications of therapy and healthfulness for good measure. .
It also doesn't help, clarity-wise, that these watershapes exist in portable, manufactured forms (in plastic or stainless steel) in addition to being available in concrete as parts of swimming pool systems. I actually straddle this duality: Even though I custom-design elaborate concrete spas for the vast majority of my projects, I own and use a portable spa that sits on a wooden deck about 10 yards away from my pool.
I do so because there's no escaping the fact that portable spas offer a range of benefits that are hard to achieve in concrete spas. Mainly these have to do with the near-infinite array of jet and seat configurations they make available – and I've long said that the manufacturers of these spas deserve full credit for finding so many creative ways to make me happy.
This wealth of possibilities comes at a relatively affordable price compared to what it costs to deliver similar features in a concrete spa. Moreover, portables can be purchased, brought on site, plugged in, filled with water and be ready for use almost immediately, bringing a level of instant gratification that's impossible to achieve in concrete.
On top of all that, manufactured spas are fairly easy to service and maintain, come with an array of control options, can include sound systems, televisions and elaborate lighting features – and can be moved from one place to another without much difficulty.
That's a long list of plusses, but in my book those advantages are counterbalanced by the fact that these vessels just don't look good. It's true that manufacturers have worked hard to improve the appearance of their portable spas with various skirt treatments, tasteful interior surface finishes and pleasing textures, but compared to what can be achieved with inground concrete spas, they just don't measure up.
At the same time, it must be noted that concrete spas are gaining ground when it comes to hydrotherapeutic features and internal contours. They haven't reached a level where they're favorably comparable to portables, but it is undeniable that they are catching up and that the main balance point has to do with what's more important to the client: functionality or appearance?
THE TOUCH
In the bad old days (and to this very day to a distressingly large extent), the norm for concrete spas was a ring of six of the same jets placed around the walls and benches with no real attempt made to personalize the client's experience. I've never settled for that one-size-fits-all approach, striving to elevate the functionality of my systems to approach the performance of portable spas as best I can while also providing superior aesthetic results.
Following on with my last two columns about client interviews, the degree to which my clients want spa features customized to their needs and desires is something that comes out in our early conversations.
Often, what they want leads me to conduct extensive research into hydrotherapy-jet options. The spectrum of what's available these days is amazingly broad, and I find myself considering various water volumes, aerating effects, pulsing or swirling actions, individualized adjustments, jet-type groupings and varieties of jets designed to do something for just about every part of the human body.
With inground spas, I have the freedom to configure systems in pretty much any way the customer wants (budget permitting), so it's an area where I think in terms of being as creative as possible on their behalf. And because I know that spas are, by nature, intimate, I see that they offer me an opportunity to create personal and emotional links between the clients and their systems.
This is why, in my conversations with clients, we always get into highly detailed discussions about how they plan to use the spa (for partying, casual relaxation or serious hydrotherapy). I also ask them about their experiences with other spas, both portable and concrete, and focus in particular on seating and jet configurations.
Once I know they're fully engaged, I'll ask them to sit in chairs and describe where they want the jets to hit them. If one of them says, "On the shoulder," I'll gently poke them there so they can imagine the jet action.
I've found that this simple process is a powerful way to bond with my clients, partly because it requires physical contact and trust, but more important because it has a profound effect on the way they'll feel about their spas later on: When they first sit down in the water and feel the jets hitting them right where I touched them, they'll remember that experience and know that these jets – these wonderful sources of comfort and therapy – were placed there just for them.
You simply cannot put a dollar value on those feelings of pride, ownership, momentary pleasure and long-term enjoyment.
CONFIGURING RELAXATION
Spa design on this level often involves blending the physical with the psychological. Often, for example, we'll create what might be called a "king's chair" and/or a "queen's chair" or both for a project – spots in the vessel we consider to be prime locations with the best views, the most jets and the easiest access. These are the most "active" seats in the spa and might include wide arrays of jets to soothe backs, legs, shoulders and whatever else might be desired.
Here and in other locations, we'll set up "either/or" scenarios where the clients have control over which sets of jets are on or off. Lesser quality inground spas will simply have on/off options, perhaps with a separate control for a blower. As have manufacturers of portable spas, we've found that our clients enjoy having choices among active functions, at times wanting to isolate on the lower back but not the shoulders, on the feet but not on the calves – whatever the case may be. This is a degree of functional control that dramatically increases enjoyment of the spa.
Throughout the spa, we also create "stations" – that is, specific seating locations that often provide different types of jets and seating combinations. We might set up an area suited to two people, for example, or address the needs of a single very tall person. We'll even cater to the kids by elevating a bench area for their use. Again, it all depends what the clients want and how much information you're able to draw out of them.
Truly, the possibilities here are limitless. We'll create two or three seating levels to accommodate people of different heights, for example, or to give clients what they want with respect to being submerged at different levels. We'll set up spaces between stations where there are no jets at all to please those who like to take breaks from the jet action but don't want to interrupt anyone else's enjoyment of the spa.
In all of this, I constantly take cues from portable spas, basically because so many suppliers have developed wonderful jet arrays and seating arrangements that merit imitation. But the simple fact is that many of these effects are incredibly difficult to achieve in concrete.
In the world of concrete spas, those same maneuvers have to be executed using concrete-installation techniques – that is, the eyes, arms and elbows of laborers wielding trowels and meeting exacting plans down to fractions of inches over multiple radii, corners, slopes and variable edges. Happily, there are contractors with enough skill to pull these things off nowadays – but these aren't people you can find with any consistency across the country.
This is why some clients and their builders choose to sinking prefabricated spas into the ground. It's not the best solution, the best look or anything I'd ever endorse, but it works for some people.
WONDERFUL DETAILS
When you find the right crew, however, there are some utterly amazing things that can be done with concrete to upgrade the spa experience.
One key area has to do with basic ergonomics: In common, old-school concrete spas, for example, the tendency was to set up benches that defined 45-degree angles for the back and legs. In our spas, by contrast, we almost always now include angled-back seating (typically a three-inch slope for 18-inch rises) and often use David Tisherman's famous detail in which he rolls the edges or creates a horizontal ledge at the top of his spas to make them easier on necks.
We've also responded to our clients' desires by including strong jets in our spas. It might not be a need they can identify up front, but when we give them the capability to experience very strong jet action, they usually get to love it. So whenever there's a question, we tend to go strong, as a rule installing jets with 25 gallon per minute flow rates. (We make them adjustable and tend to place them lower in the vessel where that much power is needed to massage an aching lower back, for example.)
In organizing these jet arrays, I think things through in ways that allow me to avoid using blowers to induce air into the therapy jets – one of my pet peeves in spa design because I see their presence as an admission on designers' or builders' parts that they haven't figured things out adequately and need a blower to make up for system deficiencies. In truth, a therapy jet supplied with adequate flow at the proper velocity works quite well without any assistance from a blower.
Early in my career and again in recent years, I've used blowers not for air induction but instead for creating air bubbles that rise from the seat and benches of spas. I took a hiatus from this detail after working with several doctors on hydrotherapy rehabilitation projects who told me that the air bubbles offered little or no benefit.
But whether they create useful therapy or not, I had to bring them back because they make a spa look supremely inviting: The steam rising above a bubbling cauldron of a spa has great visual appeal, so we've gone back to offering blower/air bubbler rings if it's important to our clients.
I let them know that they're paying extra for something that looks good but has little (if any) physical benefit – and if they're willing, I'm all for installing a blower for this purpose. In the old days, we just drilled holes through a spa's interior finish into a pipe poured into a concrete cap on the benches, and it was rather crude and inexact. Now, we use flush plastic fittings that allow for a much neater installation.
When I work in cooler climate zones, we always locate the intake for the Venturi effect (or a blower, if we use one) in a place where it'll be fed by warm or at least warmer-than-ambient air. When jets are fed by cold air, they can create quite a shock when the cold bubbles hit the bather's skin; moreover, their coolness increases the burden on the heating system.
Taking that concept a step farther (based on a suggestion from my Genesis 3 colleague Paolo Benedetti and some others), we now add heated water to the bottom of the spa in a separate, isolated loop. This prevents the problem of the air-induction system cooling the warm water while increasing overall heating efficiency and calming the water.
KEEPING TRACK
As is true of almost everything associated with watershaping, spas have developed tremendously through the past several years, and the numbers of possible features I could discuss – both functional and aesthetic – could fill many more pages here.
Just think about waterfalls that pour warm water onto bathers' back and shoulders: That's a feature that's become popular in pampering spas. Or how about stand-up spa wells? Those have become quite the thing for clients who want full-body massages. Cold-water spas have become popular as well.
We're also seeing details that have become the rage with swimming pools crossing over to spas. Nowadays, for example, it's no great surprise to see perimeter-overflow spas or vanishing-edge spas, and in many cases fountain jets and nozzles are being added to these compositions to turn them into ongoing water effects when nobody's in the water. I'm also seeing a revolution in the materials being used on spas, including great stone and tile, and tremendous strides are being made in lighting these vessels with fiberoptic and/or LED lights and tricking them out with audiovisual systems.
Through all of this, however, we do well to keep our minds glued to the fact that spas are the source of profound health benefits.
If you haven't done so already, you should take a look at the fascinating studies initiated by the National Swimming Pool Foundation for factual verification of the value of these products: Not only is hydrotherapy great for aching muscles, arthritis and stress, but it's also been shown recently that immersion increases the heart's pumping capacity and, among other things, the body's ability to use oxygen and process nutrients. And you don't have to be a psychologist to know that it's hard to keep up a bad mood in a spa: It's a relaxing, healthy, luxurious and even romantic environment, ready for daily use.
So if you're one of those who've become jaded and tend to take spas for granted, I'd suggest it's time to step back and consider anew just how wonderful these systems are, the tremendous value they bring to our clients and the creative opportunities they afford us as we work to increase the beauty, functionality and joy to be found in our watershapes.
Brian Van Bower runs Aquatic Consultants, a design firm based in Miami, Fla., and is a co-founder of the Genesis 3 Design Group; dedicated to top-of-the-line performance in aquatic design and construction, this organization conducts schools for like-minded pool designers and builders. He can be reached at This email address is being protected from spambots. You need JavaScript enabled to view it..