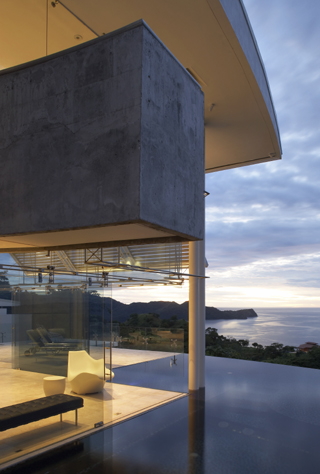 By Juan Roca
'I want the house to look as though it is floating on water."
That was what architect Victor Canas told me when I was called out to visit this site on the northwestern coast of Costa Rica. It was a brilliant idea, certainly one that befitted the spectacular mountaintop setting and its breathtaking 360-degree views of rugged coastline, forest greenery and assorted perspectives to horizons in all directions.
I had the advantage in this case of already having built a
much more ordinary swimming pool for the homeowner some 20 years ago – and the further edge of being the only watershaper in the country in the business of designing and building such ambitious projects. When the architect showed me an overhead view of the home's footprint and the space for the pool, I was inspired: I knew right away that this was going to be something special.
For his part, the client simply said that he wanted something wonderful and was willing to trust my judgment. I knew he was serious, given the soaring architecture of the home and its spare-no-expense approach to every detail. More than a year in the making, this pool is [more]