By Paolo Benedetti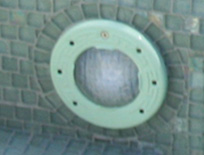 Some people say there are unattractive things we just can't avoid in installing our watershapes, including the visual intrusions provided by junction boxes, drain covers, skimmer lids, deck drains, pool cover key switches, spa-side remotes and all sorts of other things I refer to as "architectural uglies."
Personally (and I know I'm not alone), I've never been satisfied to work with what others accept as necessary evils: I just can't accept them the way they come from manufacturers, nor will I place them in such a way that they compromise the visual integrity of my designs.
Through the years, contributors to WaterShapes have suggested all sorts of ways to avoid the uglies, but here I want to focus on one that particularly bugs me as being among the most common of all offenders: the face rings around underwater lighting fixtures.
I'm a firm believer in providing warm, even lighting throughout my pools and spas, and never resort to using a single high-powered fixture in the deep end to do the job. Instead, I specify a minimum of two lights and will frequently spread four, five or more throughout a vessel.
In doing so, I take special care in ensuring that the fixtures are aimed away from primary vantage points and seek to create even, consistent lighting without obvious hot spots. Generally, I achieve this with multiple spa-sized lighting fixtures to make them as unobtrusive as possible when they're not in use.
But placement and size don't render these fixtures invisible, and I just hate the way they appear. No matter how cleverly I deploy them, they're still ugly and industrial looking, with most of the visual damage being done by their bright, shiny face rings.
I've never been accused of being mainstream or of settling for the status quo, so it shouldn't surprise anyone that I can't just leave well enough alone. Years ago, in fact, I became so dissatisfied with the "Motel 6" look of the stainless steel face rings on lighting fixtures that I began modifying them to match the pool's finish, no matter whether it's white plaster or glass tile.
After taking delivery, we immediately disassemble the fixtures, send the stainless steel face rings to a local powder-coating specialist, select a color I see as the best match for the watershape's interior finish and let him do his magic.
We've worked together for more than 15 years, so he knows my requirements — including a complete absence of any coating on the backside of the face ring or on its retention hooks. (This is important to maintaining the electrical continuity of the bonding throughout the exterior of the fixture.)
Once we take delivery of the finished face rings, we use a drill bit and carefully grind out any coating that may have filled the recess for the retention screw. This screw creates the mechanical bond from the light fixture to the light niche, so it is important to achieve good metal-to-metal contact.
Now it's a simple matter of reattaching the face ring to the fixture and tightening the uncoated compression ring to the bare retention hooks. What results is simple beauty: The finished fixture blends into the background when the light is off — and there's also the bonus that the glass lens assumes the tint of the face ring and no longer appears to be clear.
This is a simple detail that adds some time and money to the process, but the payback in terms of refining the look of the interior is well-worth the effort and expense. It means not accepting things as they are, which is one of those small characteristics that, in my book, separates true artists from those who are willing to compromise.
Paolo Benedetti, founder of Aquatic Technology Pool & Spa in Morgan Hill, Calif., is an internationally renowned pool designer and builder, as well as a longtime contributor to WaterShapes magazine.