By Cynthia & Gary Kinman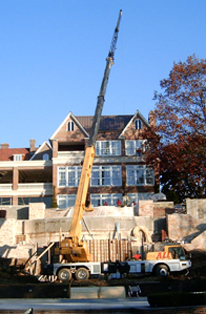 In most projects, great work requires the watershaper's personal understanding of who the clients really are, deep down.
That doesn't mean we have to become our clients' best friends or marry into their families. Rather, creating watershapes at the highest level involves a different kind of relationship, one in which a shared vocabulary and common vision develop through discussions of water, stone, art, plants and the orchestration and staging of experiences that will occur in given spaces.
Take the project covered here as an example: The scope of the work, an unlimited budget and a mandate for the highest possible levels of quality were enough on their own to force us to explore the limits of our skills and creativity. More important from our perspective, however, is that we think of what we accomplished as the truest possible expression of our clients' personalities – a distillation we see as residing at the heart of all the very best designs.
As is the case with many large projects, this one grew from relatively limited scope to encompass every square foot of a large estate's exterior spaces. Through the various phases, we've come to know this wonderful couple as people whose affluence and prestige are more than matched by their sensitivity, humanity and openness. The result, we think, is a work of art that has [more]