By Bruce Zaretsky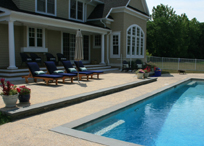 Up until 64 years ago, swimming pools had a lot in common with Henry Ford's early cars: Just as you could get a Model A in any color so long as it was black, you could get a swimming pool of any size or shape so long as it was rectangular.
Renowned landscape architect Thomas Church changed all that in 1948 with the kidney-shaped Donnell pool – and has left succeeding generations of watershape designers to face the challenge of helping their clients find the right-shaped pool for their given settings.
Church was blessed with an open-minded California client who wanted a "pool as art," with the practicalities of swimming treated as a secondary consideration. And Church delivered, big time: The pool's flowing form was inspired by the surrounding landscape of rolling hills and valleys and effectively freed all subsequent designers to pursue not only organic forms, but also to elevate watershaping to the level of art.
Liberating Times
With this unclogging of our creative arteries, we've seen the stretching of the design universe and the emergence (sometimes to excess) of vanishing edges, beach entries, sun shelves and unique all-tile designs (among many others). Indeed, even vinyl-liner pools have broken their historic rectangular constraints and, with the help of computer technology, have become a design pursuit graced by remarkable levels of freedom and creativity.
The days in which pools had to be rectangular are long gone, leaving watershape designers to embrace all their myriad topological potentialities – and all I can say is "hallelujah!"
To be sure, there are those who cling to the familiar ease of the rectangle surrounded by its three-foot-wide apron of concrete, but their pools-as-commodity mindset has, I think, run out of gas in recent years. And it's not just the recession that's driven this change: Genesis 3 and WaterShapes have been pushing things to new levels since the late 1990s and have helped huge numbers of designers break away from easy reliance on standard templates.
It's reached a point where we can create any shapes, sets of elevations or color schemes we want – and we can enhance them with waterfalls, laminar jets, integrated spas, fire features, swim-up bars, tanning shelves, grottos, elaborate slides and much, much more. As I always tell my clients, I am limited by only two things – my imagination and their wallets.
Down to Business
Of course, with great freedom comes great responsibility, which is why (as outlined January 11, 2012, in the first of the three articles in this series) I ask my clients a torrent of questions and don't stop until I'm satisfied I know how to proceed.
And it's not all about setting aesthetic boundaries: In fact, I do not and will never presume to know what my clients want to spend on a pool (or the overall landscape) or guess about what they consider to be a lot (or not a lot) of money. So I ask them this question outright on my pre-meeting questionnaire.
I do so because experience has taught me that upwards of 90 percent of my potential clients enter the design/build process with no defined budget in mind – mostly because fewer than ten percent of them have any idea what things cost. (Truth be told, before I design the overall program, neither do I in any specific sense.)
But when it comes to pools, the operations are familiar enough that we can make ballpark statements, so early on I can tell my clients that a vinyl-liner pool will cost approximately this and a gunite version will cost approximately that. They'll respond in one of three ways: They'll shrug and say, "great"; they'll fall off their chairs in horror; or they'll ask how we can work with the design to keep things within their means.
Once we get past the initial reactions, we can get down to details – all of them – with as much specificity as possible.
More on that next time, but let me leave you with a final thought: Unlike the rest of the landscape, which can be installed in phases and altered in the course of installation, with a pool we need to have all parameters figured out before the first shovel hits the ground. Hydraulic and plumbing plans, for example, must be worked up in advance not only for the pool, but also for any added features such as spas, jets, waterfalls or deluxe edge treatments.
And there's much more: Tile, for example, must in many cases be ordered well in advance and specifically for a project (meaning it's generally not returnable), so we need to be sure it has the color and features our clients want. Even the shape and size need to be projected into the setting, laid out on the ground well before final decisions are made so that the clients can see exactly how much space the pool will occupy and determine if it's either too big or too little.
If adjustments are to be made, getting to them before construction begins is clearly a good idea. And that's particularly true if the final cost is a concern for your clients: It's too late to tinker once the concrete has set in place!
Next: A look at specific design considerations and how we ultimately fulfill our responsibility to our clients.
.
Bruce Zaretsky is president of Zaretsky and Associates, a landscape design/construction/consultation company in Rochester, N.Y. You can reach him at This email address is being protected from spambots. You need JavaScript enabled to view it..