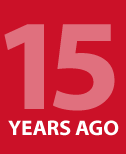 By David Tisherman
'One of the skills of a good designer is the ability to recognize those situations in which less is more.' With those words, David Tisherman opened a landmark 2002 column that began changing the way the watershaping world looked at spa spillovers and other pool-related cascades.
***
'Using [an] understated approach helps the designer or builder avoid what has become one of the biggest clichés of modern pool design – that is, the outsized waterfall spilling over a single weir from a raised spa into an adjacent swimming pool. My desire to get away from that monotonous look has led me in some cases to install the multiple, small spillways you see in these dam walls as a means of generating delicate, variegated streams of water.'
***
'[T]he idea goes all the way back to an interest I had in the acrylic tubes I'd encountered in my years as a student and practitioner of industrial design. The sense of line and flow these forms embodied always intrigued me, and I found a direct translation of their beautiful contours in the laminar flows and streams that have become so popular in contemporary fountain designs. But I wanted to jump beyond the laminar sheet falls that have emerged in recent years to find a look that had greater long-term visual interest.'
***
'As I've worked with these effects, I've found them to be tremendously and surprisingly flexible. Depending entirely on the needs of the design, for example, I'll use spillways that are all the same size and placed at regular intervals, or I'll mix things up and install spillways of different dimensions at irregular intervals. It's also possible to play with height: I'll allow the water to fall anywhere from six or seven inches above the pool's water level all the way to two feet up.'
***
'In setting up spillways of this sort, you need to consider a range of factors that will influence how the effect can and should be used – factors as elemental as whether the water will be falling in front of dark- or light-colored material and how the background influences the look and visual appeal of the flowing water. Likewise, a factor as grand as the way the sun moves across the pool and how it either enhances or washes out the effect can be critical to success.'
***
'The point that needs stressing here is that this isn't an appropriate detail for every project: Success isn't only a matter of figuring out how to make the spillways work hydraulically and physically, but also has to do with a genuine understanding of visual dynamics, balance, texture, materials and the fundamentals of good design.'
***
'[T]hese spillways provide an extremely soothing sound that adds a sense of tranquility to the space. In projects that call for it, I use this auditory quality to provide contrast to the more ragged sounds of a babbling brook set up in other portions of the design. As always, decisions about how far all of this can go – and it can go pretty far if the client is willing – are determined by the site and its surroundings and how various effects work together.'
***
'If you grasp the design concept behind these spillways and use them in the right kinds of projects,' David concluded, 'their performance finally boils down to zero-tolerance construction and proper hydraulics. In other words, if you don't have control of these technical skills, I'd set this concept aside until you do because the effect won't work as advertised and your client will be disappointed rather than thrilled.'
.

Back in 2002, David was clearly on the leading edge with this bold look, and his willingness to share his insights and raise general awareness of alternatives has gone a long way toward taking the ugly out of raised spa/pool compositions. Have you used this non-traditional approach to spillway design? Please share your own perspectives by commenting below.
David Tisherman is the principal in two design/construction firms: David Tisherman's Visuals of Manhattan Beach, Calif., and Liquid Design of Cherry Hill, N.J. He can be reached at This email address is being protected from spambots. You need JavaScript enabled to view it..