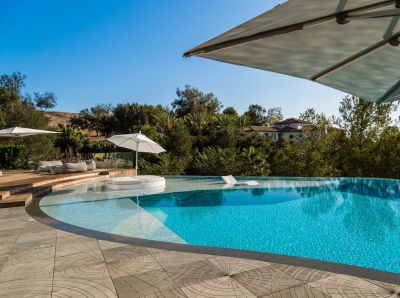 By Jimmy Reed
Even after years of operation in the tile-application business, we still find fresh challenges and new sources of pride in what we do. I think it's primarily because we spend so much of our time focusing on fine details – the little touches that turn routine work into creative exercises and repetitive tasks into ongoing sparks of inspiration.
A case in point is the huge job on display in this article: The three watershapes encompass vast square footage that includes fields of absolutely gorgeous tile, artfully installed. But there are two fine details of a sort that make all the difference for us at Rock Solid Tile (Calabasas, Calif.) – details confirming the fact that we do much more than just go through the motions.
In one instance, we took great pains to turn a small corner treatment in the pool into something far beyond the typical transition from plane to plane. In the other, we took an intricate wall mural and added to it in a way that helps push its presence beyond expected boundaries. These aren't huge, show-stopping performances, but in their subtle ways they kick the finished surfaces up by several notches; better still, they offered our crews a challenge that kept everyone fully engaged.
DRESSED FOR SUCCESS
The property is situated in Beverly Hills, high atop a ridge offering extreme, near-360-degree views of Los Angeles. The watershapes – a cold plunge, a spa and a gigantic pool – are on the northern side of the lot, perched above canyons with expansive views to the Pacific Ocean.
The overall poolscape was designed by Corey Ruppert in association with Beverly Hills, Calif.-based landscape architect Christine London Ltd. The watershapes were built by David Penton of Fluid Dynamics (Fullerton, Calif.).
The cold plunge and spa are completely finished in glass tile, but the pool is not: The floors and walls are covered with Hydrazzo (CL Industries, Orlando, Fla.); our more limited scope here included waterline tile and finishes for the tops of the stairs and benches and the large lounge area. We also installed the mural mentioned above.
The cold plunge and hot-water spa sit side by side off the end of the pool, their exquisite, shimmering tile applied with a precision that keeps all edges wetted with minimal flows (top left and middle left). Less assertive but no less sublime is a dark, patterned deck surface – a true tour de force in decorative concrete artistry – that surrounds part of the pool in a way that is both original and unique, day and night (middle right and right). These refined details highlight a composition that complements the distant views enjoyed from the ridge-topping property (bottom left). (Photos at middle left, right and bottom left © Christian R. Terry)
In all, it added up to nearly 4,000 square feet of glass tile (all made by Bisazza, an Italian manufacturer with offices in Miami, New York and Los Angeles) in a process that had us steadily on site for nearly five months.
While the details I'll be discussing below are unusual, there are some additional features of the poolscape that are just plain amazing. One is the incised concrete decking pattern designed by Amy Tripi, engineered by Corey Ruppert and produced, after a long search for the right decorative concrete artists, by Ernsdorf Designs (Los Angeles). It lends a visual energy to surfaces that are often plain and unexciting and ties the entire deck area together right up to the water's edge.
The tile selected for the cold plunge and spa is beautiful as well, highlighted by white gold, iridescence and impeccable installation with edges so precise that they can be fully wetted by pouring in a cup or two of water.
All in all, it's a sublime setting in which every member of the design/build team came together with a goal of breathtaking visual elegance in mind.
PICTURE PERFECT
The first of the details I want to discuss in depth has to do with a key space in the pool where two major planes intersect – one a long arc, the other a flat wall. We frequently accentuate this sort of junction by inserting a pointed scroll or badge, usually on steps and benches or in other configurations where planes intersect as right angles.
In this case, however, the intersection is contoured more like a promontory than a squared corner – a much sharper angle than usual and a challenge because the space is both constricted and distinctly nonstandard – even for crews that execute this sort of detail with almost every project.
It is a situation where perfect preparation of the substrate was absolutely crucial – and more complex than usual because we couldn't simply use a quarter section of PVC pipe to shape the wall-topping coves. We had to cut it instead, working with a template – and then had to go back with new material and/or grinders to address any imperfections we might detect.
We approached this specific corner detail with a great deal of care and consideration, knowing that the acute angle would means lots of cuts, grinding and chipping as we worked toward perfection. Once all of the many pieces were trimmed, placed and set, we went back with Dremel tools to cut consistent grout joints and make it seem that the process of achieving the finished look had been effortless – despite the fact we all knew exactly how difficult it had been.
Once the shape was ready for tile, we worked on all of the planes at once – two vertical, one horizontal – bringing the field tile close to the edge as we began to cut and insert the pieces that make up the scrollwork. Working one of these badges up for a typical right-angled step takes the best part of a day. In all, preparing this harder-angled detail took more than five days.
Given the difficulty, I'm certain we might have been excused for taking an easier way out. But in our company, we're all conditioned to believe that there's a right way to approach these things and many wrong ways. The thought of having this one pointy corner look so much different from all the other corners in the pool was simply more than we could digest. Six days later, the results were perfect.
But it was punishing work, with lots of small, oddly shaped tile cuts, lots of chipping out of single or multiple tile pieces where things just weren't working the way we wanted, then lots of delicate grinder work to impose clear, precise grout lines where the cuts had produced awkward or variable gaps. But it's now a point of pride – and a detail we've used on a couple projects since with considerably less time involved.
Experience is a wonderful thing, but you do have to start somewhere, take your time and get things right.
BREAKING BORDERS
For its part, the pool's long, tall mural started as the homeowner's idea – a lively element to keep a big, blank wall from dominating the pool's interior. Rupert and I took the concept and ran with it; we then precisely measured the space and sent the design and specifications off to Bisazza for preparation.
The measured space stopped at the top of the wall at the level where it started to turn over onto the lounging area. But we knew going in that we wanted the option of carrying a few elements of the design up to and over the nose of the lounge, so we asked Bisazza to send us a generous sampling of the tiles they'd used in making up the mural.
After the primary installation was complete, we began playing with the extra tile in a process of trial and error, placing it and often chipping it out as we gradually worked toward exactly the visual effect we wanted.
The client played a key role in devising the mural, which came to us, as specified, reaching only to the top of the flat wall surfaces. At that point, where the wall started easing over onto the pool's shallow shelf, we began laying out some of the extra pieces we'd ordered from Bisazza, using them to break the perceived border and bring an extra level of dimensionality to the composition. It was another process that involved lots of chipping and experimentation as we worked to achieve just the look we were after.
Our goal in all of this was simple: We wanted to avoid the impression that the mural had a frame – that it started at the floor and ended just below the lounge within rigid limits. The ultimate effect is, I think, understated and subtle, but it's the sort of detail and thoroughness that goes into most projects on this level – the tiny things that make the big differences.
It's important to recognize that producing quality results on this level takes a strong, solid, well-trained staff. Just as important, it helps to recognize that facing these kinds of challenges keeps everyone of the project crew focused and alert to creative options and possibilities as the work moves forward – not just here, but on other projects as well.
It's rewarding to step back and take long looks at such spectacular results and satisfying to consider how much easier it will be to tackle similar challenges when they arise in the future. Rewarding, satisfying – and fun.
Jimmy Reed is president of Rock Solid Tile, a tile design/installation firm based in Calabasas, Calif. He founded the company in 1985 after spending his teens and early 20s learning the tile-installation trade. In between, he attended Art Center College of Design (Pasadena, Calif.) and spent several years working in the entertainment industry. For the past 20 years, Reed has focused most of his creative energy on designing and installing tile finishes for high-end custom watershapes, a process that has seen him work with some of the industry's leading designers and builders. He may be reached through his web site: www.rocksolidtile.com.