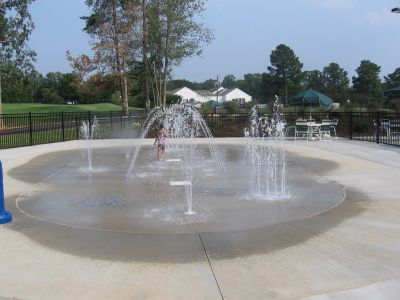 By Larry Paulick
My association with the Richmond Country Club began after a rainstorm.
The club's pool had been drained for some basic repair work, but unfortunately it rained for several days while the while the shell was still empty. Hydrostatic pressures built, physics took over and one end popped out of the ground by about 18 inches. It was a truly impressive mess, which is why they called our firm, Contech Associates of Annapolis, Md., to get some engineering help.
They definitely needed it: The deep end of the pool was a total loss and had to be removed. On the shallow end, we repaired cracks using epoxy injection, then built a wall where the deep end formerly met the shallow end as a means of restoring the pool's utility on what was obviously a temporary basis – basically to serve as the training venue for the club's swim team and for summer pool use.
The Richmond, Va., area is also home to several other well-established country clubs, so there's keen competition for membership. As is true of all businesses, these clubs respond to changes in the market, so what was initially seen as an utter disaster soon became an opportunity for this particular club to step up and look at its amenities in all-new ways.
Given this opportunity to step back and evaluate the situation, it wasn't long before they began thinking and talking about an entirely new aquatics complex.
GREEN PASTURES
Of course, these businesses have their idiosyncrasies. First, we had to get past our initial assumption that these clubs are little more than social gathering places where golf and tennis serve mostly as an excuse for people to spend time away from home.
These businesses generally occupy a great deal of land, and in most cases communities grow and prosper around them. As a result, many pay extremely high property taxes compared to the rates they paid when first established, so revenues are always an issue. Moreover, member families age and move on, so clubs work constantly at attracting new ones. In other words, these are tough, high-stakes operations.
The construction process may have taken less than 100 days, but it was a substantial effort covering 921 square feet of surface area with a total volume of more than 390,000 gallons. Within that space, the country club's pool complex includes several unusual details, including the long peninsula dividing two beach-entry areas; the angled, current-generating floor returns in the water-treadmill section of the lounging pool; and the breaks in walls that link the beach-entry areas to each other and to the competition pool and diving well beyond.
As we learned, the Richmond Country Club has seen its target market become much younger in recent years as the local population has turned over. Instead of people in their 50s, 60s or in retirement years, they now have to draw on members who are significantly younger – with young families as well. In facing this transition, club managers knew they had to pay close attention to amenities and profit centers and keep a watchful eye on member needs and demographics.
While they knew they wanted to update their aquatic facilities, they were uncertain just how to proceed. As a result, the first phase of our work involved us in surveying the current membership to draw a bead on their desires and priorities (and find out what they didn't like). As a basis for comparison, we also tapped into data accumulated by a country-club trade association that gathers the same sort of information on a national basis.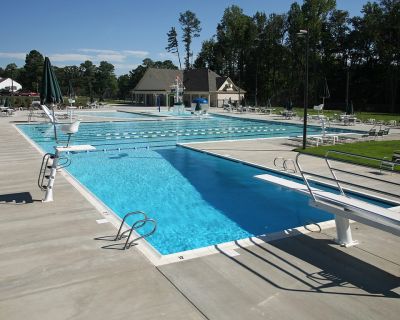 The 25-meter competition pool is the heart of the club's aquatic amenities, but it doesn't stand alone: Perpendicular to one end (in the foreground) is a spacious diving well with a one-meter board; on the opposite corner is the access channel to the dual beach entries beyond.
Evaluating the results was an education. Beyond seeing that dining facilities are clubs' largest profit centers and fitness centers are in high demand, we also learned that golf and tennis, while still a major interest, are less important than we'd assumed. Most interesting (and relevant) of all, it's abundantly clear that the traditional "country club swimming pool" is a thing of the past. In fact, just as watershaping has become more multi-faceted, complex and ambitious in recent years, so, too, have the aquatic experiences being sought by club members nationwide.
In the specific case of the Richmond Country Club, the property is located near the corporate headquarters of Capital One, a credit-card company that employs thousands of people who fall mostly in the "young professional" demographic and have young children to keep busy and entertained. Rolling through this accumulation of data and knowing the damaged pool was wholly inadequate, the club's management lifted the renovation to their aquatic facilities to the top of their priority list.
Even so, moving ahead was no sure thing, because country clubs are complicated entities. Most clubs (including this one) do not, for example, maintain surpluses of cash to fund major renovations or expansions. In general, operations are supported in comfortable sorts of ways by member dues; when upgrades or refurbishments are needed, managers present their plans with projections of what needs to happen with respect to special assessments and dues levels to pay for it all.
A LONG MENU
In this case, the club was considering much more than just the aquatic facility. There was no fitness center, so that was something they wanted. They also aimed to upgrade the locker rooms and the dining facilities and renovate much of the golf course as well. So from the start, we weren't really sure how things would work out or where the aquatic facility would fall when the general membership let its own preferences be known.
Once we developed the design (described below), we went through a process of presenting it to various committees – both for approval and as a means of polishing things up before we approached the full membership. These presentations included artist's renderings and a host of details developed in response to hundreds of questions we'd been asked along the way. Finally, the entire renovation program (and associated assessments) was released, discussed and put up for a vote.
The peninsula-split beach area serves two distinct purposes for club members: The one that feeds directly into the competition pool is for active play and features a number of waterpark-style fixtures; the other is a much calmer space designed for relaxed wading and for acclimatizing small children to the fun of being in the water.
To our delight, the sense we had all the way along that the aquatic facility was at the top of everyone's wish list was fully supported by the members' votes and pocketbooks. In fact, the aquatic facility was far and away the top priority. From the members' perspective, the multi-generational appeal of aquatic activity in terms of recreation, health, fitness and relaxation proved to be irresistible. The managers were happy as well, because they saw a well-appointed, much-upgraded aquatic facility as a way not only to satisfy existing members, but also to use in marketing the club to potential new members.
This says a great deal about the overall appeal of water in recreational environments, but I think our success at this stage also had to do with the fact we'd done our homework and developed a plan that appealed to wide range of family interests.
Keeping it Simple
In reviewing the photographs that accompany the text, you'll no doubt notice that the aesthetics applied to this aquatic facility are extremely spare – quite plain and utilitarian.
That visual sparseness was entirely by design. Although the aquatic area was set up to provide various types of play for people of different ages in much the way a visually brighter waterpark might be organized, the Richmond Country Club is a classy place marked by simple elegance and an understated, streamlined architecture – qualities our design needed to reflect.
So we went with simple lines and a straightforward green-and-white color palette (to align with the club's colors). The only embellishments, if you can call them that, are the flags on the tops of the dumping-bucket fixtures.
L.P.
What we'd proposed was a radical departure from the traditional rectangular country club pool, which in this case was rarely used by anyone (beyond that local swim team) other than as a place to sit in lounges to catch some sun. Our ambition was to create a dynamic environment in which clear benefits were associated with each of the proposed activity zones.
In everything we proposed, we were working in a relatively compact space 300 feet long and 190 feet wide. We didn't even consider using the existing pool site because it was far smaller than that. In fact, the patched pool was kept up and running throughout the installation of the new facility; once we were done, it was filled in and became a putting green.
Even though the space we envisioned was rather small in relative terms, it was still an extraordinary request: To make it happen, the club would need to purchase a bit of land from a neighboring property. Moreover, the proposed site abutted the driving range, which would have to be relocated to take our area out of the line of fire.
IN THE WATER
The piece of land we were after (and to which we were finally given full access) was overgrown and on a slope.
Soils tests were performed before we cleared and graded the site. This was a big concern, because subsurface springs are quite common in this area. We didn't find any problems along those lines, but we did discover that, in the spot where the deep end for the main competition pool was to be located, the ground was made up of poorly compacted soil. We had to get rid of that bad soil and, through the course of several weeks, build up the area to by depth of more than eight feet. This work proceeded layer by layer until we reached the final pool elevation.
Once that task was finished, we were finally ready to begin construction, which took place on a 99-day stretch in the summer of 2007 – nearly four years after we'd first been called about the popped pool. As completed, the entire complex contains more than 390,000 gallons of water with 921 square feet of surface area.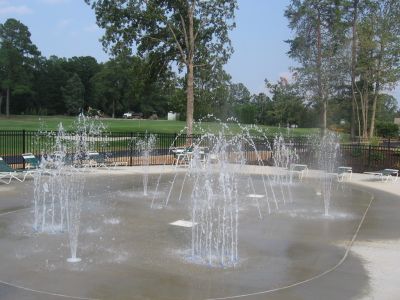 The splash zone is another kid-oriented area within the club's aquatic complex. Its arrays of jets are programmed to fire in non-repeating patterns – the key to keeping things from becoming repetitive or boring – and the deck is large enough to accommodate children of all ages (and playful adults as well).
The heart of the design is the competition pool. As mentioned above, the club hosts local swim teams, and the membership had let us know that swimming for exercise was a chief priority. To accommodate all of this, we installed a 25-meter, eight-lane racing pool – but with a number of interesting twists.
On one end perpendicular to the main body of the pool, for example, we set up a 24-by-45 foot diving well 12 feet deep with a single one-meter board. We did so because diving is one of the swim team's activities and because the members wanted it (even though diving is a relatively unpopular activity these days).
Far more unusual, on the shallow end we set up a narrow passage that offers access to a pair of large, v-shaped, beach-entry areas: Although they're connected to the pool and each other, they have completely separate functions and are, in my opinion, what gives the facility its interesting character. First, there's the fact that beach entries aren't all that common in conjunction with rectangular competition pools; second, there's also the fact that there are two of them.
Quality Roster
From start to finish, this project was about executing the design and installing systems with quality and reliable performance uppermost in mind.
When it came to pool equipment, for example, we started with a detailed cost/benefit analysis to help club managers and members feel confidence that our selections would pay dividends through many years of operation.
Our analysis, for example, led us to specify chlorine generators from AutoPilot (Fort Lauderdale, Fla.) that would offer a payback on investment within three years after installation compared to other chlorine-administering systems. We also made a similar value judgment with the heating system, using heat pumps from AquaCal (St. Petersburg, Fla.) in conjunction with propane heaters, and recommended energy-efficient pumps from Pentair (Sanford, N.C.), chemical controllers from Chemtrol (Santa Barbara, Calif.) and rail goods from S.R. Smith (Canby, Ore.).
Of course, all of our value-engineering work would have fallen short without excellent contracting throughout the installation process. The crews at Charlottesville Aquatics (Charlottesville, Va.) filled that role brilliantly, executing a highly complex project within an incredibly compact 99-day time frame. They proved their professionalism at every turn.
L.P.
The dual areas serve distinct purposes: One is an active play zone measuring 29 by 52 feet that includes a number of interactive/waterpark-type structures and elements, while the other is a 27-by-62-foot beach entry pool much like a wading pool. Each is meant to provide its own sort of experience and was developed in response to the play needs of people of certain ages.
In making our selections for the splash zone, we at Contech Associates studied a variety of possibilities before contacting Rain Drop Products of Ashland, Ohio, to provide us with fixtures including mushroom falls, dumping-bucket features and standpipes controlled with wheel valves. Our thought was that this set of features would appeal to the widest range of ages, from small children to adults – and indeed the area has proved particularly appealing to teenagers, who can be among the toughest of all age groups to satisfy in this type of setting.
The other beach area functions as a transitional wading environment for small children, their parents and anyone else who wants to ease him- or herself into the water. By comparison to the other beach area, this one is all about relaxation and far less energetic play and was designed as a place to acclimatize small children to the process of getting wet in a safe, non-threatening environment. It's also a great place for sunning – or just hanging out.
By splitting these beach entry areas into two rather than combining them in some way as one, we allow everyone on deck to evaluate the situation and make a choice. And it's worked like a charm, with some people going crazy among the interactive features while others relax in the wading pool.
MAKING A SPLASH
A separate area near the pools serves as a play zone for kids: This one is a 20-by-40-foot deck area outfitted with 24 computer-programmable leaping jets that fire in a non-repeating pattern to keep things from getting predictable or boring.
The concept here was that parents could stay dry in this fenced area, while their small children played to their hearts' content. What we found out later is that this area was also being enjoyed by teens (and playful adults as well) who couldn't resist the dancing waters, under the guise of playing with the tots.
With all the activity in the main pool, beach areas and splash pad zones directed mainly toward entertaining children and teens, we saw the need to establish a separate area strictly for adult enjoyment. To provide a sense of separation, we divided this adult area from the main pool and play zone for kids and cut down on noise with a grassy, five-foot berm topped with landscaping to create a feeling of isolation. This space is all about relaxation, peace and quiet – just for adults.
Slightly removed from the louder swimming and play areas and insulated by a large, planted berm, we set up an area to accommodate the needs of the club's adult membership. This spacious deck features a large hydrotherapy spa and an unusual, keyhole-shaped lounging pool with a circular water-treadmill at one end.
There are two main elements here: a raised, oval-shaped, 22-foot spa that easily accommodates up to a dozen people and features a variety of hydrotherapy jets; and, adjacent to the spa, a unique keyhole-shaped body of water that combines a lounging area with a circular water-treadmill zone.
The lounging area serves as a shallow conversation pit where people can sit and quietly chill out as they watch the action on the green at Hole 7. The water-treadmill is a 10-foot circle with return jets mounted in the floor to create an even flow at two-and-a-half feet per second to provide low-impact exercise for people walking against the current. (Interestingly, we've also spotted people "going with the flow" after a fashion, turning an exercise area into an abbreviated lazy river.)
As with all of the other elements in this project, this unique vessel was based on a calculated understanding of what club members wanted and desired in their revamped aquatic facility. I'm proud to say the response to the entire composition has been phenomenal, and we've all been encouraged (and informed) by those who've used certain of these features in ways we didn't anticipate, even with all our research.
The club's members and managers are thrilled, and although it was a long road from start to finish, it appears to have been worth every step.

Larry Paulick is president of Contech Associates, an engineering consultation/project-management firm based in Annapolis, Md. He began working in the pool and spa industry as a laborer while studying civil engineering at the University of Maryland, where he received his bachelor's degree in 1967. Upon graduation, he worked for the bridge division of U.S. Steel, focusing mainly on engineering for high-rise projects. He rejoined the pool and spa industry in 1972, becoming director of technical services and standards for what was then the National Swimming Pool Institute and later serving as NSPI's acting CEO until 1990. He founded Contech in 1974, and today the firm mainly provides consulting services for large-scale renovation projects throughout the United States, along with a separate division that tackles commercial pool and spa projects in Southeast Asia.