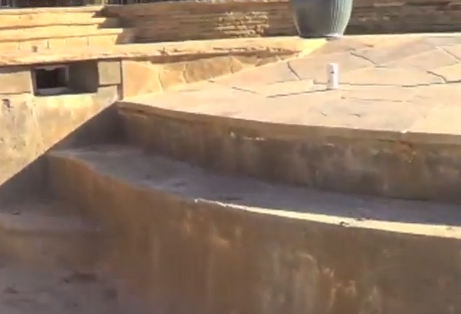 By Mike Farley
I know they've been around for quite a while, but in our marketplace, beach entries are the latest thing these days – maybe hotter than ever before.
The enthusiasm makes sense: Beach entries give bathers a way to dip into the water and take up a spot in the pool or on a lounge chair without making a full commitment to getting soaked. Better yet, we get a lot of sun in Texas, and these spaces can easily be rigged with umbrella stanchions – a cool concept that has it made in the shade.
You'll immediately notice that, unlike most of my other videos, the one linked below was shot before the project was finished. I figured that with no water in the pool, it would be possible to get an unusually good look at how this particular beach entry works – slope, steps, materials and finishing touches – and see easily how the gradually tilting shelf will comfortably guide people toward deeper water.
It's all fairly self-explanatory, but one key point I make in the video can use some extra emphasis: It's very important to include a return line at a high level on the entry slope. You want the flow of the water to carry debris off the surface of the entry area, move it toward the skimmer (or skimmers) and catch it up in the circulation system. If this plumbing feature is overlooked, a beach entry can become a maintenance headache right from the start.
With that detail taken care of, it's time for fun and relaxation.
To see a beach entry near the end of the construction process, click here.