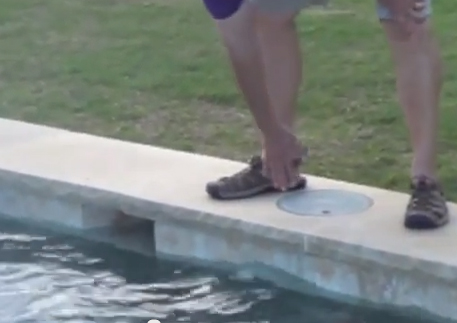 By Mike Farley
This was a fun project in lots of ways – not the least of which involved figuring out how to fit a skimmer into the system without completely disrupting the clean look of the coping-only treatment of the pool's perimeter.
Usually, of course, pools at grade level are surrounded beyond the coping by some sort of concrete decking – a surface that provides us with all sorts of options when it comes to placing a skimmer and its lid. In this case, however, the client wanted grass to run right up to the coping, meaning there was no easy means of avoiding an annoying visual intrusion if we worked with the skimmer using a conventional approach.
I've heard of watershapers cutting off skimmer throats to reduce their profiles and the degree to which they protrude beyond the back side of the beam. But as the video linked below shows, we came up with a different solution, using the 18-inch width of the selected coping and simply turning the skimmer 90 degrees in the beam so water is admitted at an angle rather than directly.
Before you click, please accept my apologies for the video's sound quality. I had quite a time shouting over the Texas wind and the fountain fixtures, but you'll get the drift anyway: It's a cool solution to a stubborn problem – one I know I'll be using again!
To see the offset skimmer up close, click here.