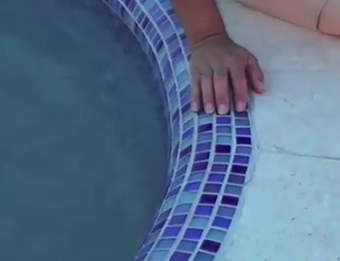 By Mike Farley
In decades past, comfort wasn't typically uppermost in mind when spas were being designed and built in conjunction with swimming pools. Jet placements could be arbitrary, walls were almost always set at 90-degree angles to the seats and, perhaps least thoughtful of all, coping was set up pool-style, with grab edges that hit anyone tall enough to get on an amusement-park thrill ride somewhere in the back, shoulders or neck, making it difficult to relax and enjoy the experience.
These days, fortunately, designers and builders tend to be much more considerate when it comes to setting up their concrete spas, consulting with clients about jet placements to achieve specific hydrotherapy effects and easing walls off the vertical to make it less challenging to lean back and enjoy time in the water. It also seems that many have figured out ways around the coping-in-the-back phenomenon, one approach to which is highlighted in two projects on display in the video linked just below.
In some cases, this easier edge is achieved in a straightforward fashion by running the walls up to coping that's set flush so it doesn't poke out past the established vertical line. In both projects shown in the video, however, we used what I consider to be a more artful approach, rolling the edge up to the coping to eliminate any sort of neck- or back-assaulting protrusion.
This means working with small tiles to handle coverage of the tight radius – an easy choice with an all-tile spa. It also means selecting materials that can handle the wet/dry conditions found on such an edge. However it goes, the look is welcoming and sets up the spa like a gleaming backyard jewel box.
I love this back-, neck- and shoulder-friendly approach, and I'm convinced your clients will, too.
To see a video featuring a pair of rolled-edge spas, click here. (The second project makes a late, unannounced appearance, so please be patient!)
Mike Farley is a landscape designer with more than 20 years of experience and is currently a designer/project manager for Claffey Pools in Southlake, Texas. A member of Genesis 3's Society of Watershape Designers since 2012, he holds a degree in landscape architecture from Texas Tech University and has worked as a watershaper in both California and Texas.