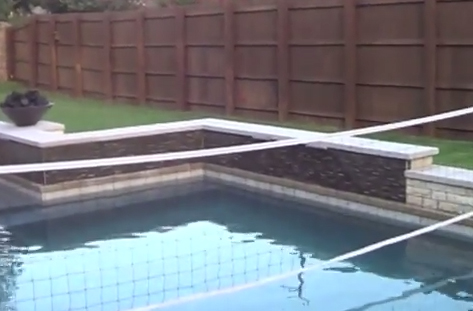 By Mike Farley
Homeowners often come to the watershape-purchasing process with very specific ideas in mind. Maybe they want a venue exclusively for lap swimming, or a fountain to wash out traffic noise, or a finely finished monument to their refined taste in tile and stone. That's great, and it's fairly easy to tailor a design to meet these needs.
More often, however, clients come to us with a whole range of general (and sometimes vague) ideas about what they and the family want – and it's up to us to help them sort through the possibilities and come up with a suitable package of features and details to make them as happy with their watershapes as is the homeowner who comes in wanting something specific.
In lots of these cases, the solution is similar to the one highlighted in this video – what I would call a multi-purpose pool or maybe even a convertible pool. As seen in the video, it can be set up for recreation and exercise, but it also has a nice fire bowl along with a small fountain feature (not seen in the video): With the net removed and the sleeves plugged with brass caps, it is more than presentable in the aesthetic context of the home and patio.
The core of this project's flexibility is the pool's bottom: It's at its deepest in the middle and becomes shallower in both directions, making it ideal for volleyball and other forms of in-pool recreation. The other big point from a clean-design and convertibility perspective is the use of sleeves for the net posts rather than weighted post supports; the weights are pretty ugly to start with and tend to stay put because they're heavy and hard to move.
So what is it? It's a volleyball pool – and so much more.
Click here to see my brief video on this classic volleyball pool.
Mike Farley is a landscape designer with more than 25 years of experience and is currently a designer/project manager for Claffey Pools in Southlake, Texas. A certified member of Genesis 3's Society of Watershape Designers, he holds a degree in landscape architecture from Texas Tech University and has worked as a watershaper in both California and Texas.