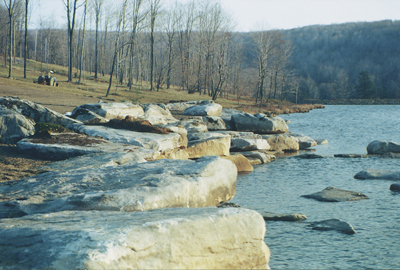 By E.J. Biernesser, Pete Biernesser & Mike Raible
When you work on projects in which stone is commonly measured in the thousands of tons and streams are frequently described in fractions of miles, you're not easily impressed by size. This job, however, was remarkably vast – a project driven by creative passion and a client's desire to turn a singular vision into reality.
It's the kind of opportunity that doesn't come along every day, and when it did, we knew we'd have to give it everything we had.
Our company, Glacier Inc. of Glenshaw, Pa., is a design and construction firm specializing in large natural and naturalistic bodies of water, and most of our work includes creative rock formations intended to mimic nature. Through most of the past two years, we've had the opportunity to work with for a client with big plans for his hilltop estate on the slope of Pennsylvania's majestic Mount Davis.
His 2,700 acres of forest land once framed a natural 78-acre lake well stocked with trophy rainbow and brook trout. In 1998, however, this picturesque setting was ravaged by a half-mile wide tornado that leveled his mountain retreat and surrounding woodland in a matter of minutes. Our mission: rehabilitate this now-barren landscape and lakefront to a level of beauty and functionality exceeding the original. [more]

Please note: This project is highlighted among projects recognized for meeting 'Platinum Standards' established by the WaterShapes team. Only a few outstanding projects have been recognized in this way.