In December 2004, WaterShapes introduced 'The Platinum Standard,' a registry of projects that embodies watershaping at its finest. Now, as part of our celebration of the magazine's 100th Issue, Eric Herman offers 'The Platinum Standard II,' a fresh set of 20 projects that have graced the pages of the magazine in the past three-and-a-half years – projects that demonstrate clearly that watershaping has become an art form in its own right.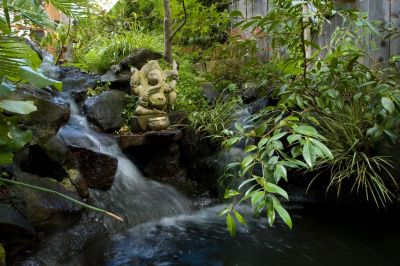 Rick Driemeyer
Both Sides of the Door
Oakland, Calif.
This small garden is graced with dozens of intricate details that come together to complete a setting for peaceful repose amid a distinctly Asian-influenced design. Set up for traditional Japanese tea ceremonies, a wooden teahouse and deck rise above a small pond/waterfall composition in a space adorned by numerous sculptures, subtle architectural elements, complex plantings, special viewpoints and subtle pathways that lead the observer through a visually complex yet entirely restful space.