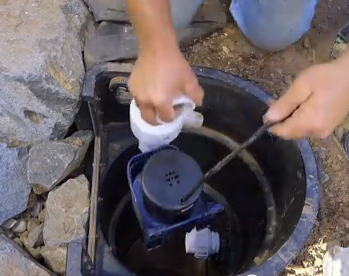 By Eric Triplett
Installing a pond pump is a fairly simple process – and, as you'll see in the video linked below, represents one of my last big chances to sound off on the importance of basic pipe-connection skills.
Yes, I'll admit that I'm a perfectionist and maybe a bit compulsive about making my pipe connections look right in addition to fitting right. In the operation covered here, however, there's good reason for care: If you're sloppy with glue application while installing a check valve, there's always the possibility that a glop of cement will freeze the mechanism and render the valve inoperative. It's not a high-probability failure, but why take the chance?
Digging deeper into this issue, I also see attention to these kinds of details as marks of my professionalism – a level of care and precision that impresses my clients and keeps my crews flying right. Again, it might not be important in all cases for these things to be perfect, but why compromise? Standards only really matter if you keep applying them when nobody's watching.
Two other points: First, I never spoke in any of these videos about the importance of having auto-fill and overflow systems in place; the former keeps the pond filled at the proper operating level, while the latter drains away water if it exceeds that operating level. You can see the auto-fill device in the skimmer box; there are several options available, with this one resembling the float system used in toilet tanks: If the level falls, the float falls with it and activates a feed line that adds water until the float rises and cuts off the flow.
Second, and this is important, I wouldn't recommend using an electric saw to cut pipe by hand the way I do in this video. I have lots of experience at it, but it takes good bit hand strength to steady the pipe and I know that not much of a slip could have devastating consequences. Don't do this at home – or on the job!
To see how the pump and its check valve are installed in this pond system, click here.
Eric Triplett is founder and chief executive officer at The Pond Digger Waterscape Design & Construction in Yucaipa, Calif. He may be reached at [email protected] ponddigger.com.