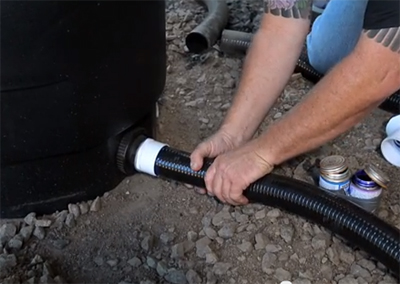 By Eric Triplett
The video linked below covers one of the many phases of a pond-installation project that can seem less critical than it really is.
As I mention there, homeowners in particular tend to look at plumbing of the filter as pretty much the equivalent of working on the sprinklers – and they're not far off, practically speaking. But the difference is, sprinklers are typically buried in lawns under a couple inches of soil, so it's easy to trench them out when repairs are needed.
With a pond, by contrast, the plumbing connected to the ports at the base of the filter will eventually be buried not only under several feet of dirt, but also beneath painstakingly applied rockwork and landscaping – and getting to it to perform repairs or fix leaks essentially means taking the whole waterfall apart and starting all over again.
That's why I go into so much detail in this second part of this video series on designing and installing a fish pond: It may seem elementary (on par with the step of making sure the front edge of the waterfall is perfectly level), but the importance of getting these early steps right cannot be overstated.
To see the video, click here.