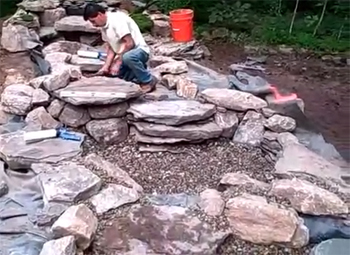 By Mike Gannon
Of all the innovations related to pond technology, design and installation I've encountered in recent years, the most curious one to me has always been the "pondless waterfall."
In an industry where the highest aspiration is always toward achieving truly naturalistic results, having the water reach the bottom and percolate into a bed of stones rather than into a large, attractive pool of water leaves the designer or installer with the challenge of making the project work visually (and emotionally) in what can clearly be perceived as an artificial context.
To overcome these perceptions, when we at Full Service Aquatics (Summit, N.J.) approach these projects (as we do often), we take special care to minimize any sense of artificiality that can hang around these environments. And we do so by working with expectations and weaving our work as effectively as we can into the natural tapestry to which we're adding the system. In that sense, it's no different than the goal we have with typical stream/waterfall/pond systems: It's all about making the new watershape look as though it belongs and has been there for a long, long time – in this case, feeding an underground stream.
As the video linked below covers in some detail, I work this aesthetic magic by spending time in surrounding natural spaces looking for plants, tree stumps, indigenous rocks and other finishing touches I can pull into the new setting. They all combine to take the typical observer's mind off the mystery of where all the water goes and set a stage where the eye is so pleased by the visual harmony that the mind doesn't dwell on the practicalities.
To see this wizardry in action, click here.
Mike Gannon is owner and lead designer at Full Service Aquatics, a pond installation and service specialist based in Summit, N.J. A certified Aquascape contractor, he may be reached at This email address is being protected from spambots. You need JavaScript enabled to view it..