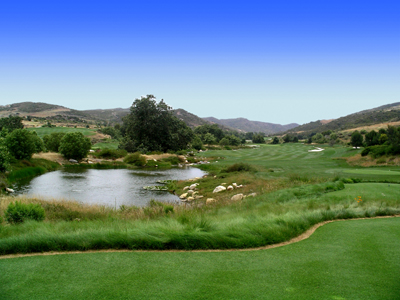 By Ken Alperstein
It was a job that forced everyone involved to be on exactly the same page at all times.
The landscapes and watershapes at the Shady Canyon Golf Club in Irvine, Calif., were developed by the Irvine Company as the heart of an upscale residential community. The wilderness area set aside for the course and its immediate surroundings had a subtle, bucolic charm all its own – a character the design team needed to respect in every way as the work progressed.
But there was a huge complicating factor: The site is in a pristine coastal canyon in southern California, complete with dramatic topography, spectacular rock formations and a delicate sage-and-grasslands landscape dotted by indigenous Sycamores and Live Oaks. What this left us to do was figure out how to build an 18-hole golf course of great beauty and distinct playability while treading as lightly as possible on a state-protected natural environment.
A light touch was truly essential: To gain permission to build homes, roads, the golf course and its amenities on the site, the Irvine Company had to dedicate huge adjacent acreage as permanent environmental [more]