By Ed Beaulieu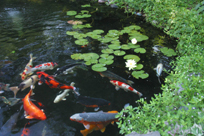 When I speak with clients about designing and installing ponds and populating them with fish and plants, I make a point of helping them understand what it takes to develop basic, functioning ecosystems that take their cues from Mother Nature.

Establishing these systems so they will help plants thrive while providing food, shelter and safety for wildlife not only in the water but around it, I tell them, requires thoughtful use of a range of systems and components — every one of which is needed to create their low-maintenance slices of paradise.

Circulation Systems: Properly sized pumps and pipes are extremely important to the aesthetics of these waterfeatures, allowing for fine-tuning of flow rates and moving water through the system in gentle, steady ways that make fish and plants happy. As important, an efficient circulation system keeps the water moving in all parts of these ponds and maintains oxygen levels needed for fish and plant health.

Filtration Systems: These ponds include both biological and mechanical filters. Biological filters provide the surface area needed in establishing colonies of beneficial bacteria that remove excess nutrients from the water, while mechanical filters skim debris from the water's surface, thereby minimizing the accumulation of organic materials on the pond floor. Mechanical filters also prefilter water before it reaches the pump, thereby extending these devices' working lives.

Fish: Although they are integral parts of any pond ecosystem, these creatures are too often seen as creating maintenance nightmares. But that's not the case: In fact, fish actually reduce pond maintenance, because they are bottom-feeders and graze on string algae.

Aquatic Plants: Plants are prized for adding character, color and texture to watergardens, but they are also Mother Nature's own filtration system, thriving on excess nutrients in a pond's water and effectively depriving algae of its food source. In fact, aquatic plants are critical to the overall health of these ecosystems.

Rocks, Gravel and Bacteria: Fearing their ponds will become maintenance nightmares, some pond professionals steer away from the use of rocks and gravel. I let my clients know that, quite to the contrary, rocks and gravel not only make ponds appear more natural, they also protect pond liners from the damaging effects of ultraviolet light. More important, they provide tremendous surface areas for colonies of beneficial bacteria that break down excess nutrients in the water and organic debris on the pond floor.

Assembling and balancing these systems is the key to any pond's success and good health. Basically, I tell clients, what we're doing is creating artificial systems that reproduce what we find in nature – and that the result will be low-maintenance, chemical-free wonderlands of water.


Ed Beaulieu is chief sustainability officer for Aquascape, a watershape design and installation company based in St. Charles, Ill. For more information, visit www.aquascapeinc.com.

.