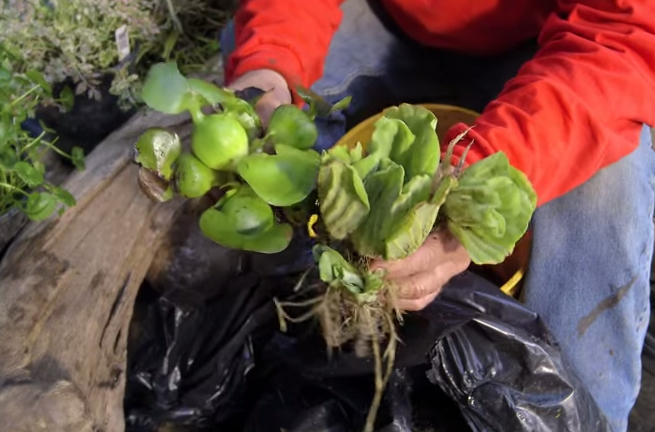 By Eric Triplett
As mentioned previously in this video series, one of the key points distinguishing frog ponds from most other modern backyard ponds is the fact that there's no circulation system of any kind – no pump to keep the water moving, no skimmer or filter to help keep it clean. That fact puts quite a burden on the frog-pond designer to make certain the water will be safe for tadpoles and attractive to the mature frogs you're hoping will stay in the neighborhood.
What's needed to make this work is a mix of plants that will take up the nitrogen load added to the water by the tadpoles and frogs. Moreover, and as the video linked below attests, the plants must be of varieties that filter the water while their foliage provides shade for tadpoles and safe harbor for frogs both under and above the waterline.
Under the waterline, the roots are the key. You want plants that have substantial root systems to start with – and you want to get them out of their pots so they can quickly take over the areas in which you place them, sending their tendrils out into the water and among the surrounding rocks and gravel. This is a perfect feeding ground (and safe space) for tadpoles.
Above the water, you want structures and leaf systems that specifically provide frogs with shelter from the sun and refuge from predators. While this pushes some common, taller choices among aquatic plants off the table, there are still plenty of specimens discussed in the video (click here) that will fill the bill and make mature frogs happy to hang around.
And as I point out in placing the lotus, not every plant you include in a frog pond has to be "functional": Even a small pond will be large enough to host a showpiece plant or two!
Eric Triplett is founder and chief executive officer at The Pond Digger Waterscape Design & Construction in Yucaipa, Calif. He may be reached at [email protected] ponddigger.com.