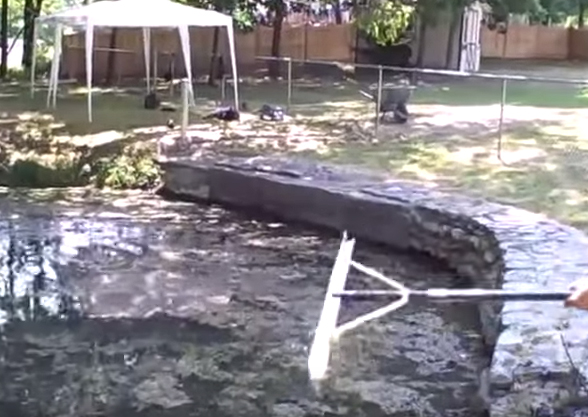 By Mike Gannon
It happens often enough that it was time for me to make a video about the process.
It usually starts with a call from a homeowner who has a pond that has become a plant-choked, green and often smelly mess. It may have been a do-it-yourself project, but sometimes the installation was completed by a self-styled "pond professional" who clearly didn't know enough about what he or she was doing to enable the system to stand the test of time.
The problem most of these cases is obvious: The body of water is large, but not quite large enough to be self-sustaining without a very active circulation/filtration system and enough agitation to keep the water aerated, healthy and clear.
The solution is also pretty obvious – and as the video linked below demonstrates, it's not that hard to set things right.
Essentially, we encircled the existing watershape with a three-inch pipe and extended intake lines from it to a few spots on the pond's floor. This trunk line pulls water from the main pond into a new biofiltration pond we added to one side. Here, the water flows through rocks and gravel infused with beneficial bacteria and through root systems that take up additional nutrients, thereby addressing the water-quality issues that afflicted the original pond. We also set up a broad, churning waterfall to inject plenty of oxygen into the system.
To be sure, this is a space-intensive solution, but for the most part, these ponds are found on larger properties where claiming space for addition of a substantial biofiltration pond isn't a big deal. But if space is an issue, it's generally possible to rework and repurpose part of an existing pond, sacrificing a portion of its surface area to achieving more sustainable results.
The aesthetic upside in these renovations is huge: Not only will the main pond's water become crystal clear, but the sound of the waterfall will significantly enhance the experience of being around the water. And believe me: Neither water clarity nor tuneful background noise has ever been the source of complaints!
To see the process of adding a biofiltration basin to an existing pond, click here.
Mike Gannon is owner and lead designer at Full Service Aquatics, a pond installation and service specialist based in Summit, N.J. A certified Aquascape contractor, he may be reached at This email address is being protected from spambots. You need JavaScript enabled to view it..