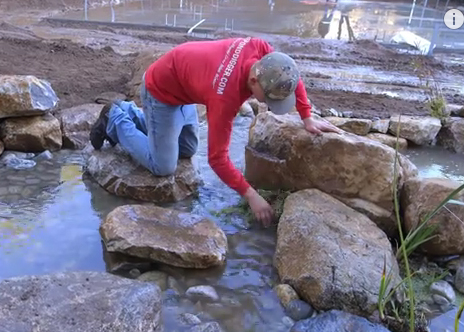 By Eric Triplett
Pond-free waterfall systems are a conceptual oddity: At first thought, they don't seem as though they can in any way appear natural, with their long streams of cascading water disappearing into voids instead of flowing across the large sort of pond that is so familiar to most of us in natural settings.
But I'm among those who like these odd watershapes – and I think much of it has to do with the fact that we at The Pond Digger (Yucaipa, Calif.) think them through very carefully and do what it takes to make the bottom basin seem like anything but a gurgling sump.
In fact, the philosophy we apply with the terminal basin is much the same one we apply with all of our upstream pools: We focus on keeping the water flowing where we want it to flow; on avoiding the sort of symmetries that make waterfalls and various other level transitions look man-made; and perhaps most important, on managing and tuning the sounds water makes as it drops or slides into each and every pool. The way we use plants in and around the water is crucial as well.
The key, I think, is treating every upstream pool and the terminal basin as a distinct product of its specific surroundings and the stones we've chosen to highlight and create it. I've never seen nature take the same approach twice, so we avoid any suggestion that one cascade or sheeting waterfall in any way resembles any of its neighbors. So we set small waterfalls and cataracts as well as big drops and muddled flows; relatively deep pools and distinctly shallow ones; straight sections and tortuous ones, split and curving.
Nature's Mysterious Ways
Although I write about pond-free waterfalls as a human invention, there's a mind-bending water effect at the base of a Minnesota waterfall that makes me wonder just how inventive we've actually been. Even better, those who've studied this effect have no clear idea of where the water goes!
To see the Devil's Kettle in action, click here.
-- E.T.
It's all driven by the stones we select on each level, but we bring a lot to the process by applying our experience and our observations of nature to achieve a variety of effects.
In my view, it's everything upstream, everything that flows down to the lowest basin (and the sump that feeds water back to the top of the system) that enables us to create a naturalistic terminus for the entire composition. If the effects we've created above are convincing and we handle the basin with skill, it'll be perceived as just another pool in a long chain and will be accepted without question.
Yes, a pond-free system is still a bit weird – but only if there's something about the way it ends that calls attention to its artificiality. To me, this is another case where experience is important in ways even super-do-it-yourselfers are unlikely to understand.
Click here to see how the entire system comes together.
Eric Triplett is founder and chief executive officer at The Pond Digger Waterscape Design & Construction in Yucaipa, Calif. He may be reached at [email protected] ponddigger.com.