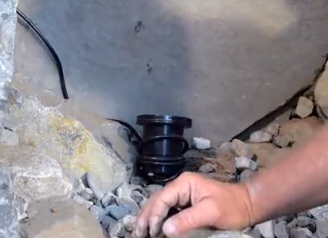 By Eric Triplett
Of all the messages I've tried to convey in this video series and its introductory texts, one of the crucial ones is my observation that the people who buy and own ponds will spend lots of time enjoying their watershapes after it gets dark. The only way to make that happen, of course, is to include an effective in-pond lighting system to make the watershape's best features glow attractively.
Just visualize the homeowner coming home at the end of a long day of work, moving through the house and stepping into the backyard. If it happens to be dark and the pond is fully illuminated, the process of setting aside daily cares and beginning to relax will happen much faster. This is why we always put lighting systems in our ponds.
A waterfall, of course, is a special focus of visual interest as well as an active feature that can make light dance throughout the space, so we always designate a niche at the beginning of the installation process that will allow us to place an underwater light (or lights) that will capture all of the dramatic potential we're building into the scene.
As I just suggested, this takes some planning, as there needs to be a space either in front of or behind the falls to conceal a bulky light fixture. After the waterfall is locked in and complete is not the time I want to spend rearranging rocks to accommodate an afterthought!
The fixture-installation process is one we covered in an earlier entry in this series, but in this case there's more information on placement and angles that makes it more than a mere refresher course. To see things in detail, click here.

Eric Triplett is founder and chief executive officer at The Pond Digger Waterscape Design & Construction in Yucaipa, Calif. He may be reached at [email protected] ponddigger.com.