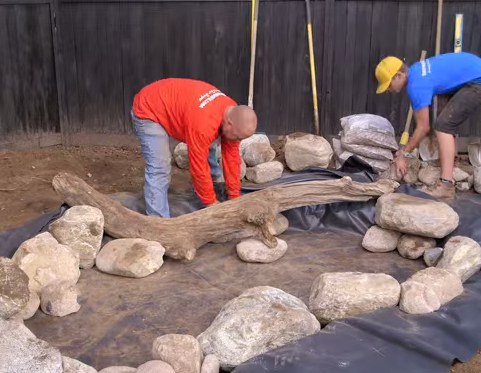 By Eric Triplett
The fact that frog ponds are so shallow offers the pond installer some special challenges with respect to making them look completely natural.
As you'll see in the video linked below, there's an obvious temptation to take the easy way out by lining the edge with rocks of similarly large sizes and settling for the dreaded "string of pearls" look, where stones hang out like some sort of lumpy necklace. That's a perfectly awful way to go.
To avoid that problem appearance, we take the same sort of approach we do with other pond types, working rocks back into the surrounding landscape and using plants to soften the edges. But with a frog pond, there are a few special considerations that come into play that make me look at the task in a slightly different way.
The key is considering that frogs are amphibious and live both within and beyond the water: Knowing that, I try to make most edges readily accessible and surmountable so the frogs can get out of the water with ease to hide in the rocks, cobbles, gravel, plants and assorted voids above the waterline. This also gives me a great opportunity to incorporate driftwood in this design: The tree limb offers shade, basking areas, hiding places – and a look that can't be beat.
So I guess this is another similarity: As with fish ponds and other pond types, aesthetics and the desire to make the watershape seem as natural as possible is always a common concern. But in this case, and as you'll see in this video (click here), we're serving two sets of demanding clients here: the homeowners and the frogs. And truth be told, the frogs are way more particular about where they'll live than most homeowners I've met!
Eric Triplett is founder and chief executive officer at The Pond Digger Waterscape Design & Construction in Yucaipa, Calif. He may be reached at [email protected] ponddigger.com.