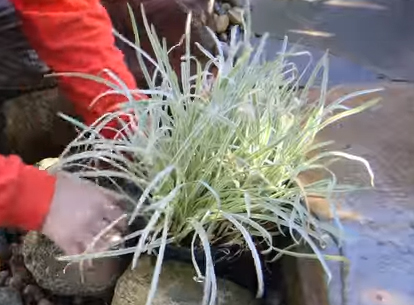 By Eric Triplett
The way I see it, the substantial amount of time and energy involved in a good, annual pond cleaning is definitely well spent.
For one thing, it gives us at The Pond Digger Waterscape Design & Construction a chance to address any issues the homeowner may have noticed with the way the pond operates – everything from practical concerns about splashing in certain areas, for example, through to aesthetic observations about the way the waterfall sounds or about plant varieties and sizes.
Given the amount of tinkering we do – that is, moving rocks and plants around and generally treating things without much apparent respect, it may seem that we're approaching this as a kind of grand-scale do-over. But that's far from the case: While we must be aggressive to clean things to a fairly substantial degree, we are respectful of the project's "bones" and are mindful that we're working with something our clients are far more familiar with than we are.
There's a fine line here, to be sure, but while we are certainly "pond interventionists" (as you'll see in the video linked below), we also pay a lot of attention to the details and making things right for our clients and the wildlife that we'll soon be moving back into the pond.
Couple quick things: First, details are important. There's nothing like being called back because you've forgotten to reposition an auto-fill unit and turn on its water supply. Second, goosing the system by adding beneficial bacteria is absolutely essential. While cleaning the pond is a disruptive incident in the life of a fish, it's a real and extremely negative experience for the populations of bacteria that keep the ecosystem going on the microscopic level.
Yes, the little critters would come back on their own, but in the meantime, their brief relative absence could compromise the health of the fish in the days immediately after they've been reintroduced to the water.
To see us in the final stages of this spring-cleaning project, click here.
Eric Triplett is founder and chief executive officer at The Pond Digger Waterscape Design & Construction in Yucaipa, Calif. He may be reached at This email address is being protected from spambots. You need JavaScript enabled to view it..