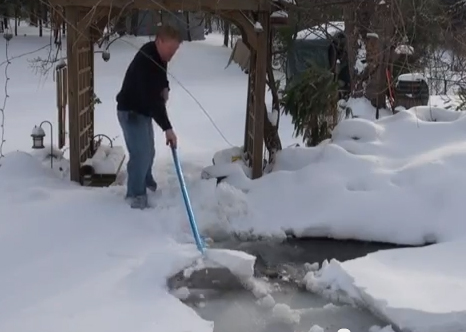 By Mike Gannon
I wouldn't mind being able to hibernate through the coldest part of winter, but as a professional in the pond business, I know I'll be spending some time out in the cold helping see my clients' watergardens through the worst of winter's chill.
Fortunately, there's really not a whole lot to be done – the plants are dormant, the fish are quiet, and the systems we've installed are fully capable of keeping the water moving even when most of the pond has frozen over. But there's one key chore that someone must perform after any good snowfall: The ice surface should be scraped to clear away the white stuff and allow filtered sunlight to reach the bottom of a pond to keep the plants and fish happy.
The video linked below shows me at work on my own pond. As I scrape, I run through a whole range of reasons why I'm out there on a very cold day. But there's one point I don't mention, and I want to cover it here: In clearing away the snow, there's no need to be so compulsive about scraping the entire surface that you run the risk of disrupting, damaging or ruining the pond's edge treatments!
A snow razor of the sort I use in the video is a great tool, but it's also a blunt instrument that can do a good bit of damage if you're not careful. So as you'll see in the video, all you need to do is pull the snow toward the perimeter, scoop some of it up and stop short of uprooting rocks or plants on the verges.
As for the workout, I like it best when the snow is newly fallen and my exertions are only moderately strenuous: Once it freezes, it's much heavier work – not something even I want to do on a cold winter's day.
Video: To see my snow-scraping exercise, click here.
Mike Gannon is owner and lead designer at Full Service Aquatics, a pond installation and service specialist based in Summit, N.J. A certified Aquascape contractor, he may be reached at This email address is being protected from spambots. You need JavaScript enabled to view it..