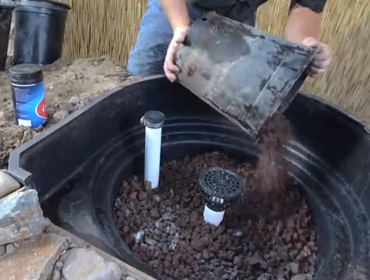 By Eric Triplett
As was mentioned a few episodes back, in designing this particular pond we settled on a filtration system that made the most sense for the setting and the situation – and now it's time to show you how we install its permanent gravel bed.
As the video shows, it's a straightforward process of rinsing the material to get rid of as much dust as possible and doing what I can to cull any smaller-than-desired chunks of gravel that might clog things up at some point. I wouldn't call it fun work, but moving through the multiple bags of lava rock doesn't take that much time – and investing a few minutes here makes clarifying the pond's water a much quicker task.
As I noted previously, I like the simplicity of the gravel-bed approach and the fact that a twist of a three-way valve is all it takes to backwash the filter and make the fish and plants happy again.
Another key point here leads me to reiterate one I made way back in an early episode: Knowing that I was going to use this filtration approach and how heavy it would be once installed, we paid special attention to making certain the place where the housing was to stand was very well compacted and that the unit itself was completely level in all directions. That was a detail that might have seemed a bit fussy at the start of the project, but now it's crucial!
To see how we work with the gravel and install it in the waterfall/filter unit, click here.
Eric Triplett is founder and chief executive officer at The Pond Digger Waterscape Design & Construction in Yucaipa, Calif. He may be reached at [email protected] ponddigger.com.