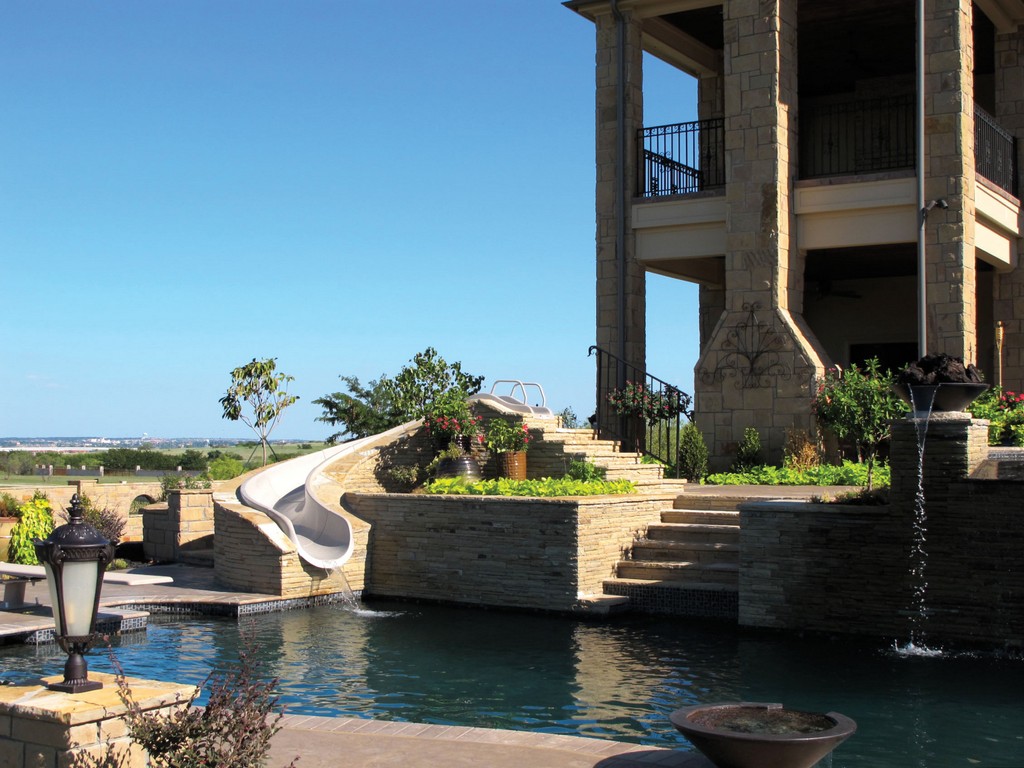 By Kathryn Varden
How do you tear kids away from the Internet or video games on a nice summer day and get them outside to play? These days, more and more families are answering that question by creating small-scale waterparks in their own backyards.
The great thing is, these micro-waterparks don't have to be as garish or visually aggressive as their full-scale commercial counterparts. In fact, these spaces can be as easy on the eye as the watershapes at luxury resorts and hotels: Indeed, those are just the sort of fun, aesthetically pleasing spaces that might well be planting ideas about increased backyard fun in homeowners' heads in the first place.
In this pair of articles, we'll be looking at one component of these mini-waterparks – that is, the slides that are available in the marketplace to meet consumer needs on a variety of levels. This time, we'll briefly survey the types of slides and discuss how they fit into a projects, backyards and budgets; next time, we'll look at what's involved in installing slides of the sort that make real waterparks so much fun.
SIMPLE FAMILIARITY
Let's start this tour of possibilities at the simplest, most economical level with free-standing, deck-mounted slides made out of acrylic or roto-molded plastic – the sort you most often see mounted on top of a pool deck. They may not be glamorous or what anyone would call beautiful, but they are still the most popular kind of slide and have the advantage of being installed either with new construction or as part of any resort-style renovation on an existing pool.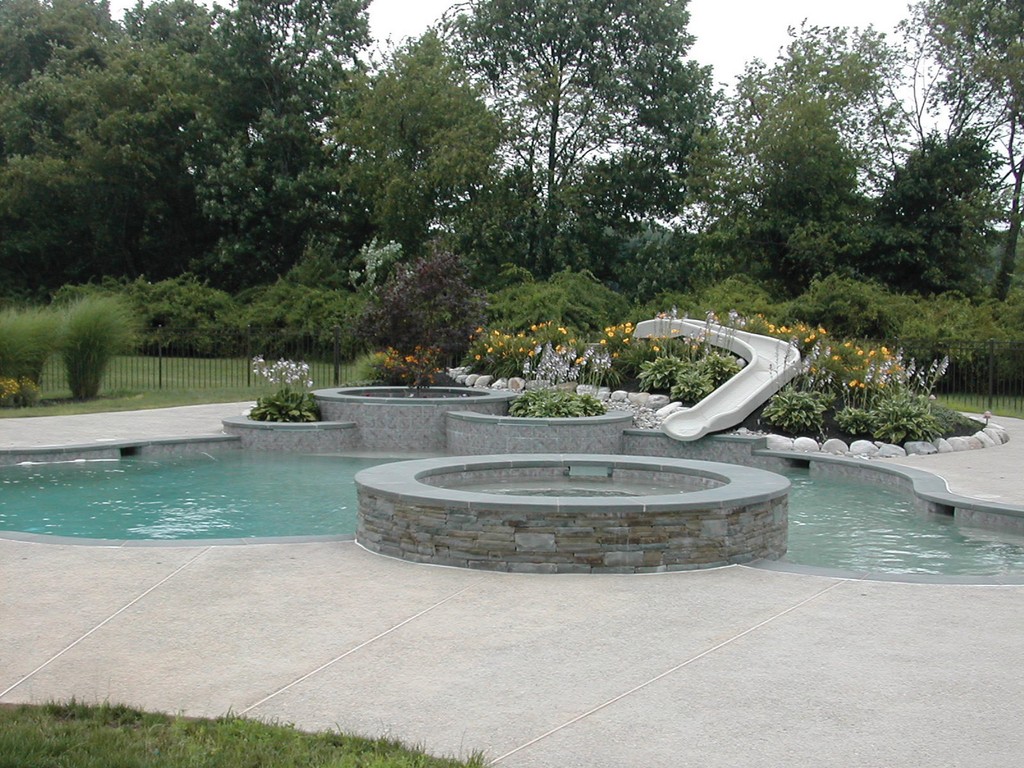 These free-standing slides have come a long way in the past ten years or so with respect to color choices, runway styles and safety features. True, they stand out on a deck and it's tough to integrate them into an overall landscape design, but they're fun, durable, capable of supporting up to 300 pounds and don't cost much to purchase or install.
Next in line are various forms of custom slides – approaches that make it much easier to achieve visually pleasing, resort-like results. These units can be built using tile, concrete or modular, pre-fabricated flume pieces – most popularly the latter, which consist of commercial-grade fiberglass pieces with durable gel coatings.
These custom slides are most often designed and installed as part of new construction, but they also come into play with extensive renovation projects. Their cost is determined by length and how many twists, turns and features they offer. Quite often, you find them wrapped around and through large rock structures featuring waterfalls and grottos, but they also drop along and out of landscaping on hillsides.
SWEEPING SOPHISTICATION
Where standard slides are basically of-the-shelf items and mostly a choice made to reflect a relatively modest budget, the world of custom slides carries watershapers and their clients into multiple possibilities and considerations in the course of the decision-making process.
With a truly custom, handmade approach – that is, with a slide shaped with smooth concrete or with a tiled surface – there is no limitation on what can be done with respect to length, twists, turns and slopes. In addition, there's no practical limit on these slides' weight-bearing capacities.
In such projects, however, much depends on the designer's experience and insights into the way slides work. This is both a functional issue – nobody wants a dead spot halfway down a slide, for example, or an overly tight turn – and a matter of safety as well. The result of the safety concern is that these slides tend to be fairly conservative in the ways they're laid out.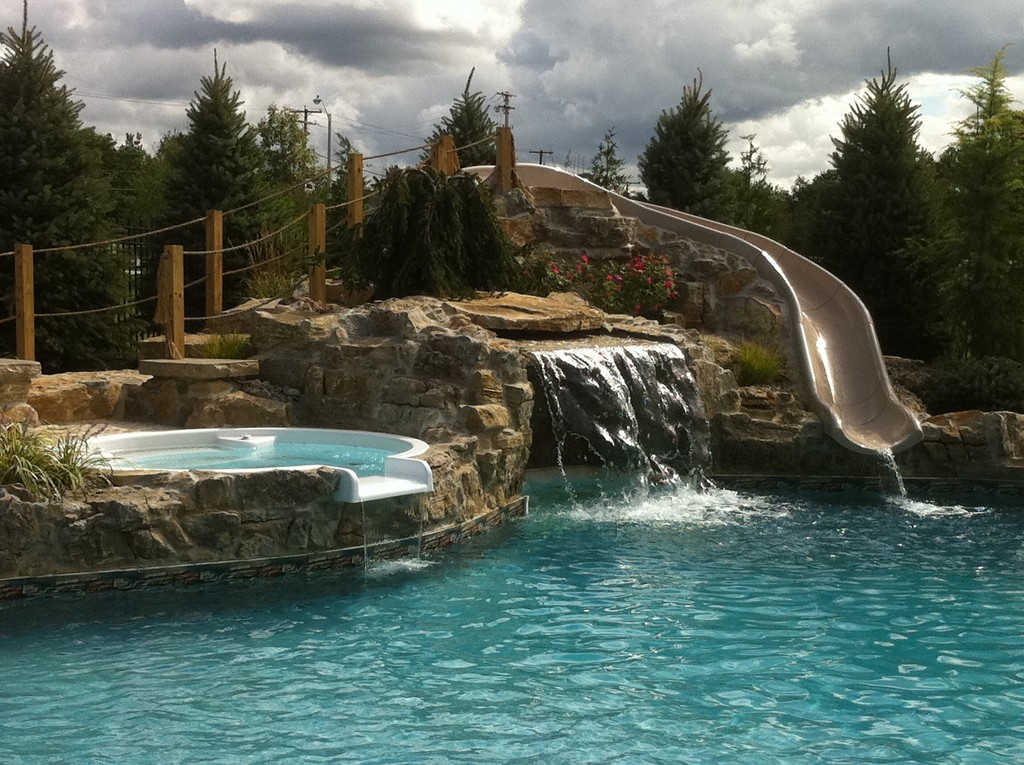 By contrast, designers and builders who work with modular systems are able to draw on the engineering skills and experience of the slide manufacturer. The results will consequently be more predictable but also a bit more daring with respect to turns, slopes and safety considerations, and the gel coating is available in a range of colors that help these systems fit into lots of designs and color schemes.
True, with modular systems you get back to weight restrictions (in the 250-to-350-pound range) and a need for periodic maintenance to keep the surfaces slick, but with the assistance of the manufacturer's engineers, watershapers can safely incorporate various flume pieces into endless configurations that truly give homeowners a key feature in their own backyard waterparks.
MAKING THE CALL
Deciding which way to go with pool slides is generally a basic, bottom-line discussion – the best thing being that slides are available from the very low end of the pricing spectrum to the very high end, with lots of possibilities in between.
When it comes to design flexibility and aesthetics, custom approaches will always be preferred – and there's a lot to be said for both the concrete/tile solutions and for modular possibilities. With designers and builders who don't specialize in slides – and not many do – the fact that modular slides are backed up by skilled engineers and years of experience on the supply side of the equation can make all the difference in bringing a slice of the waterpark experience into a backyard.
In addition, in a world where many clients believe "bigger is better," modular slides have another edge in being strong but lightweight and easily braced and supported. Next time, we'll take a specific look at modular systems and how they're installed – and get a sense of why these systems are becoming more popular among watershapers as well as thrill-seeking families.

Kathryn Varden is western regional sales manager for Inter-Fab, a Tucson, Ariz.-based manufacturer of slides, slide systems and pool accessories. A 13-year industry veteran, she has a Masters degree in Landscape Architecture. For more information on modular slides, visit Inter-Fab's web site: www.interfab.com/swimming-pool-slides.aspx.
People in this conversation