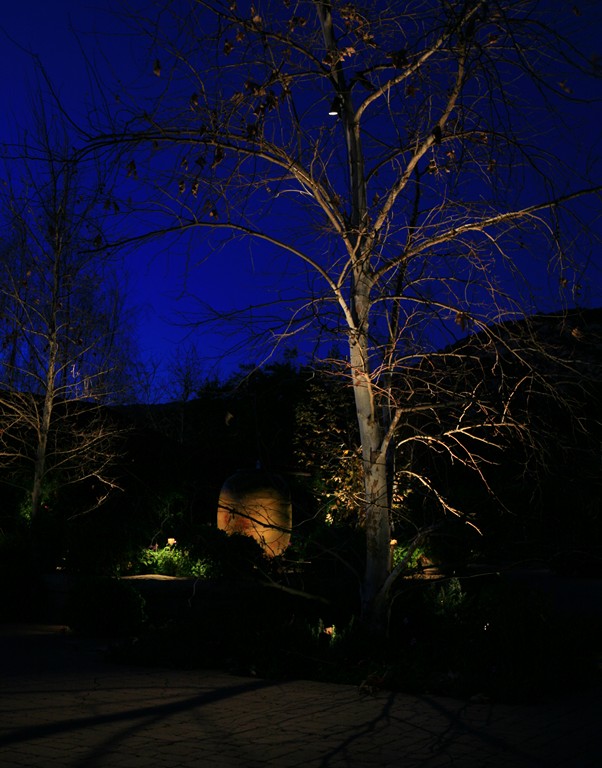 By Mike Gambino
From my perspective on the design and installation side, I see bringing landscape lighting to a property as a process that includes careful planning and execution as we compose the different scenes and lighting elements; count and select fixtures; lay out the power-distribution system; install everything properly; and, finally, fine-tune it all before turning things over to our clients.
Looking at it from the other side, it's been my observation that clients approach these projects with an equivalent level of deliberation: Even among relatively affluent clients, landscape lighting represents a significant investment – definitely not something they approach impulsively or on a whim.
In other words, it's rare that bringing light to exterior spaces involves much by way of spontaneity or day-by-day (or even moment-to-moment) improvisation.
Lately, however, I've been involved in one of those rare, unconventional projects – one that has called on everything I've been able to muster with respect to adaptability, creatively, technical finesse and personal commitment. The best way I've found to describe it is as a free-flowing, organic campaign in which one never knows what the next day will bring.
ONE THING TO ANOTHER
To set the stage, my clients own a 275-acre ranch in the hills overlooking the sleepy seaside enclave of Carpinteria, Calif. – a place better known for long-board surfing than for well-to-do citizenry. The clients call it a "weekend retreat" (their primary residence is in Beverly Hills), but it's also a full-time, working horse ranch and avocado grove.
I first became involved with them last year, when I installed lighting for two beach houses they own in the same area. They liked my work and decided to bring me on board for work on the freshly purchased hilltop property.
To say this has been quite an undertaking is a huge understatement. So far, the clients have worked with four different landscape architects and numerous contractors – and we're a long, long way from being done. Most of the work to date has taken place on just two acres surrounding the main house, which is perched on a rise overlooking the ocean, the avocado trees and the equestrian facilities.
Located on a lower section of this project are three new guest cottages designed as replicas of bungalows found at the famous San Ysidro Inn in nearby Montecito, Calif. At this writing, we're currently working around the cottages, which are eventually going to be associated with some beautiful lighting effects, including several unorthodox fixtures that will hang from specimen trees. As this work has moved forward, we've also been putting finishing touches on spaces around the main house.
In many ways, these clients are a dream come true: They're nice people, they love my work, they've engaged me in a steady stream of projects since we first linked up at the beach houses and they have the wherewithal to do as they please, no problem. They are, however, extremely particular in their likes and dislikes and have no qualms whatsoever about ripping up entire landscapes and starting over from scratch.
In fact, I'd have to say that revision and expansion are defining characteristics of the project to date.
I should have known what was coming: When we started on the beach houses, they were adamant that they wanted to keep things simple and straightforward. Their resolve didn't last long: As soon as they'd see one area lit, they would immediately expand the scope of the project to include other areas, often with more elaborate lighting treatments.
The same has happened here: We started with the main house, again with a "simple and straightforward" mandate, but every time we'd finish an area, they'd immediately jump in with a desire to expand what we'd done into another space, always adding more and more lights, layers and textures. And it's not just the lighting that's been dealt with in this way: The area around the main house is currently in its fourth sweeping, major revision – including the demolition or relocation of significant hardscape structures with each iteration.

MASTER PLAN
The clients purchased the property as a fully functioning ranch, with the existing main house, orchards, avocado groves, corrals, equestrian competition rings, barns and more. It's a bit like entering a small, isolated town: You drive onto the property and pass a variety of buildings and facilities as you travel a long, winding road up to the main house with the Pacific Ocean stretching out beneath you at almost every turn.
When I arrived on site, I discovered that the main house was already surrounded by an antiquated (and completely inadequate) landscape lighting system. Along with almost every landscape element in striking distance, the old fixtures were ripped out and discarded.
Working with the clients and their design team, I planned several lighting areas, designing one zone at a time, making power-need calculations and then waiting for the electrician to place the requisite subpanels. This all took place amid a virtual beehive of activity, with excavators, masons and carpenters everywhere, alongside crews craning in mature specimen trees.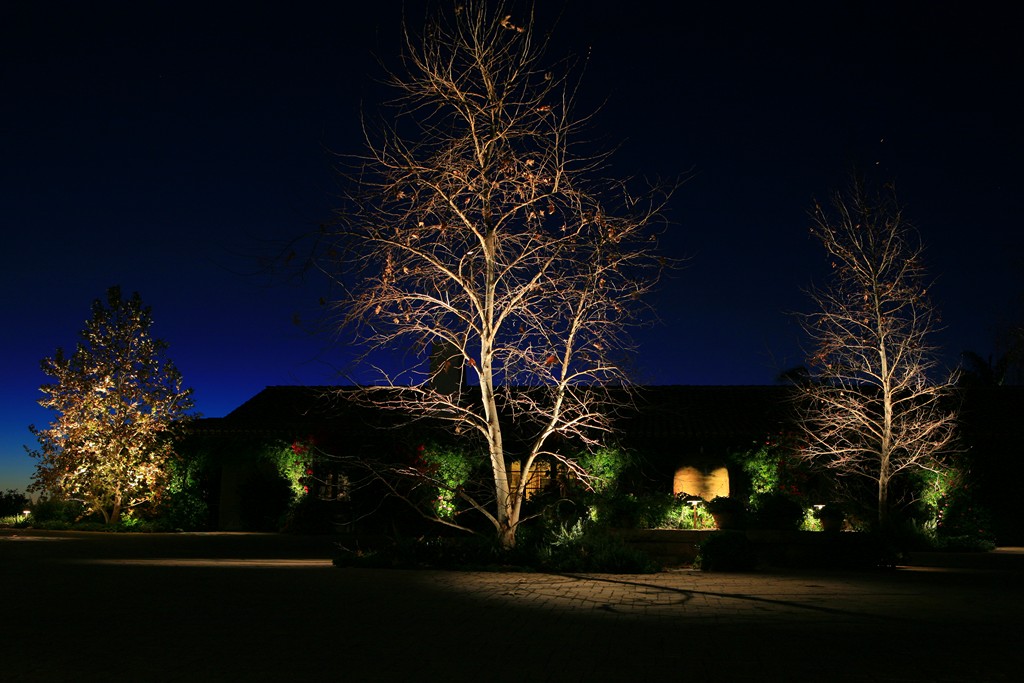 Working in spaces subject to immediate, total revision has been difficult enough, but the requirement that all of the lighting – with some 300 fixtures in place – had to operate in response to a single photocell was a magnificent complication for a project that's been full of twists and turns.
To protect my lighting systems, I made an early decision to install all the wiring in conduits. I typically use direct-burial cable, but in this case I was legitimately concerned that any unprotected lines would be subject to damage given the nature of the ongoing work around the property.
From the start, there were complicating factors. For one thing, the clients wanted the entire system to be triggered by a single photocell, meaning all the lights would come on simultaneously each night. That sounds simple, but in a system with so many zones and circuits, we had to improvise a complex system of relays to synchronize everything.
It didn't help that we were working with fundamental line-voltage power issues: All of the up-lighting for the trees was set up on dimmers, which result in line-voltage lamps functioning at lower outputs even with the dimmers fully ramped up. At the same time, many of the other elements we installed (including mushroom-style flood lights around the perimeter of the area and tree-mounted downlights) all put differing loads on the existing power system
Much of the lighting is there for nighttime safety – not so much from human intruders as for wildlife. We've been told that there is a bear who stops by from time to time, for example, and that there are several coyotes. I personally had an encounter with a mountain lion: Happily, he seemed to be as terrified of me as I was of him. And that happened during the day, so I can only imagine what comes prowling at night.
As designed, the down lights in the trees come on every evening, all year 'round, along with the low level spreadlights at the perimeters of the upper property. When the clients plan a visit, their property manager arrives before them to tie all of the other lighting to the photocell trigger, set the dimmers and make certain all is as it should be.
REARRANGING FURNITURE
This entire program would have been complicated enough to design and install if what I've described so far was all there was to the project – but there was much more to it than that.
Once we were started, in fact, the challenges just kept multiplying because the clients have continuously revised the landscape. Time and again, for example, they've moved mature trees around the space in the way typical homeowners might move furniture around their living rooms.
What typically happens is that the landscape contractors will get an entire area planted, arranging and rearranging every detail until the clients are happy – and then I'll come in and light it. Almost invariably, however, the clients will decide to change major elements, so we start all over again.
For my part, that means removing fixtures, pulling cables out of conduits and, most times, redirecting conduit runs to new locations, often around existing structures or structures that are in the process of being revised. Then I redesign and reconfigure the power distribution and reinstall the entire system. It would all be frustrating beyond belief if what was going on wasn't interesting in so many ways.
At long last, our work around the main house has drawn to a close (or so we all hope). Now as we focus our efforts on the three guest cottages, we've noticed the same processes of revision and expansion starting up once again. We did begin with a set of plans, so things unfolded in typical fashion, but even at an early stage of this current project phase, the original layout has already been discarded and everyone on the project is operating in the improvisational mode we became accustomed to in working around the main house.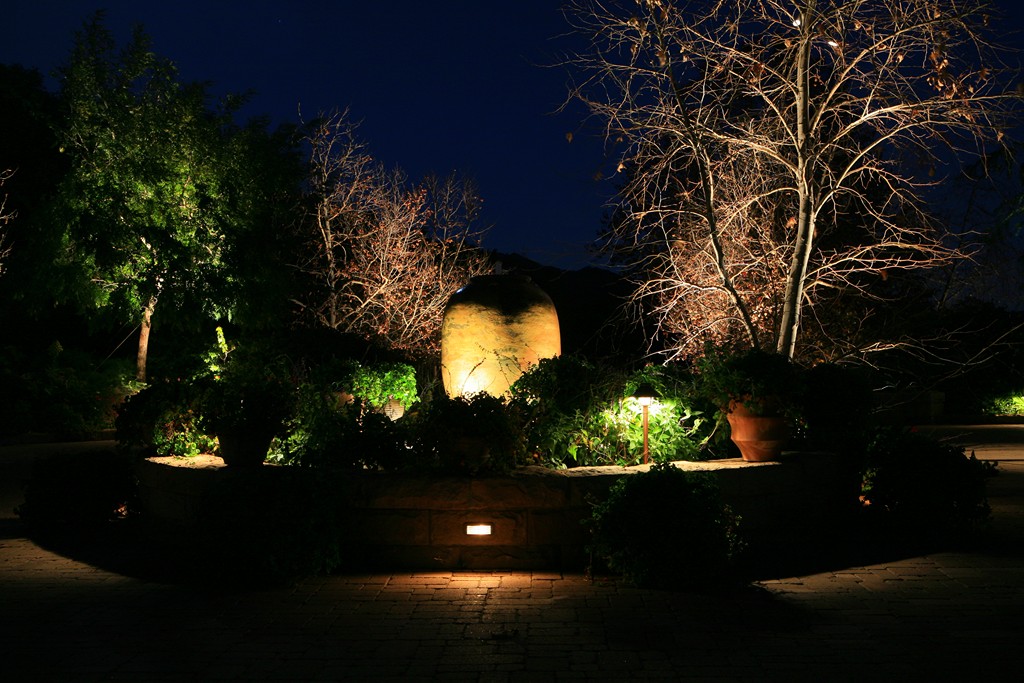 While the lighting of the trees and landscapes has dominated our work on site, we've also worked on more intimate spaces where the lighting of pottery and sculptures has been the order of the day. In this case, the effect we created with this urn beside the driveway led to mirroring the look in a feature on the opposite side of the house.
I have to say that, on some level, I'm the one who's responsible for the constant revisions: Fact is, the clients are enthralled when they see the landscape come to life at night. We're working with beautiful sycamores and olive trees and a host of other beautiful trees and plants, and when we layer everything and hit the trees with up-, cross- and moonlighting, the clients have typically decided that they want more of the same.
This isn't unusual. Indeed, I frequently run into this desire for enhancements when clients see their landscapes lit up for the first time, no matter the size or scope of the project. There's something infectious about well-lit exterior spaces, which is why I don't see what's happening here above Carpinteria as anything other than the same sort of impulsiveness – only on a grand scale.
In fact, just when we all thought we were finished with the areas around the main house and were finally devoting full attention to the cottages, I showed up and was told that the clients had just added a set of four mature California pepper trees to a new patio area. Apparently, they'd just realized that what had been a stretch of lawn would be absolutely perfect for a private seating area overlooking the ocean.
So now we're all working on this new patio space, accommodating the pepper trees and making certain the lighting is just so.
FINAL SCOPE
In no way do I mean to make this work sound like drudgery – far from it. Along with the more common lighting applications, for example, we've also developed a number of special areas with sculptural lighting and have established a number of vignettes both large and small within the grander spaces.
One of my favorites is a beautiful focal point on the driveway up close to the main house, where the first thing you see is a waterfeature consisting of a large urn with water spilling over the rim and down the sides. We placed several submersible lights inside the urn and then lit it from all around – such a beautiful detail that we echoed it with a waterfeature at the back of the house as well.
In all, our work around the main house called for nearly 300 fixtures on 18 transformers – so far, that is. The systems around the cottages will likely require similar fixture counts, and we know there will be more to do by way of path lighting and some wonderful effects we've planned for small garden spaces woven among the cottages.
As the old saying goes, past behavior is the best predictor of future behavior, so I have every reason to believe that these highly creative and ambitious clients will continue to revise things for the foreseeable future. That thought in mind, I'll almost certainly return to this site from time to time in these columns to let you know how things are going.
After all, it's not every day a project like this comes along. So far, I have to say it's been both challenging and fun to keep pace and, more important, enjoy the ride – especially because, as we were putting the finishing touches on this column, the owners of the property awarded us the contract to illuminate yet another cottage on the property. Stay tuned!
Mike Gambino owns and operates Gambino Landscape Lighting of Simi Valley, Calif. A licensed lighting contractor since 1990, he has specialized since 1995 on high-performance low-voltage systems. He may be reached via his Web site: www.gambinolighting.com.