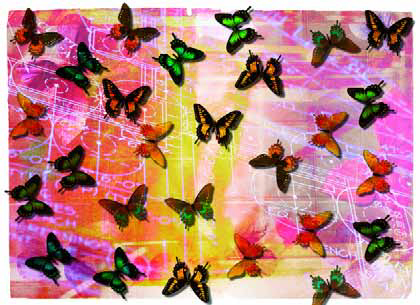 By Bruce Zaretsky
In the often wild and woolly world of custom landscape and watershape design, it's sometimes impossible to predict the sources of the most interesting and challenging projects – or anticipate how we manage to find our ways into the middle of them. It's all part of what makes this profession so uplifting at times – and so confounding at others.
I've worked hard to accept and embrace the strange tides of fortune this business entails. As a case in point, this month (and next) I'm going to relate a story that captures the essence of what it can take to accommodate the unexpected and enlist the nerve it sometimes takes to support your belief in what you see as the best solutions.
In this instance, the story began four decades ago with a well-known Rochester, N.Y., socialite named Margaret Woodbury Strong. She was an omnivorous collector of everyday treasures and by the time of her demise had amassed a collection of more than 500,000 dolls, toys, commonplace objects and ephemera. Toward the end of her long life, she founded Rochester's Strong Museum in 1968 – just a year before she died.
While it started out as little more than an elaborate personal showcase, through the years the Strong Museum has evolved to become a world-renowned venue dedicated to children and education. Various interactive exhibits and play areas have been introduced, including Sesame Place, where kids become part of Sesame Street's culture write their own stories, and One History Place, where they dress up in period costumes.
Eventually, it became clear that the museum was in need of some updating – and that's where the story's current chapter begins.
CONNECTIONS
In 2004, the museum's administration and supporters embarked on a most ambitious project: a $37-million expansion that would double the size of the play area and bring interactivity to new levels.
One of the areas slated for addition was the Dancing Wings Butterfly Garden – the only butterfly conservatory in New York. It was designed as an abstract butterfly shape with two "wings," one of which would be the conservatory itself and the other a greenhouse to house the many different plants that would continually be rotated through the main exhibit space.
My company became involved via a most convoluted path. About 15 years previously, we had installed a small retaining wall for an architect-client who, as it turned out, was a principal at the architecture firm that had been hired to design the museum's additions, including Dancing Wings.
That past relationship (as well as our good standing in the local landscape-design community) led to a call from the museum asking us to consult on the project. We were thrilled: As residents of the area, we took great pride in being invited to shape such a high-profile project – one that would ultimately benefit many who live nearby or might come to visit.
The design itself was a challenge, basically because it developed with no clear precedents and was the work of architects who had no experience with the design of such conservatories. They picked up ideas from similar institutions in Canada and the United States when it came to heating and ventilation systems, but essentially the rest of the design was based on ideas from the museum staff.
The architects' conceptual design called for a 42-foot-diameter garden incorporating three waterfalls, intertwining pathways, thousands of plants and some type of woodwork. This left many unanswered questions, including how all of the desired features were to be built and the plantings were to be watered and maintained.
After an initial plan-review meeting, we added to the collection of questions, focusing on installation logistics complicated by that fact that the project had not one but two general contractors who were to guide two separate project areas. Our aim was to give the museum's administration a reasonable understanding of what that meant – at which point they asked us to increase our level of participation: We'd brought up so many issues and suggestions that they felt our presence was needed to make sure all important concerns were addressed.
So we signed a consulting contract with the museum and went to work in deconstructing and deciphering the plans.
IN DEEPER
When we'd examined the plan in detail, we found that one of the garden's major features was to be a nine-foot waterfall adorned with various tropical plants.
The documents, however, gave no indication of materials nor of any sort of structural support for the waterfall, which was to be set up against a concrete wall flanked by the garden's entry and exit points. In other words, the "major feature" was allocated a six-foot-wide, nine-foot-tall wall space – and there was to be a pond below it that would extend 12 feet out into the garden. The best word we could find to describe the resulting waterfall system was "confined."
As planned, the structure was to be built of natural stone, but no allowance had been made for footings of any kind. In fact, the plans called for no more than a mud slab – essentially a 3,000-psi concrete floor set on a base of drainage stone – two feet below the final floor level. This was to allow room for a special soil mix and plantings in the areas between the walkways.
As our thoughts encompassed the waterfall and pond and other features called out in the plans, it didn't take long for us to see that what the architects and administrators wanted simply couldn't be built in so tight a space. So we immediately recommended waterfall construction using faux-rock panels.
We had no experience with that type of construction (we work exclusively in real stone), so we called Rock & Water Creations (Fillmore, Calif.). They in turn recommended us to Rod Russel-Ides of Dallas, who travels the country building artistic faux-rock waterfeatures.
After contacting Russel-Ides, we sent him a copy of the plans – and he immediately responded with sketches and elevations. His excitement from the start assured us that he'd come aboard for the duration of the project (assuming, of course, he and the museum could come to terms). Our thought was to build the faux stone up to make it look as though the concrete walls of the conservatory had been built around a natural waterfall found on site.
To speed the process, we asked Russell-Ides for a ballpark estimate of what it would cost to build the large waterfall we were now discussing. Simultaneously, we brought in a local company, Design Pool & Spa of Fairport, N.Y., for feedback on what it would take to build the basins into which the waterfalls would cascade.
As these relationships fell into place, we all continued to discuss whether we could build a believably natural waterfall in the small allocated space. The entire conservatory was to be just 42 feet in diameter, so we hesitated to make it any larger. Ultimately, what we ended up doing was reworking the space to include just two ponds instead of the original three that had been proposed by the architects.
ROLLING ALONG
As we worked through the engineering stage for the watershape, we also met with the general contractor who'd been hired to build the conservatory.
For some reason known only to the museum's administration, one general contractor had been hired to build the main addition and another to build the butterfly conservatory. That would have been fine, but we learned in our conversations that, although the scope of our involvement extended only to the conservatory, the pumping and filtering equipment would be housed in a vault in the basement of the main building!
This meant that we needed to deal with both general contractors as well as subcontractors in the heating/cooling, glass, electrical, plumbing and concrete trades before we'd be in an adequate position to provide the museum with recommendations related either to "buildability" or budget for our part of the conservatory.
We navigated all this and finally set up a meeting with the administrators. In this type of situation, we insist on having all decision-making and otherwise influential parties present, which in this case meant having the museum's chief executive, head of engineering, public relations and all other fiscally responsible officers in attendance. For good measure, we also invited a representative of the architecture firm and both general contractors.
At this point, we were strictly consultants and never expected to be installing this project. (We'd always assumed it would be open to bid, and that's not something we pursue.) This liberated us in the meeting to be as blunt and impolitic as we wished, so we recommended eliminating one of the three ponds, building the two others with combinations of real and faux stone, stamping the walkways to make them look like exposed bedrock and reducing their size from the initial plan to maximize the plantings that were to nourish and sustain the conservatory's inhabitants.
Both of the latter recommendations met with opposition from the CEO, who was less concerned about aesthetics than he was about liability and the possibility of people falling into the planting beds or slipping on the concrete paths. In fact, he had made it known to all present that the pathways would be brushed concrete, which he considered to be the least-slippery option. No one called him on that point, nor on his assertion that the wood features should be built using a sustainable (but expensive) tropical hardwood.
We also told those present that, although the concepts laid out in the architectural and museum-provided plans were valid, they did not take into account the scale of the space or the logistics of building such detailed structures in a financially responsible way. Indeed, we told them that the bulk of the plan, including much of what the staff had drawn, needed complete re-evaluation.
Our whole presentation took about 15 minutes, after which we sat back to await questions. No one had any, so we began to pack up, figuring we'd challenged their basic assumptions so thoroughly that they'd never want to see us again. Instead, what we heard just before we could leave the room was the CEO saying, "We'd like you to install the project. Please put together a cost."
GO FIGURE
Delighted but a bit dazed, we agreed on the spot and began shifting our thought processes from consultancy to design/build practicalities.
Costing such a project is a bit more complicated than the norm, basically because it is unlike our usual residential work in which we have full control over the site, do all of the work ourselves and build flexibility into the scheduling so we need only work on site when the weather allows. This usual process lets us be as efficient as possible and helps us keep costs in line for the client while we actually make some money on the deal ourselves.
With Dancing Wings, however, we were hemmed in by the scheduled opening of the museum addition – cast in stone and already publicized in the local press. This timeline also took into account recommendations of Dr. Ralph Charlton, a professor of entomology at the University of Kansas who would ultimately relocate to Rochester to direct the Dancing Wings Butterfly Conservatory.
As he explained things, one of the critical aspects of populating a conservatory with butterflies is to allow time for the off-gassing of building materials. At high concentrations of the sort encountered immediately after construction, those gasses would kill newly emerged butterflies (and, to say the least, would put a real cloud over the grand opening). He calculated that six months would do the trick, so, working back from the announced debut in July 2006, we had to complete all of our work by the end of January 2006.
Winter in upstate New York can be a rough when it comes to getting work done outside, and then there were the various facts that we had to acclimate lots of tropical plants, cut and fit lots of concrete waterfall panels and mix mortar in cold temperatures. To make it work, we wanted to be on site well before winter set in, so we began arranging with subcontractors to help us with the watershapes and walkways, setting up a system for scheduling and tracking their work as well as that of electricians, glazers, roofers and climate-control specialists.
While none of this was entirely foreign to us (we've built incredibly detailed garden displays for the Rochester Flower & Garden Show in less than three days for the past 13 years and, in fact, this experience was of great importance in helping us figure out how to proceed with the conservatory), we kept running up against variables that were beyond our control.
It became, in short, an exciting project, but it also had its share of unnerving details. As we wrapped ourselves around it, we perceived clearly just how little margin there was for error – and under how much scrutiny and public observation we were operating.
SETTING THE SCENE
The decisive meeting took place in October 2004, so we had about a year to price the project, meet again with the administration, order and receive materials and plan everything accordingly.
The first thing we did once we were fully aboard was meet with the general contractor in charge of the conservatory end of the project, Frank J. Mariannaci Construction of Bloomfield, N.Y. As luck would have it, we'd also worked with this company before in a project in which we'd designed and overseen the construction of a local pocket park. The experience had been a good one, so we were all quite comfortable.
We set up this one-on-one meeting so that we could fairly and clearly assess the scheduling without the influence or complications that would show up if we'd met with many companies at once. This is not to say we avoided meetings with the others – in fact, we had numerous pre- and in-construction meetings throughout the almost two-year planning and installation process. Up front, however, we simply wanted to know the site parameters and time constraints that had been imposed upon the general contractor; this would help us to determine if the strict timeline presented by the museum was, shall we say, accurate.
That schedule didn't have us on site until August 2005. But we learned from the general contractor that once they had begun digging the foundation, they hit unstable subsoil and had to excavate a substantial amount more than anticipated – an eventuality that added almost six weeks to their site work in removing excavated materials and installing and compacting reliable fill.
This time overage was not reflected on the schedule the museum had shared with us, but we now knew that we weren't going to gain access to the site until October 2005 at the earliest. Assuming that there would be other issues (as is always the case on a site so complicated), we didn't really expect to get into the conservatory until winter had arrived.
We weren't thrilled by the prospect of wintertime work, given the potential severity of the local weather, the possibility of anything from ice storms to blizzards and temperatures likely never to exceed the teens or twenties through December and January.
We informed the museum administration and the general contractor that what we were proposing was dependent on us getting onto the site by October 2005 at the latest and plotted our costs accordingly. As you'll see next month, working around the weather and keeping things on track provided enormous challenges – including several I could never have foreseen.
Next: a look at the organizational and technical challenges of construction at the conservatory.
Bruce Zaretsky is president of Zaretsky and Associates, a landscape design/construction/consultation company in Rochester, N.Y. Nationally recognized for creative and inspiring residential landscapes, he also works with healthcare facilities, nursing homes and local municipalities in conceiving and installing healing and meditation gardens. You can reach him at This email address is being protected from spambots. You need JavaScript enabled to view it..