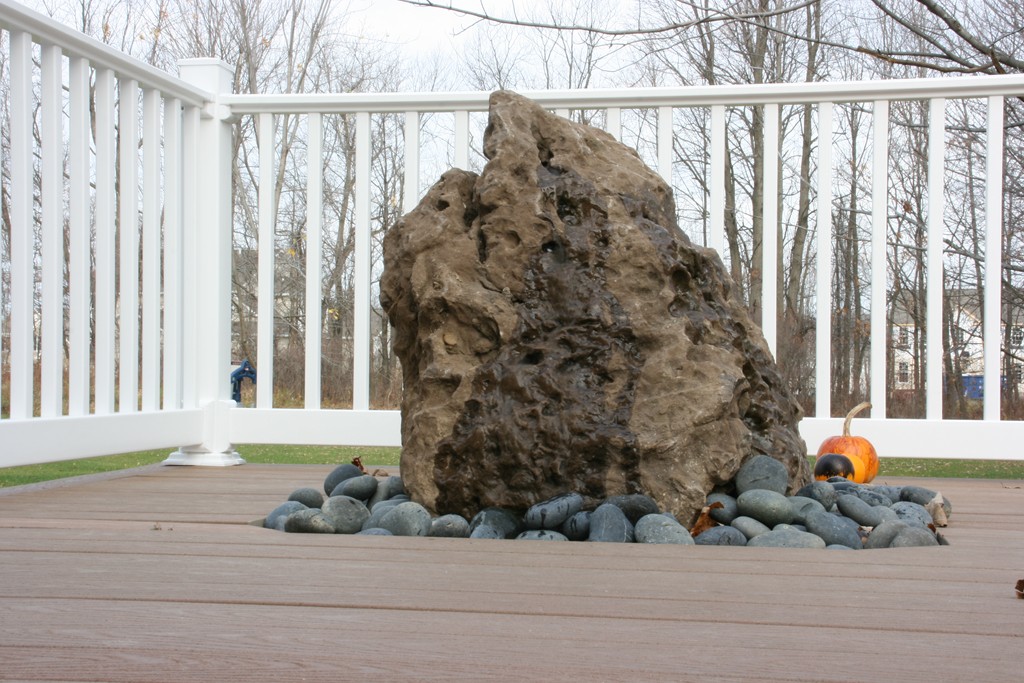 By Bruce Zaretsky
I must say that I look forward to receiving my own copy of WaterShapes in the mail each month. It's not because I can't wait to see my own columns in print; rather, it's because so I'm amazed and inspired by the work watershapers put on display here that I always devour each and every page.
That's not, by the way, anything I'd say about the rest of the 30-odd trade magazines I receive via mail or e-mail. WaterShapes always seems to deal with the best of the best, and reading about how these incredible projects come together is a constant source of fascination and encouragement to me.
In surveying these articles and attending trade events where I've gotten to meet many of the phenomenal watershapers who participate in the magazine), I'm stunned by the scope, scale and intricacy of the systems they describe. But what really gets me are the small things – the details, the grace notes, the brilliant touches, the intimate treatments of space, volume and light in small areas within overall projects. This is where I find all sorts of ideas I can readily apply in my own design and construction work.
Having such a fertile resource at hand is particularly helpful these days, when so many prospective clients seem to have stopped thinking big. Time and again these days, in fact, I'm called in by home- or commercial-property owners who want no more than a little "something nice" for a specific corner of a property or a waterfeature for the space right next to the front door.
GOING SMALL
I know consumers in my region aren't alone in pursuing this sort of fiscal retrenching, which is why I haven't been surprised to see compact features receiving greater coverage in WaterShapes of late. For commercial and residential clients alike, these more modest projects represent less of a financial risk in uncertain times.
What heartens me is that, despite the tough economy, people are still calling and still want to beautify their properties, even if they're pursuing the possibilities in unusually cautious ways.
There's another factor at work here, too: Indeed, as I see it, the current economy has smacked into another reality I've confronted in my area for more than a decade now: The fact is that lots of residential and commercial clients – even the most upscale among them – are living or working in places where space comes at a great premium: Parcels are smaller, houses and building footprints are bigger and many of these homeowners and commercial clients simply aren't playing with that much open exterior space.
The combination of these two factors is something that makes me glad that small-scale waterfeatures have been a big part of my professional life for several years now. Indeed (and as I trust the projects reviewed here will show), it's reached a point where I've come to see these scaled-down projects as a vibrant genre filled with their own potential for phenomenal creativity.
Let's take a look at a few of them to get an idea of just how broad these opportunities can be: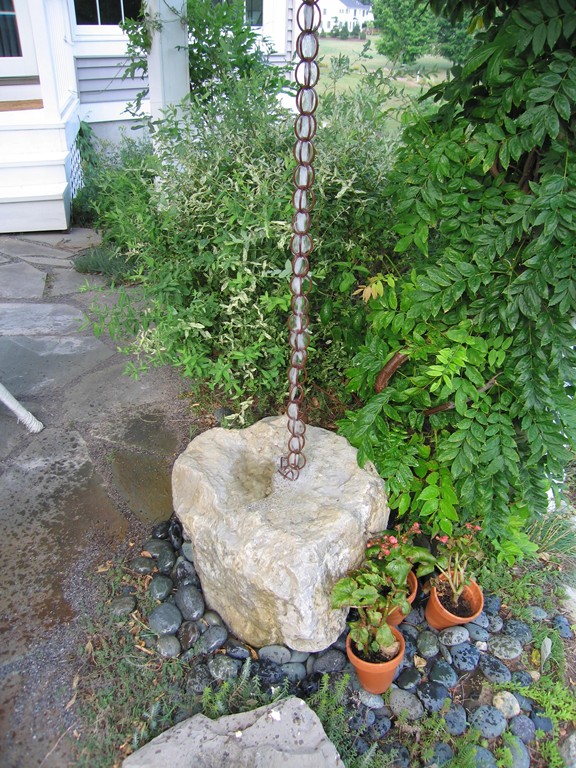 [ ] Rain Chain: This one couldn't have been more straightforward. At a garden show several years ago, we set up a pool house of which one side was a wall that served as part of a raised pool. The pool was overhung by part of the roof, which had been rigged with nozzles to create a rain effect using circulated pool water.
On the opposite side of the roof, we hung a simple rain chain that dropped down into a ceramic container. Our goal was to balance what was happening with the rain curtain, but we didn't give the rain chain much thought until someone approached us and asked if we'd install something similar with his pergola. We jumped at the chance.
First, we carved out the top of a small boulder, then set it atop a basin in which we placed a small pump. We ran plumbing up one of the columns and placed a nozzle in such a way that water seemed to issue from vines we'd trained onto the pergola before flowing down the rain chain.
The pergola is quite large (about a 25-foot span) and covers the entire patio area at one corner of the house. The trickling sound the flow down the chain generates is perfectly tuned to the setting – enough noise to be soothing, not enough to make conversation difficult. So for a cost of less than $1,000 seven years ago, the client now has what has become the backyard's most desirable area.
[ ] Tsukubai: This traditional waterfeature from Japanese gardens was originally meant to serve as a place for washing hands before entering a home or its gardens. They make strong impressions in small gardens – quite beautiful while producing nice sounds and taking up very little space.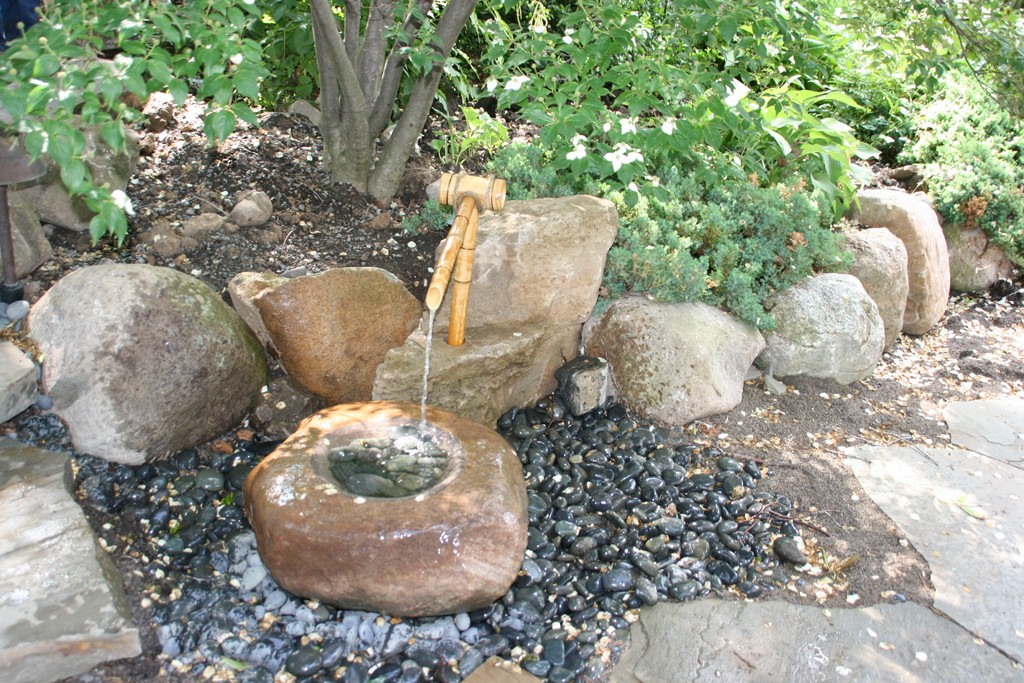 For this particular client, we purchased the bamboo tsukubai from an online service and decided to fabricate the bowl into which it would spill on our own. I chose an egg-shaped boulder about 24 inches long and 18 inches tall for the purpose and, using a gas-powered cutoff saw, a diamond grinder and stone chisels, carved out a good-size depression. We then core-drilled through the rock and installed a small light fixture beneath the basin so the surface of the water would glow at night.
The bamboo tsukubai is mounted on a boat-shaped boulder that sits behind the egg-shaped bowl rock, giving the whole composition visual weight and lending it a sense of permanence. Beneath all of this is an off-the-shelf basin supplied by Aquascape (St. Charles, Ill.).
The simple design of this feature – once again quite inexpensive – plays very well into the Japanese theme of the entry garden to this home, which is located on one of the Finger Lakes in upstate New York.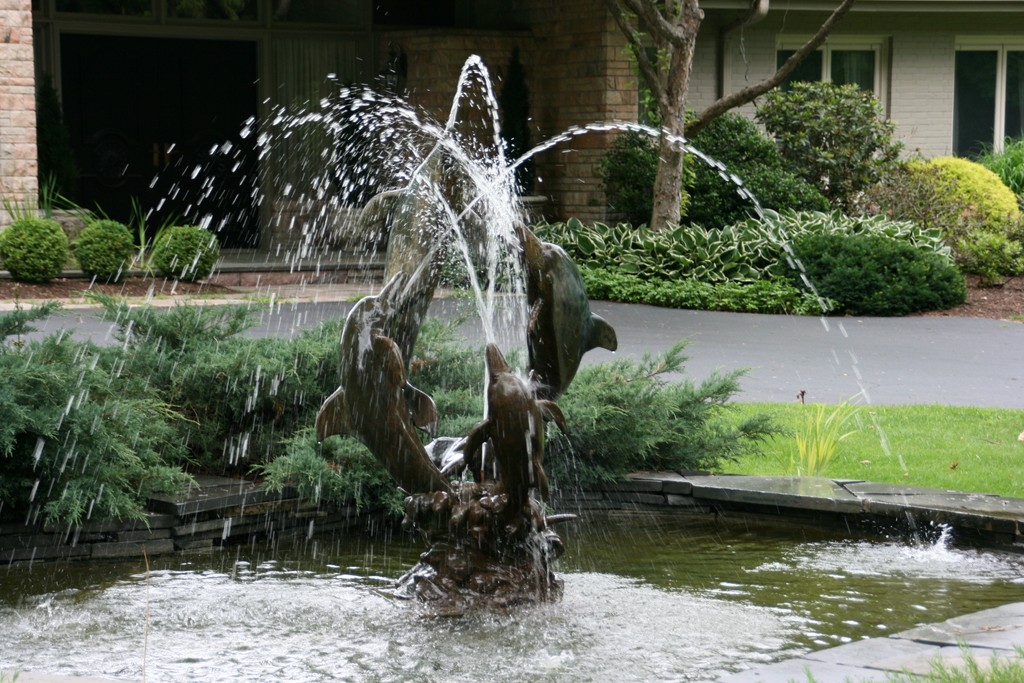 [ ] Dolphin Fountain: Several years ago, a long-time client called to let me know that he'd purchased a dolphin sculpture at an antiques shop while on vacation and wanted to know if I could "do something with it."
That sort of request can be pretty scary, because there's so much cheesy stuff available in the marketplace that you never know quite what to expect. In this case, however, the client had a good eye. Better yet, we discovered that the sculpture had originally been a fountain and just needed some help to become functional again.
To make the dolphin stand out in the setting, we built a simple, stacked-bluestone pool surround fitted with an EPDM liner of the sort commonly used in pond installations. To lend variety to the experience, we programmed the pump to run at varying hours of the day so that the water spent some time daily as a reflecting pool as well as a splashing fountain. We also installed low-voltage lighting at ground level and in an overhanging tree to give the space some nighttime pizzazz. The results were outstanding, and the rehabilitated dolphin performed to perfection.
The client subsequently moved away, but about a year ago I received a call from the new owner asking me to come by and review the lighting on the entire site. The first thing I did, of course, was turn on the fountain to see how it was doing, and it worked just fine – enough to remind me of how much I'd liked both the sculpture and what we'd done with it all those years before.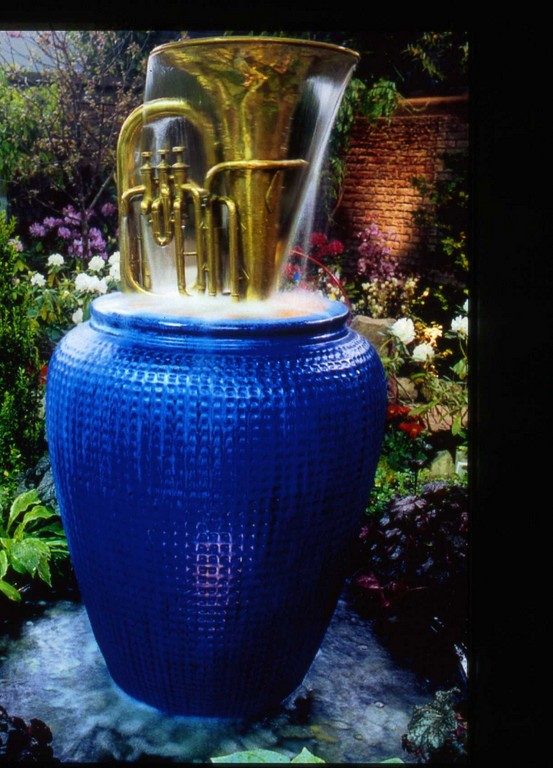 [ ] Soundgarden: In my many years of building displays for the Rochester Flower & Garden Show, few stand out in absolute silliness as much as the one we dubbed "Soundgarden."
Basically, it was a walled English-style garden in which we placed musical instruments in various poses – including a full-sized harp that I spent countless hours stringing with side-emitting fiberoptic strands.
The centerpiece (literally) was an old tuba we cut up and installed above a large cobalt-blue container. Water didn't just trickle out of the tuba: It poured, and this visual effect, coupled with the crash of the water into the basin below, was as dramatic as it was silly. (It also earned us a Best of Show award – something about which I'd never complain.)
This has always been a favorite of mine because one of my knocks on designers is that too many of them take themselves and, worse, their work far too seriously. This display was both whimsical and silly and had the virtue of being compact: Where a 15-foot tuba-centered fountain would almost certainly have pushed the limits of good taste, in an appropriately small scale, it's both delightful and fun.
[ ] Bluestone Scuppers: A few years ago, I designed all of the exteriors for a clients' new Arts & Crafts-Style home. In the original plan for a stone balcony just outside the first floor's master bedroom, I had set aside space for a "waterfeature," but I hadn't specified what it would be.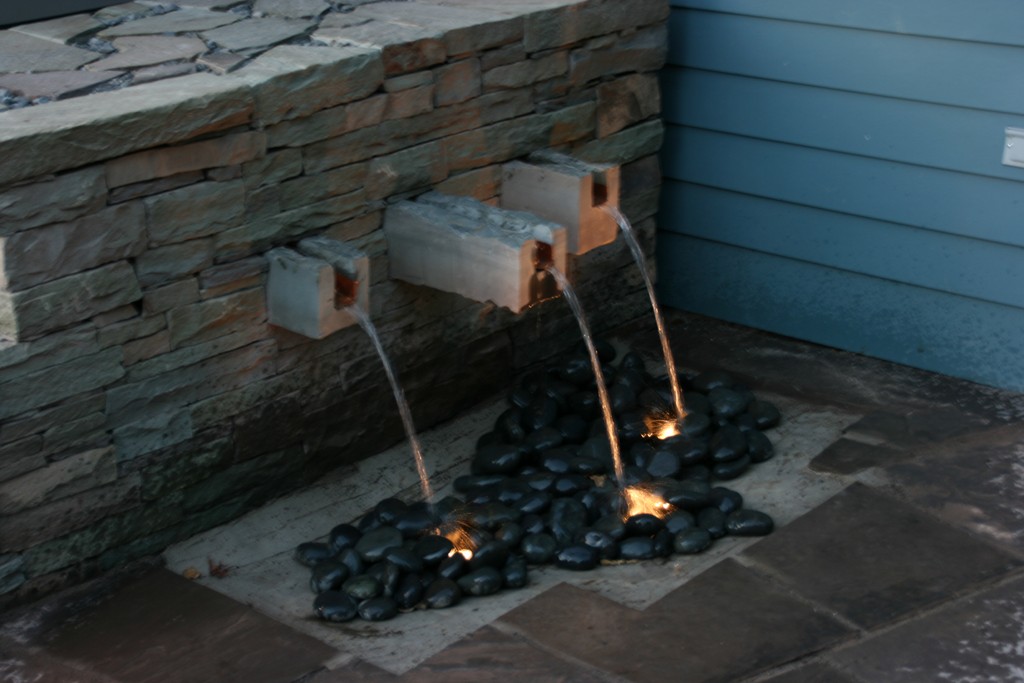 As the work continued, I recognized that I had to come up with those specifications sometime soon: We were about to set the base for the balcony and I needed to figure out the plumbing. In a lucky break, I happened upon some beautiful chunks of bluestone – each about six inches square and of varying lengths. Inspired by the work of David Tisherman and others who work sublimely with spillways and scuppers, I decided to turn these blocks into something unique and special.
Using a cutoff saw, I scratched and then chiseled channels into the stone. I then core-drilled the stones to accept plumbing feeds and lined the channels with thin copper flashing. Now the water spills out of the scuppers and disappears into a bed of black pebbles set atop off-the-shelf catch basins, then it flows below the wall and into a catch basin equipped with a submersible pump.
Three individual valves allow for adjusting the flow to any desired rate. We also installed up-lights to catch the water streams at night. (I like this project so much that I'll be covering it in greater detail in an upcoming column.)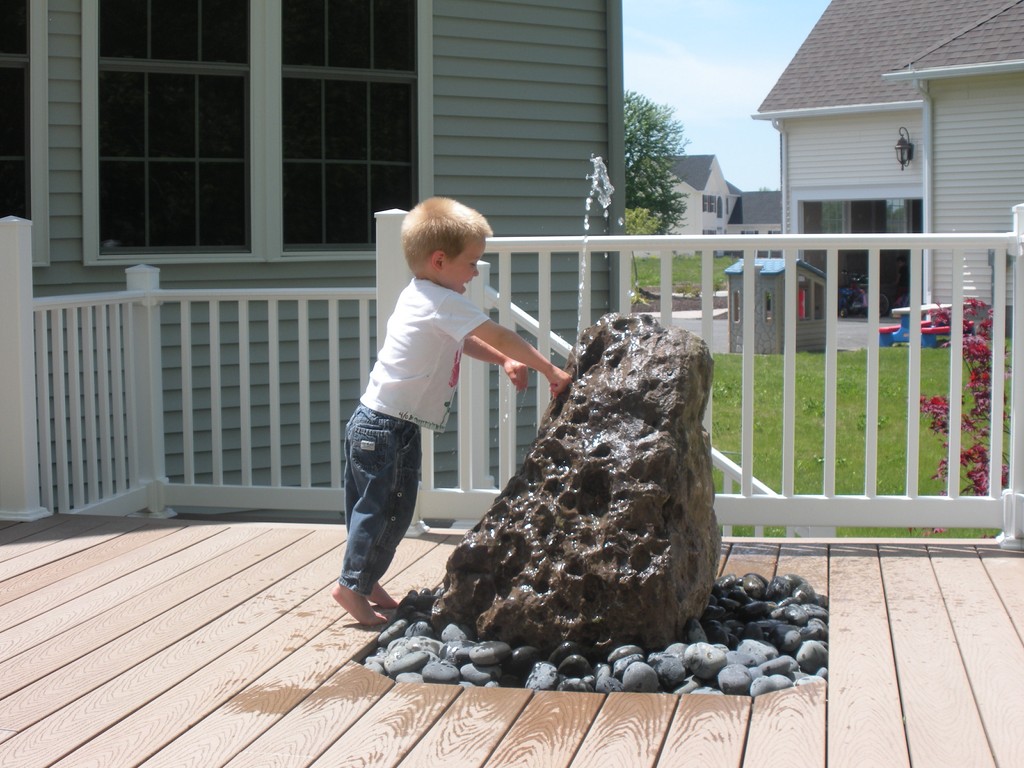 [ ] Deck Waterfeature: We build a lot of decks for our clients, but I'm not content to do the same thing over and over again. That's why I asked these clients how they would feel about a "feature" for their deck without telling them what it would be (at least not at first). It was a large deck (more than 1,000 square feet), so I knew we could easily take up some space with what was to become a waterfeature centered on a large boulder.
Our local stone supply includes some dynamic specimens we call "moonrocks." They're riddled with holes and pockmarks that look wonderful when water flows across their surfaces – almost as though the water is quite literally flowing out of the stone's interior.
Beneath the deck, which was overbuilt under the stone to support its one-ton heft, we installed a plumbing-control panel that allows the homeowners to alter the flow from light to heavy. We then core-drilled the stone in several places, with the multiple outlets making it seem as though the surface is alive with water.
***
All of these waterfeatures, although small in scale and generally modest in ambition, are unique to their sites and create dramatic impressions – and have done so without breaking these clients' budgets. Although larger watershapes are amazing to behold and wonderful sources of inspiration, they're not our only option!
Bruce Zaretsky is president of Zaretsky and Associates, a landscape design/construction/consultation company in Rochester, N.Y. Nationally recognized for creative and inspiring residential landscapes, he also works with healthcare facilities, nursing homes and local municipalities in conceiving and installing healing and meditation gardens. You can reach him at This email address is being protected from spambots. You need JavaScript enabled to view it..